You may not be close to the coast while you're in Gatlinburg, Tenn., in the valley of the Smoky Mountains, but that doesn't mean you can't dive right into all that lives under the ocean's surface with a visit to Ripley's Aquarium of the Smokies.
The Gatlinburg aquarium features multiple levels of fun-filled exploratory exhibits and interactive activities you'll want to do and see under the sea. Leave plenty of time in a day to truly experience it all! Here's our guided tour for your next Ripley's oceanic adventure:
UPPER LEVEL EXHIBITS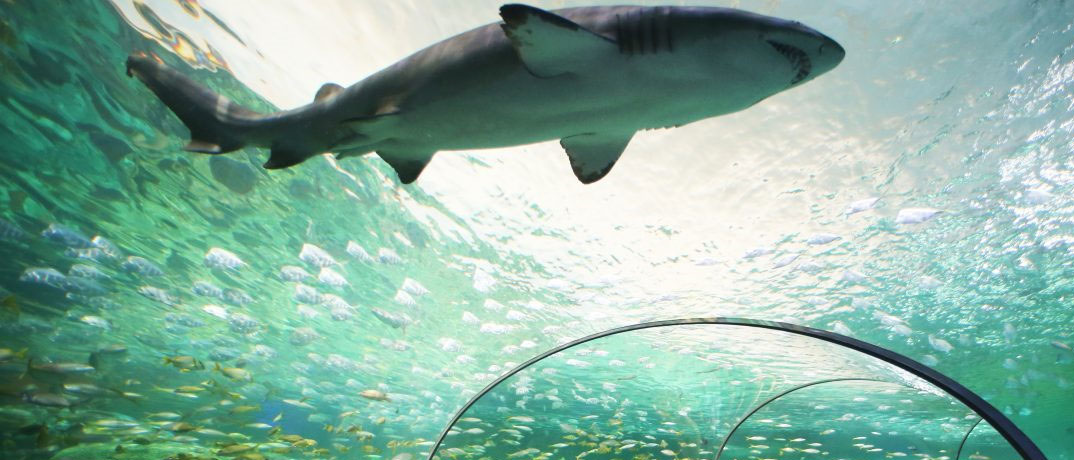 Ocean Realm: Witness schools of beautiful fish that swim together in the ocean amidst marine life, such as weedy scorpionfish, spotted garden eels, flounders and more.
Shark Lagoon: As you glide along 340 feet of a moving conveyer belt through an underwater tunnel, look up and around you to see life-size aquariums swimming with snappers, tarpons, grunts, squirrelfish, a green sea turtle, giant stingrays, sawfish, a green moray eel, tarpon, and lots of sharks.
Touch a Ray Bay: This shallow lagoon will allow you to experience something exclusive to Ripley's Aquarium Gatlinburg: the chance to touch a sting ray as they glide by just below the surface. Don't worry, it's safe! Trained staff are on-hand at the bay for your children's safety.
Tropical Rainforest: Discover all of the marine life that lives in the Southern hemisphere and along the Amazon, such as the dangerous piranhas; the arapaima, one of the largest fresh water fish in the world; and the anableps, a unique four-eyed fish native of South America.
LOWER LEVEL EXHIBITS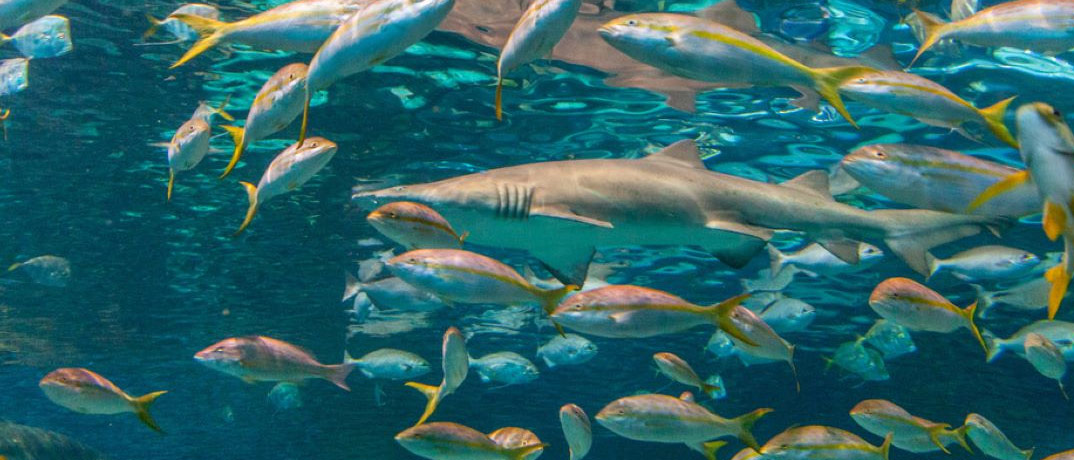 Coral Reef: It's like a beautiful underwater work of art to see these exotic fish come to colorful life in patterns amidst the reef, such as clown triggerfish, regal blue tang, and the unique foxface rabbitfish, with its long, snout-like mouth.
Discovery Center: Participate in this unbelievable hands-on section that features Touch Jellies, Puffer fish, and the archaic horseshoe crabs. Plus, you can solve puzzles, trivia questions and more.
Gallery of the Seas: Be sure to bring your camera to this exhibit to capture the most colorful species of the sea, like octopus, sea stars, corals, cuttlefish, lion fish, Japanese spider crabs, scorpionfish and jellies.
Stingray Bay: An assorted species of stingrays are in the spotlight in this bay carved out just for them, including the cownose ray, spotted eagle ray (a threatened species) and Southern stingrays. Position yourself at the shallow end of the tank to touch them – some will even eat out of the hands of Ripley's divers.
Penguin Playhouse: Here's your chance to play with these cold weather friends in an indoor and outdoor habitat built at Ripley's just for them. You'll get up close and personal with these penguins above and below water as you crawl through clear underwater tunnels.
SPECIAL EXPERIENCES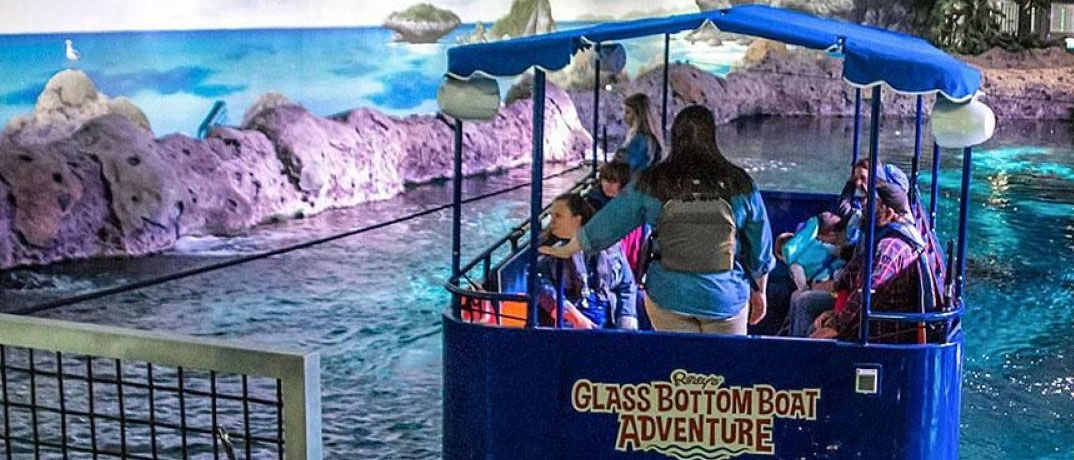 Penguin Encounter: Reserve your spot for this meet and greet with the aquarium's penguins! You'll get insider info from one of the staff experts, get to pet a penguin, and get a souvenir photo with the penguin. This is an experience for ages 4 and up; cost is $44.99 per person.
Splash with the Stingrays: This will give you a whole new experience at Touch a Ray Bay, with a behind-the-scenes tour and interactions with the stingrays that will require you to wear a bathing suit. This is an experience for ages 5 and up; cost is $29.99 per person, which includes a souvenir T-shirt.
Turtle Time: Here's your chance to feed Sally the Sea Turtle some lettuce and get a behind-the-scenes tour of the husbandry department at the aquarium and one of their training sessions. This experience is for ages 7 and up; cost is $19.99 per person.
Penguin Paintings: Catch one of the aquarium's African penguins creating a signature footprint work of art on canvas and take home an 8×10 penguin painting that you helped create! This experience is for ages 4 and up; cost is $75 per person.
Behind-the-Scenes Tour: You will get an exclusive tour of the aquarium through all of the "Staff Only" doors, which includes several life support rooms, the control center where all the water quality is monitored, the food prep area and more. Cost is $14.99 per person.
Glass Bottom Boat: Climb aboard the aquarium's glass bottom boat for an adventure across Shark Lagoon, where you'll have a unique view of the 12-foot sharks below, Sally the Green Sea Turtle and more than 8,500 aquatic animals swimming in and out of the reefs. The boat seats 10; admission is an add-on to your aquarium ticket.
LIVE SHOWS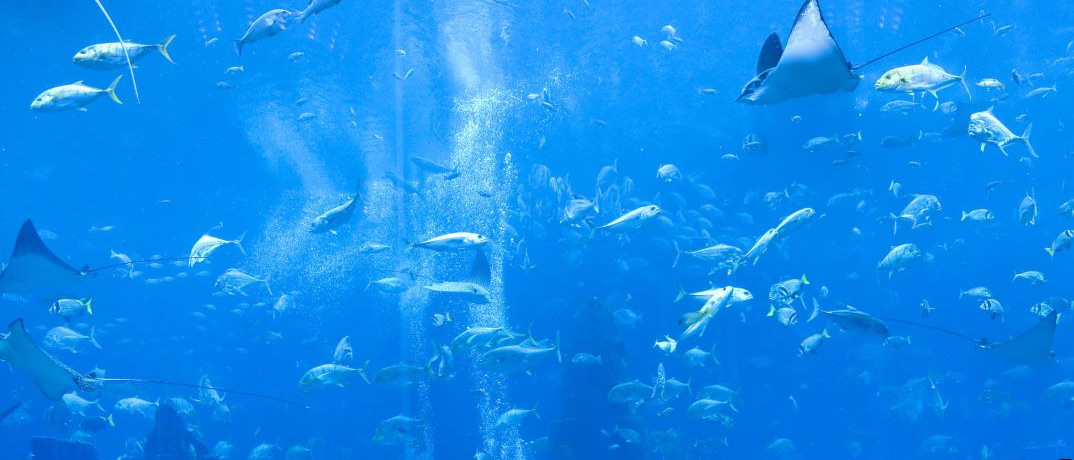 Shark Lagoon Dive: The aquarium's divers are in action underwater cleaning and maintaining this largest exhibit each day at 9:30 a.m.
Penguin Feeding: Watch the keepers feed the aquarium's colony of African penguins – and learn a thing or two about the challenges the penguin's face in today's environment. Feedings are at 10:30 a.m. and 2:30 p.m. each day.
Marine Science: The kids won't mind this educational experience to learn more about the ocean and marine life. Shows are daily at 11:30 a.m., and 12:30, 1:30, 3:30 and 4:30 p.m.
Penguin Fact: Watch the penguins eat, swim and play, plus learn about the challenges they have in today's habitat. Each daily show is at 5:30 p.m.
Coral Reef Dive: See a live feeding of the fish and learn more about their coral reef habitat each day at noon, 2, 4, 6, 8 and 10 p.m.
Stingray Bay Dive: You won't believe it until you see it: stingrays eating out of the diver's hands. Shows are 11 a.m. and 1, 3, 5, 7, 9 and 11 p.m.
Mermaids Dive: You can't miss the beauty of this live show, with the aquarium's mermaids swimming in the tank with all of the fish. Shows, which includes a meet-and-greet and photo ops, run from Memorial Day to Labor Day; call for dates and times.
Ripley's Location & Ticket Prices
Ripley's Aquarium of the Smokies is located at 88 River Road in Gatlinburg, Tenn. The Gatlinburg Aquarium hours through March are Monday-Thursday, 8 a.m. to 8 p.m., and Friday-Sunday, 9 a.m. to 10 p.m. Tickets vary, starting at $34.99. For more info, visit https://www.ripleyaquariums.com/gatlinburg/ or call 888-240-1358.
Where to Stay In Gatlinburg, TN?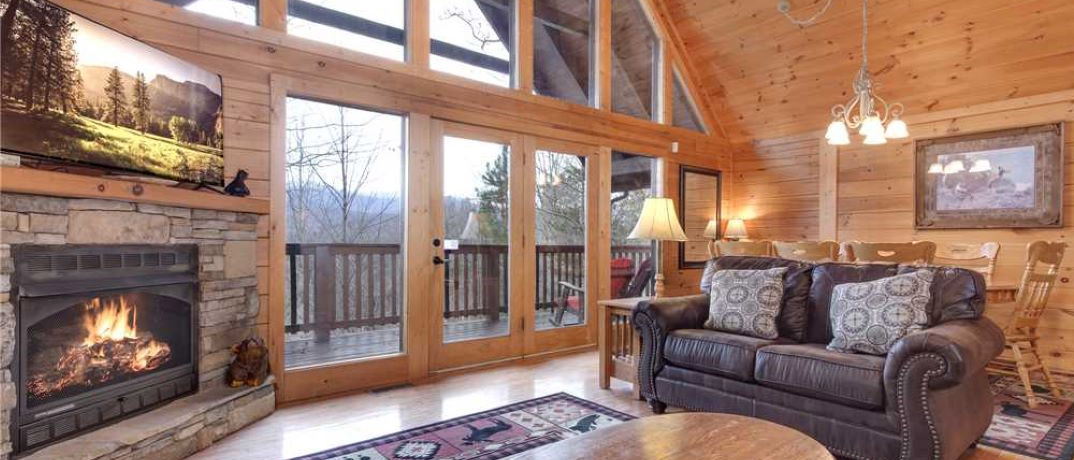 When you're ready to book your stay in Gatlinburg, Condo-World has a host of options in this quaint mountain town. From one-bedroom to five-bedroom cabins and condos, these accommodations boast sweeping views of the Smoky Mountains, spacious layouts and luxurious amenities, such as hot tubs, pools, theater rooms, game rooms and more. You'll love the peaceful surrounds of the great outdoors in this new home away from home for you and your family!