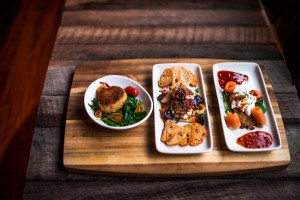 [Photo Credit to Tupelo Honey Cafe|
If you're looking for a delicious southern meal on vacation, then look no further. Tupelo Honey is known for their motto, "Creative Southern Food That's Good For The Soul." The restaurant is located at The Market Common and has something for everyone.
The Tupelo Honey Restaurant is now in the former space of the Tommy Bahama restaurant. As you walk in you will notice the high ceilings, multiple seating areas, and happy faces. Around the eatery, you will find several types of original artwork on the walls, which is the theme for all Tupelo Honey restaurants. All guests can enjoy their meal inside at one of the many tables or on the outside patio.
When you look at the menu, you will notice a variety of salads, sandwiches, seasonal dishes, Southern small plates, and sides. The best part is that all of the meals come with a delicious homemade biscuit, served with jam and honey. For starters, we recommend getting the southern fried okra, fried green tomatoes, or pimento cheese dip. You can't go wrong with any of these options when you're in the south!
The dinner menu allows you to build your own meal. It's the perfect way to get a variety of the many delicious items. You will pick a main protein plus two sides. Some of the choices include Carolina Mountain Trout, Grilled Atlantic Salmon, Curried Fried Chicken Thigh, Buttermilk Fried Chicken and Bacon Meatloaf. As for the sides you have your choice of fried okra, shoestring fries, sautéed southern greens and cheesy smashed cauliflower.
Tupelo Honey is open from 11 a.m. – 10 p.m. daily and reservations are recommended. Call, 843-215-3870 for reservations and more information.