If you're looking for fun up high in the mountains of Tennessee, the Anakeesta Theme Park is where you want to be! Plan your next fun-filled family vacation at Anakeesta Theme Park in Gaitlinburg, Tennesse! Anakeesta is a Cherokee Indian word referring to high ground. Located high up in the mountains of Tennesse Anakessta Theme Park is the perfect place to find your inner peace!
Rides and Attractions In The Smoky Mountains
The Treetop Skywalk & Treehouse Village Adventure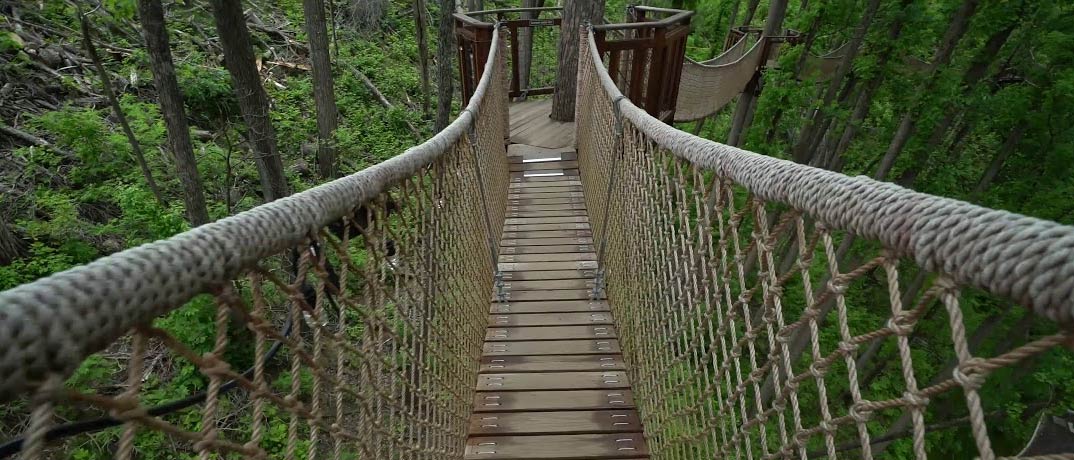 Go for a scenic walk through the forest on the longest tree-based bridge in North America. Walk 800 feet through nature 60 feet in the air. Keep your eyes out for bears! For the little ones who love playing in the trees, there is also the treehouse village with bridges and planks, a maze, crawling tubes and climbing walls!
You can find gems of all kinds in the interactive waterfall as well! Located near the Treetop Skywalk and Treehouse Village Adventure, enjoy a fun family-friendly activity.
Rail Runner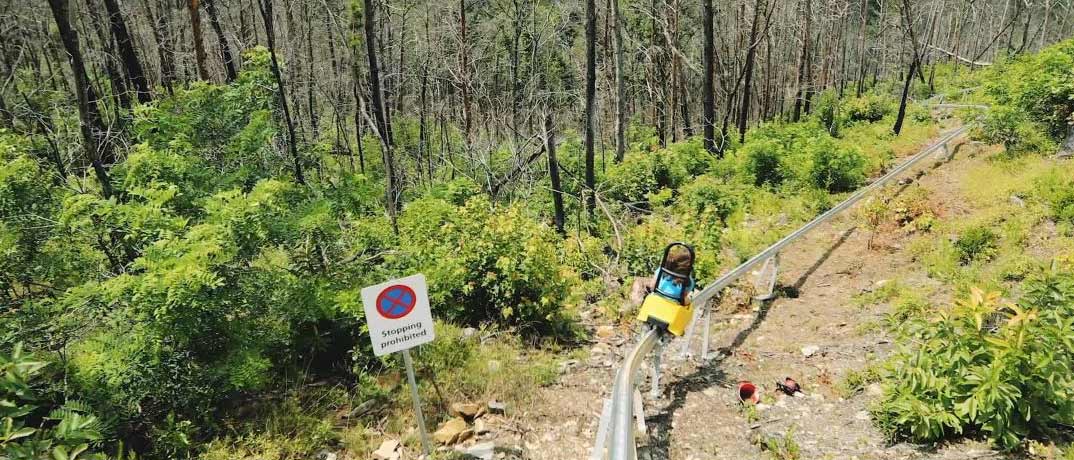 The Rail Runner is the only single-rail mountain coaster in the United States and its location right here at the Anakessta theme park! It's like a low-rider rollercoaster that's fit for one. You control your speed and this ride can go up to 25 mph. Ride 1,600 feet downhill and then enjoy a beautiful ride uphill back to the top of the Anakeesta mountain.
Chondola & Ridge Rambler Truck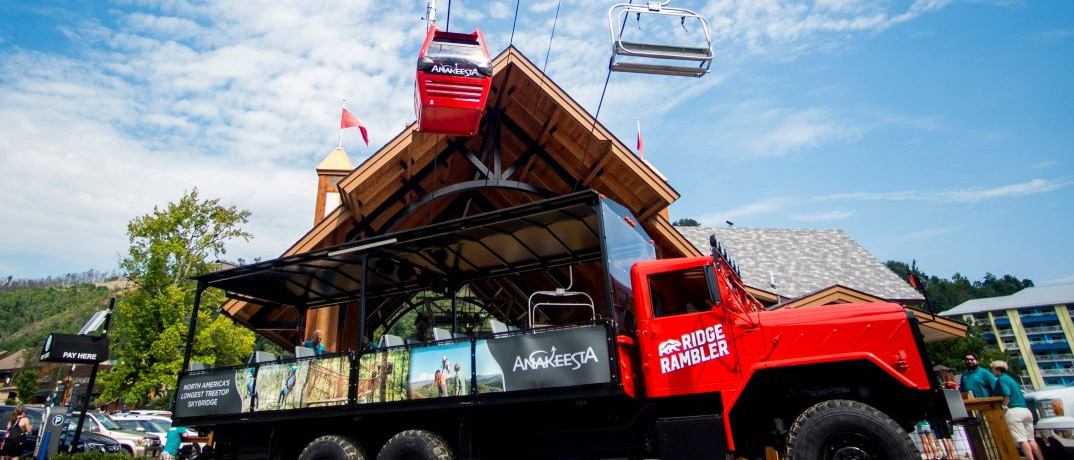 There are two ways to get around the Anakeesta theme park. The Chondola has an option for an open four-person chair behind a safety bar and an enclosed gondola that can sleep six. If you like your feet on the ground, you have the option of riding in a Ridge Rambler military truck. These trucks fit 45 people and take you on a guided tour through the forest.
Dueling Zipline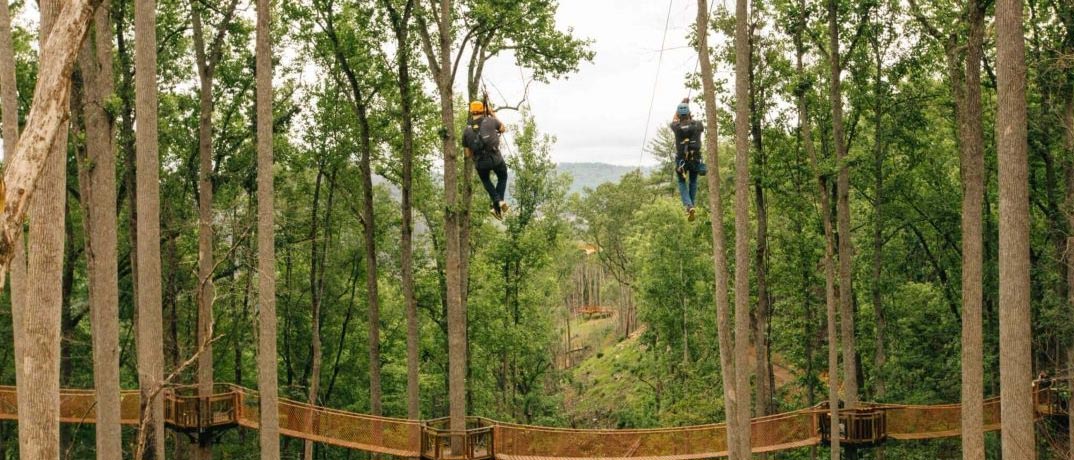 Are you ready or the ultimate race? Pair up with someone and race across the sky on the dueling zipline ride. Halfway through you will be challenged to rappel off a platform, putting you far ahead of your competition, and then you will head towards the mid-station where you'll ride the Chondola back to the summit of Anakeesta.
Restaurants Near Gatlinburg Attractions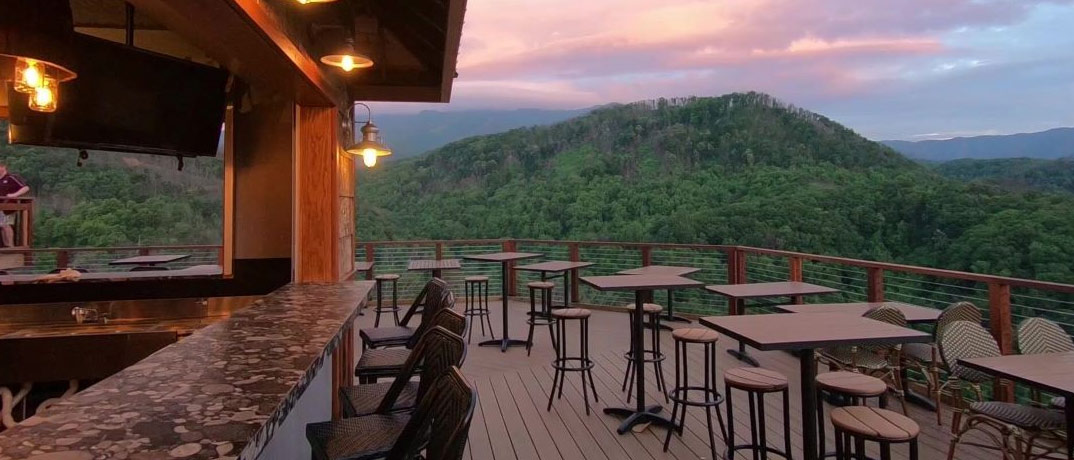 Located in the Magical Firefly Village, you will find multiple restaurants and stores. Beavertails sells Canadian pastries in tons of different flavors. The Cliff Top Grill & Bar is great for dining as it offers burgers, entrees, salads, house specials and more! If you're looking for a place to sit down with the family, Cliff Top is the place to go at Anakeesta. Unless you're in the mood for southern barbecue. In that case, the Anakeesta Smokehouse is where you want to be for the best brisket and BBQ in Gatlinburg.
For the adults, have a drink at the bar at the top of the world! This is a must-see view of the Great Smoky Mountains and you can enjoy it while sipping your favorite cocktail. Come for happy hour but stay for dessert at Pearl's Pie in the Sky! This 1940s styled ice cream shop has the best milkshakes on the mountain!
Shopping In Gatlinburg, TN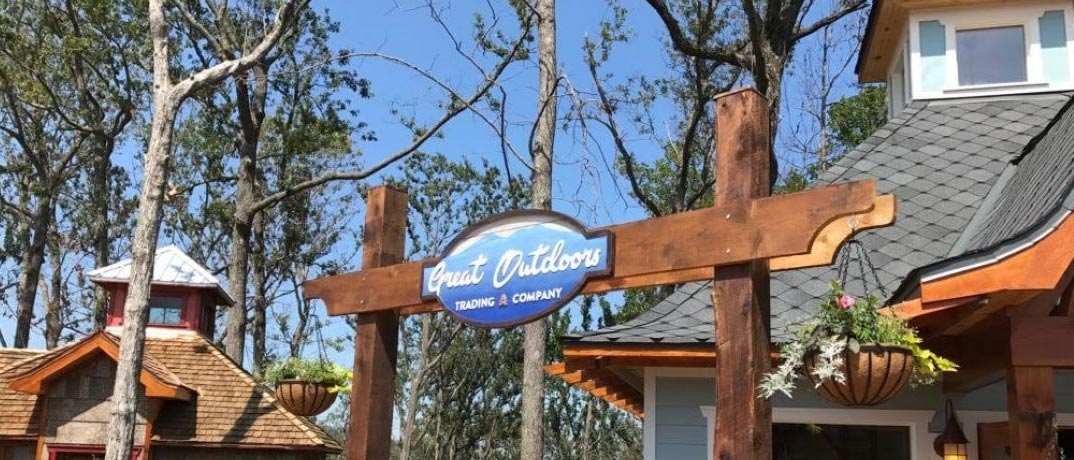 The Great Outdoors Trading Company is where you can find tons of local home goods that you can bring home for souvenirs. They also have books, apparel and gear for everything you need to hike it in the Great Smoky Mountains. Catching Fireflies is a forest-like store for kids where you can buy them unique toys, jewelry, wind chimes and apparel to commemorate the trip. You can also bring home memories of your trip from the photo center!
Park Pricing And Deals
The theme pack will have your day filled with awesome activities such as riding the mountain coaster and racing on a dueling zipline. Test your skills at our treetop skywalk. Take the kids on a Treehouse Village Adventure. General admission for adults $21.99 and children $17.99. Children 3 and under are free. If you buy a ticket after 6pm and come back the next day is free! Who doesn't like free stuff! You can experience this fantastic fun all year round by paying an annual pass of $43.98 for adults and $35.98 for children. Seniors annual pass is $39.98.
Condo-World Cabin Rentals in Gatlinburg, TN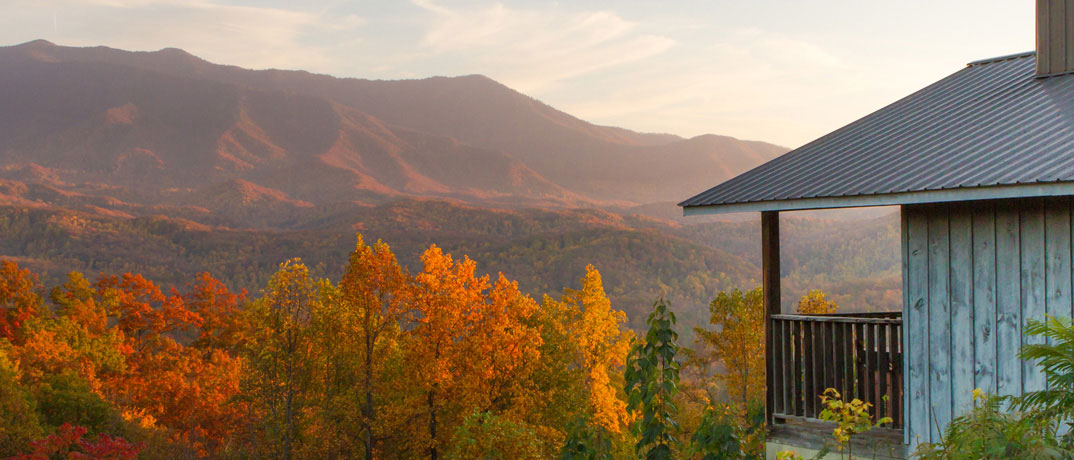 In one of our luxurious cozy cabins located in Gatlinburg, TN you will be able to unwind while overlooking high ground views of the smokies! Have a delightful swim in the pool or enjoy quality time in front of a fireplace. Click here to search vacation cabin rentals in the Gatlinburg area.