The all-new Funplex Amusement Park, located at 1405 N Ocean Blvd, Myrtle Beach, SC 29577, opens May 21, 2021 and is packed with a ton of fun for everyone in your family! The Myrtle Beach outdoor attraction features seven rides, a walk-up bar and restaurant, and gorgeous views of the ocean at every turn.
Here's what to expect on your visit to Funplex Myrtle Beach:
The Rides
Up & Overboard
All aboard the Up & Overboard, as you fly high and swing through the air above the amusement park in Myrtle Beach. This high-flying ride also adds gravity to the thrill!
Sky Velocity
As the name implies, you'll experience weightlessness in this high-adrenaline ride that twists, turns up, and goes back down a 65-foot drop. If you dare to open your eyes, you'll catch killer 360-degree ocean views before your drop.
Mach Fun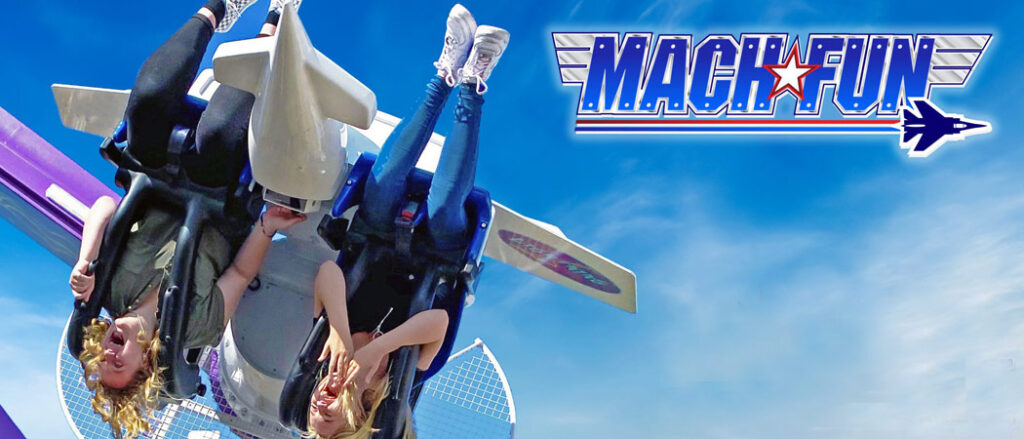 The tallest, interactive ride of its kind in North America, Mach Fun takes off from a cockpit and flies high above ground. You and your co-pilot will be fearless in flight.
Hook & Slice
The perfect addition to our coastal golf town, the Hook & Slice takes the sport to all new heights. This thrill ride speeds, spins and winds around in overdrive!
Fun in the Sun
What better way to enjoy this Myrtle Beach theme park than while hurtling through under the sun on one of the park's hottest coasters. Riders on each Myrtle Beach roller coaster includes its own speedy, unique experience, so whichever coaster you choose (or if you choose both), you won't be disappointed.
Hang 10 Silly Cups
Built to mimic the classic family tea cup ride, Silly Cups takes a Myrtle Beach twist (and spin) in wave after wave of rotations.
Sunny Day Swing
Oh Sunny Day! Hang on tight while round and round and round you go on this classic beach ball swing. The ride is designed to accommodate the park's younger guests.
The Food & Drinks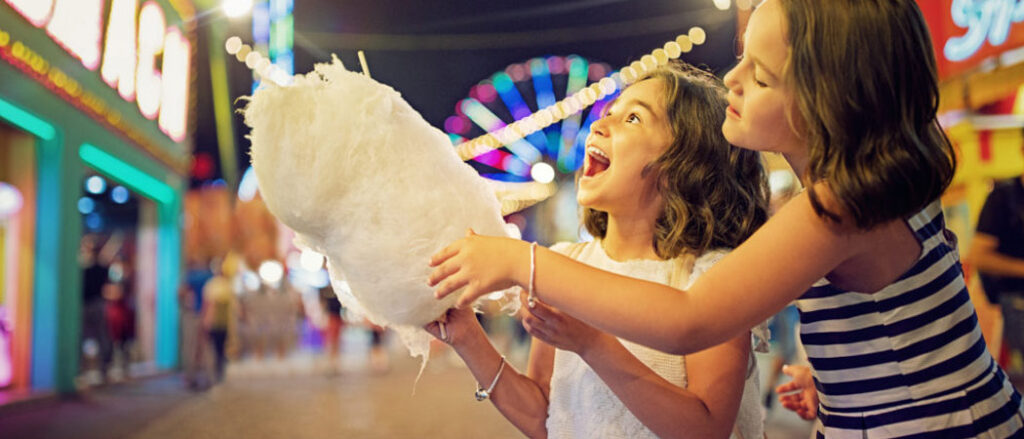 When it's time to refuel and slow down, take a seat at the park's Off-the-Coast Beach Bar and Grill, which serves an amazing menu for all palates. Fresh seafood dishes are crafted from local ingredients, along with a variety of creative grilled sandwiches and amusement park munchie classics, like funnel cakes, ice cream, fried Oreos, popcorn and more. Pair your food with anything from the restaurant's beer, liquor and refreshing frozen drink menu.
Tickets to The Funplex Myrtle Beach, located at 1405 North Ocean Blvd, come in the form of a FunCard that you load credits on before each visit. You can reserve your FunCard in advance by picking your date and time of visit to guarantee your spot. There are different levels of passes available; individual credits are $1.25 and there's no admission fee to enter the park and restaurant.
Resorts Near Funplex Amusement Park
And when you're ready to replace your laughs and screams with sweet dreams, here are two Condo-World resorts located nearby the Funplex:
Atlantica Resort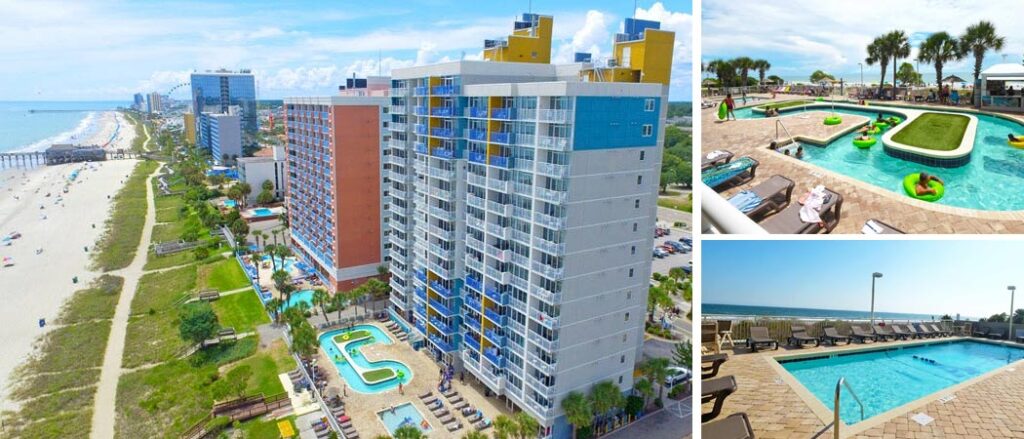 Book your getaway break from the everyday at the Atlantica Resort. One step out onto your private balcony and you'll agree. This is definitely a destination you must check into, featuring spacious beachfront suites through two-bedroom condos that house beautifully refreshing coastal decor throughout the fully equipped kitchen, living area and bedrooms. Your family will also love the property's amenities, like the oceanfront pool, 150-foot-long lazy river, outdoor whirlpool spa, kiddie pool, and an indoor pool. Atlantica's central location on Ocean Boulevard also gives you convenient access to all the family-friendly hotspots in town (besides Funplex), like the Myrtle Beach Boardwalk lined with shops, arcades, bars and cafes; the sky-high SkyWheel; oceanfront zip lines; the oceanfront Splashes Water Park and more.
Breakers Resort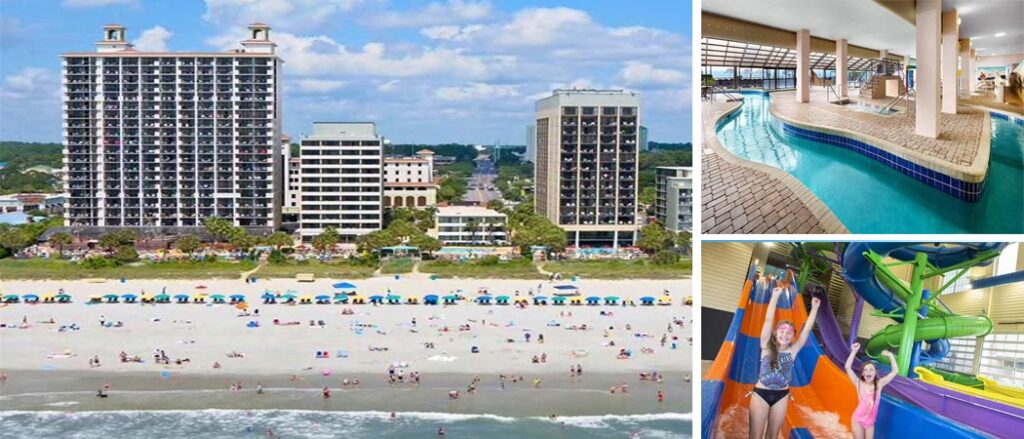 Just a short walk from the famous Myrtle Beach Boardwalk and SkyWheel, Breakers Resort in Myrtle Beach is actually comprised of six beautiful properties that boast more amenities than you could possibly dream of, such as the massive 418-foot lazy river that meanders indoors and outdoors, as well as the gigantic Sunken Pirate Ship with Water Slides in front of the Paradise Tower. If that's not enough, there are multiple oceanfront pools, indoor pools, lazy rivers, kiddie pools, hot tubs, fitness facilities and more. Plus, the Breakers features delicious onsite dining options, such as Strong Waters Craft Cocktails & Kitchen across the street, the popular Rusty Reel Oceanfront Bar & Grill, Starbucks and Ben & Jerry's.