If you're looking for one of the hottest spots to cool off this summer, Myrtle Waves Water Park is right where you'll want to soak it all in. This Myrtle Beach water park is the perfect destination to plan for the entire family – from adrenaline-pumping water slides at all heights to kiddie splash areas and everything under the sun in between.
Let's dive into all of the water amenity details available at Myrtle Waves Water Park!
Water Slides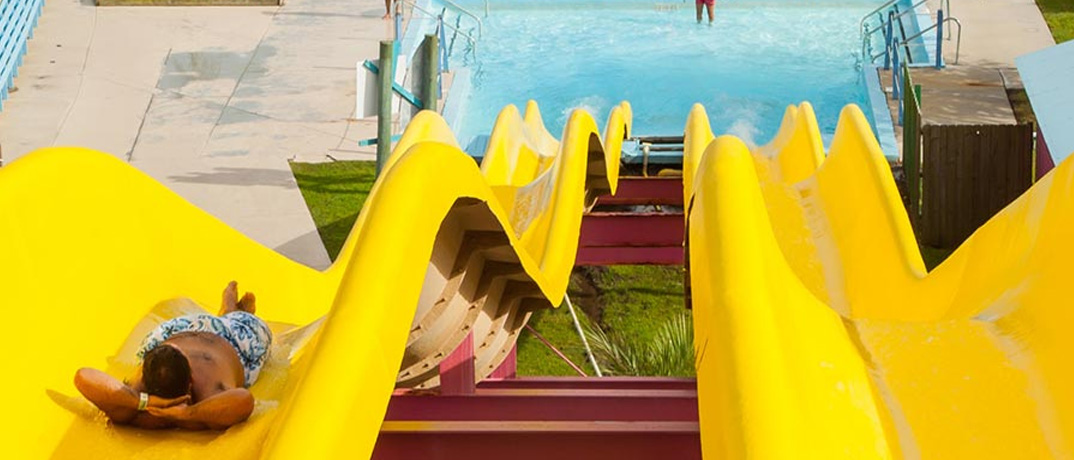 Riptide Rockets
Prepare to blast off on this single-rider body speed slide that races down an open flume and ends with a splash into the catch pool below. Riders must be at least 42 inches tall.
Super Chute
Just as its name implies, this single-rider water slide is super-sized, with a 20-foot-long enclosed tube that finishes with a 4-foot vertical drop into an 8-foot-deep pool. Riders must be at least 42 inches tall and be able to swim (lifejackets are recommended).
Thunderbolt Speed Slides
A pair of dueling body speed slides are guaranteed to offer plenty of excitement – fast – before you splash into a 3-foot catch pool. Riders must be at least 42 inches tall.
Turbo Twisters
These three body slides aren't for the faint of heart! Choose one of the completely enclosed slides and you'll spiral down in darkness at a speed of 50 feet per second. You then may be able to catch your breath, before you splash into the pool at the finish line. Riders must be at least 42 inches tall.
Tube Slides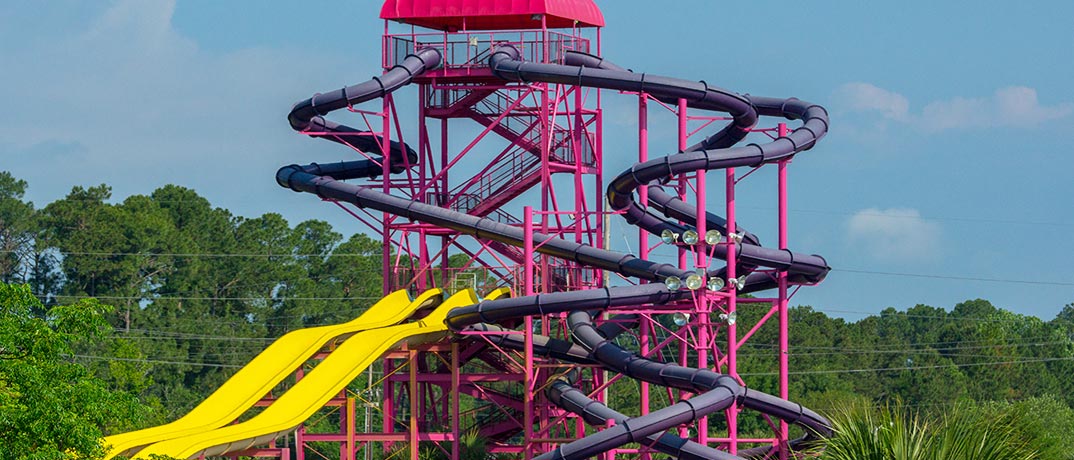 Rockin' Ray
It's a half-pipe on water! Grab a friend and catch the excitement of this double tube ride that plummets into a catch pool at the bottom. Riders must be at least 48 inches tall and have a combined weight limit of 400 pounds.
Arooba Tooba
This unique layout will speed tubers down an enclosed flume that shoots out into a bowl-funnel, where you swirl around before falling through a center drop. Riders must be at least 42 inches tall.
Night Flight
Lights out for this high-intensity enclosed tube slide that will send tube riders through a pitch black slide into a pool below. Riders must be at least 42 inches tall.
Snake Mountain
This tube ride lives up to its name, featuring three slides that snake, twist and turn. Choose from The Python, Water Moccasin or The King Cobra. Riders must be at least 42 inches tall.
Family & Kids Areas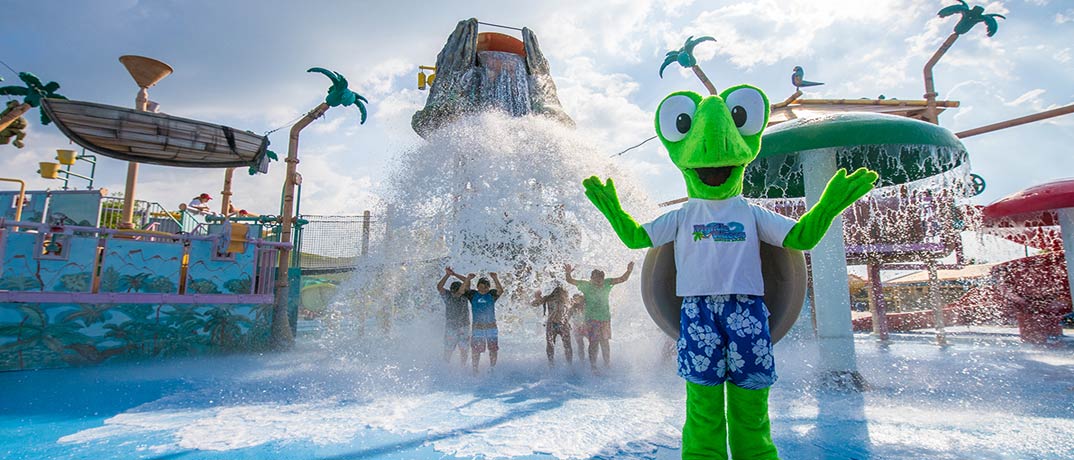 Ocean in Motion Wave Pool
Welcome to South Carolina's largest wave pool, where the entire family will enjoy wading, splashing and laughing in the ocean-like waters that range from 0 to 6 feet deep. Lifejackets are recommended for those who are not strong swimmers.
Lazy River
Sit back and relax as you glide along the gentle current of this 330,000-gallon Lazy River.
Racin' River
Or, choose the faster 10 mph currents of this 250-foot river while seated on your skimmer board.
Bubble Bay
Your tots will fall in love with this shallow splash pool, complete with oodles of features that spray and soak. Water depths are 6-18 inches; only children 45-inches-tall and under are permitted in Bubble Bay.
Saturation Station
The entire family will cool off in this fun play area that features three smaller open body slides and a volcano waterfall bucket.
Tsunami
Experience a taste of surf life on this Flowrider surf board ride. Admission is $10; hours are 11 a.m. to 5 p.m. Riders must be at least 42 inches tall.
Snacks & Dining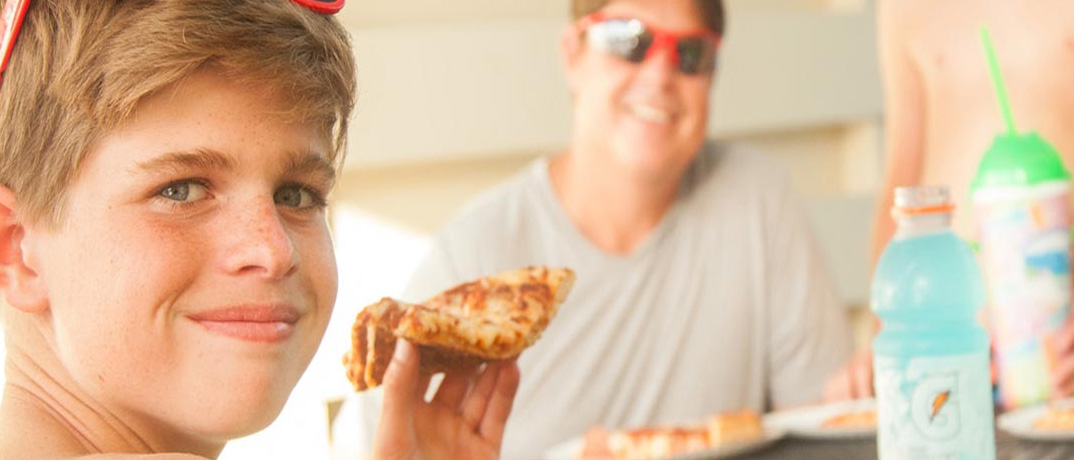 Island Café
When it's time to refuel, step up to this pitstop, where they serve up a menu of munchies like chicken tenders, burgers, hot dogs, corn dogs, grilled chicken sandwiches, salads and pizza. You can even cool off in their indoor, air-conditioned dining room.
Sharkie's Snack Shack
When it's just a snack that you're craving, the Shack has you covered, with hot dogs, stuffed pretzels, cotton candy, popcorn or one of eight flavors of Dippin Dots ice cream.
Beer Garden
Mom and Dad can sip on a cold beverage here – and even enjoy a snack.
Funnel Cake Stand
There's nothing better than this fairground favorite; the stand also offers a variety of snack and combo meals.
Shops & Stores
Tropical Trading Post
If you forgot to pack it, this shop is stocked with it, including swim suits, water shoes, towels, goggles and more, as well as souvenirs and gifts.
Myrtle Waves Prices
General admission (over 4 feet tall): $26.98 + tax
General admission (under 4 feet tall): $18.98 + tax
General admission (2 years old & Under): FREE
Weeklong Daily Pass: $44.95 + tax
Military and Senior discounts are applicable
Book your tickets here!
Myrtle Waves Hours
Throughout the summer until late August: 10am to 6pm
Late August through Labor Day: 11am to 5pm
Nearby Resorts
And when you're ready to dry off and rest up, reserve a room at one of our Condo-World resorts nearby:
Atlantica Resort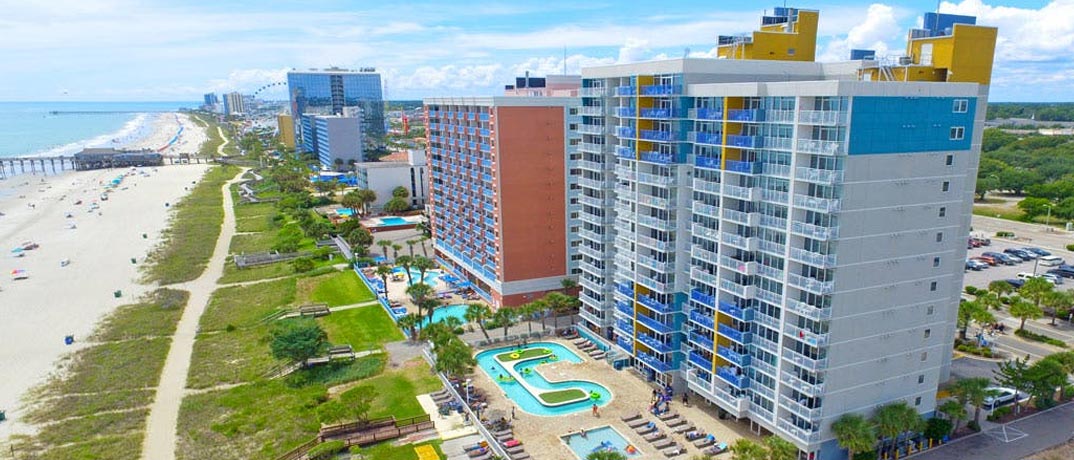 The glorious Atlantica Resort is definitely a destination you must check into, featuring beachfront suites through two-bedroom condos that house beautifully refreshing coastal decor throughout the fully equipped kitchens and furnishings. The entire family will love the property's amenities, including the oceanfront pool, 150-foot-long lazy river, outdoor whirlpool spa, kiddie pool, and an indoor pool and hot tub for any cooler, rainy days. When you're ready to explore Myrtle Beach, Atlantica's central location on Ocean Boulevard makes it easy to hit all the family-friendly hotspots in town, like the Myrtle Beach Boardwalk, SkyWheel, oceanfront zip lines, Family Kingdom Amusement Park and more.
Bay View on the Boardwalk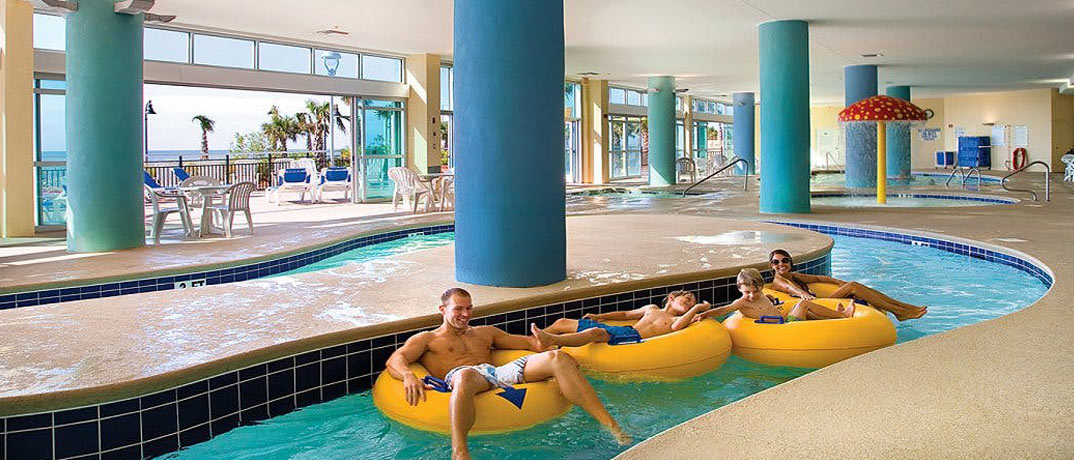 Nearby to Myrtle Waves is a resort located directly on the boardwalk with many attractions and restaurants in walking distance. When you stay at Bay View Resort the water fun doesn't stop! With an indoor pool and hot tub, you can enjoy even more hours of splashing. Relax in a lazy river at the waterpark and the resort and your vacation will be complete!