The Absolute Best Restaurants To Enjoy A Gatlinburg Sunset
Who doesn't love dining out against a gorgeous mountain backdrop?
Whether it's a romantic dinner or a family ah-ha moment, we've scouted out the absolute best Gatlinburg restaurants that offer up both fine cuisine and breathtaking sunsets.
The Peddler Steakhouse – $$$$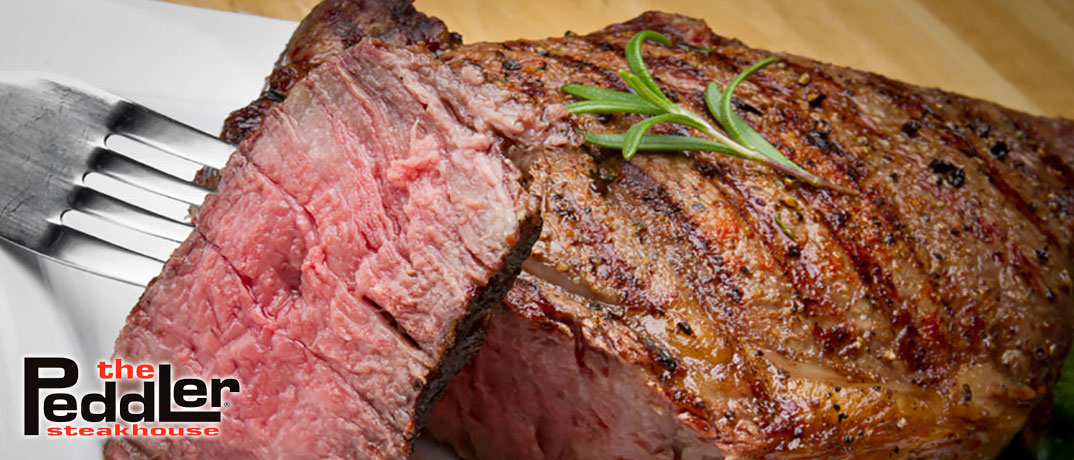 Get ready for gastronomical gloriousness and sensational sunset-hued views! The Peddler Steakhouse is at the entrance of the Smoky Mountain National and it's sits alongside a creek. A quiet, warm ambiance in the middle of trees and cliffs. You can view the colorful hues of a sunset while sipping premier perfect wine. If you'd prefer to bring your own bottle, there's a $10 corking fee. To try: French Onion Soup, New York Strip (cut table-side) and/or the Fresh Rainbow Trout. For dessert, try the Kahlua Creme Brûlée or Hot Blackberry Cobbler. This one had to be on our list-though it's more sunset-hued (and you're liable to see a bear and other critters scuttling along the stream-ask to sit on the pavilion in autumn!), it's a perfect date night place.
Crystelle Creek Restaurant – $$ – $$$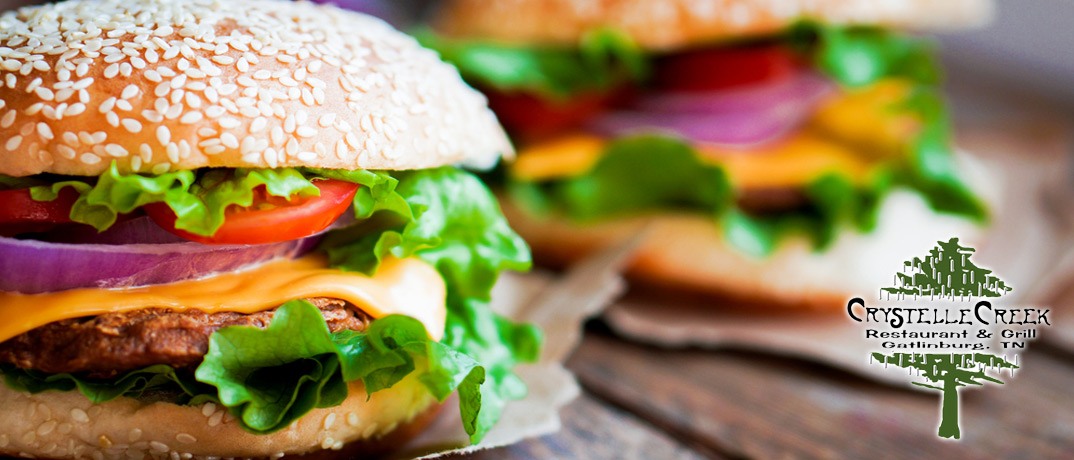 This Gatlinburg restaurant is located outside of the hustle and bustle of Gatlinburg on a creek on Highway 321, adjacent to the Smoky Mountain National Park. There are two levels, live music and the sunset possibilities are endless and romantic. The grounds are gorgeous as well with a koi pond, 150 foot lighted tree and waterfall-like water tumbling down over the roof. Visitors love the homey feel and the staff continues to get 5-star ratings for their friendly and knowledgeable service. To try: Shrimp Cocktail, Chicken Parmigiana and Fresh Tennessee Trout. Their desserts are homemade and change daily. A 2018 Trip Advisor Certificate of Excellence Winner, you'll probably want to call ahead for reservations.
Friendly Falls – $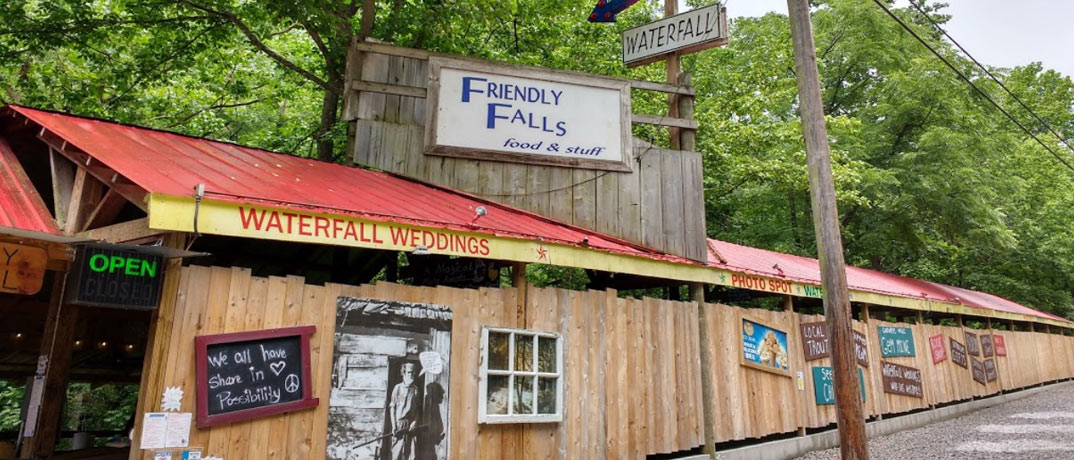 This isn't the fanciest place but we're adding it to our Gatlinburg restaurants with a view list. Located in Wears Valley, visitors swear by this small roadside attraction. Open from 11 a.m. to 8 p.m., you can catch a Smoky Mountain sunset here, but you'll drive about 20 miles to get there. Well worth it – think quirky, country, hippie cool. You can mine gems, view breathtaking waterfalls and take it a gorgeous sunset, all at the same time. There's live chickens walking around, a gnome garden and some crazy good, tasty snacks such as smoked trout, hummus, hot dogs, pimento cheese sliders and PBJs (without all that unhealthy high fructose!). Seriously, what's better than a Cookie Dough Sundae? They've also got all kinds of domestic and imported beers, but if you're more of a vino fan, bring your bottle ($7 corking fee) and they'll supply the corkscrew and cups. The owners are so friendly, (there's a reason why it's called what it is) so bring your peace and love spirit with you and get ready for a wonderful experience! Both couples and families are thrilled with Friendly Falls.
Blackberry Farms – $$$$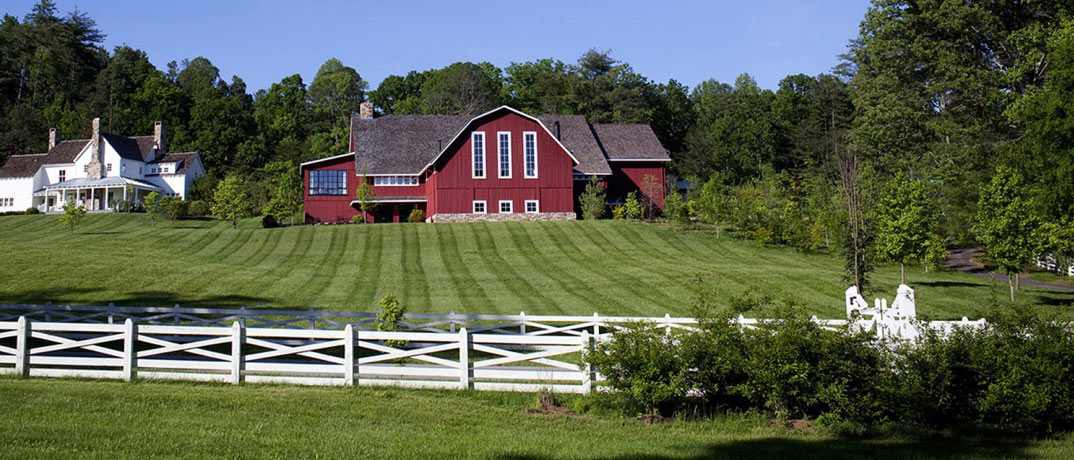 Though not in Gatlinburg, this has to be on our sunset-inspired list. It's 30 miles away, but start your day early and get there for a breathtaking experience – in both cuisine and scenery. This is 5-star dining at its best. There's the Barn to dine in, rustic and elegant, with the farm's wine cellars nearby. The Tack Room is glass-walled so you can see all the stunning vistas surrounding you. The main dining room is more intimate (with a grand stone fireplace) but for the best sunset views, stick to the Tack Room. You can't go wrong whatever you choose and the grounds are perfect for a sunset stroll. Their tasting menu changes by season, but some to try are: Wild Mushroom Risotto, Mountain Trout and for dessert, try the Blueberry Icebox Pie. Their cheese course is divine as is their extensive wine and beer choices. People swear by their perfectly cooked steaks and there's a list of over 300 spirits! Farm-fresh vegetables and farm raised beef, as well as fresh caught trout-Blackberry Farms is a culinary experience, complete with exceptional, world-class chefs and knowledgeable staff and sommeliers. Go for it-you won't be disappointed!
Cherokee Grill – $$ – $$$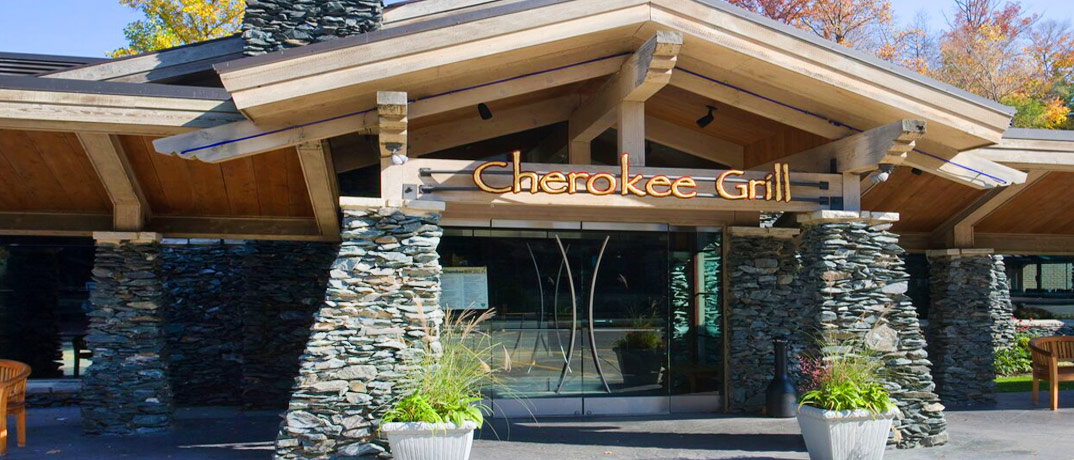 Though not known for its sunset views, we're adding this to this list because it's great food at reasonable prices. They have takeout, so order the smoked fresh filet of trout, a rotisserie chicken, a side of burgundy mushrooms and baked macaroni. Stop by Sugarland Cellars for a perfect bottle of wine and pack your picnic basket. Head up to Look Rock (about 10 miles from Highway 321) and hike the paved trail to Look Rock. Enjoy one of the most spectacular sunsets on the planet. Trust us, it's worth it!
That's our list of sunset-worthy dining experiences in Gatlinburg. Condo-World also has numerous cabins that have decks and/or porches where you and yours can soak in the Smokies' sunsets-all you have to do is step outside! Book your Gatlinburg cabin rental today!