Your next mission, after conquering the fairy tale magic of Disney and the Orlando Parks? Aiming for the power of the planets and stars in space with a day trip 45 miles East to the Kennedy Space Center in Cape Canaveral, Florida.
You'll be ready for launch to explore all that lies beyond our Mother Earth in this Visitor Complex that is action-packed with hours of education, entertainment and amazement for the entire family. Here's our condensed countdown of what to do, see, eat and shop for at NASA's Kennedy Space Center.
Attractions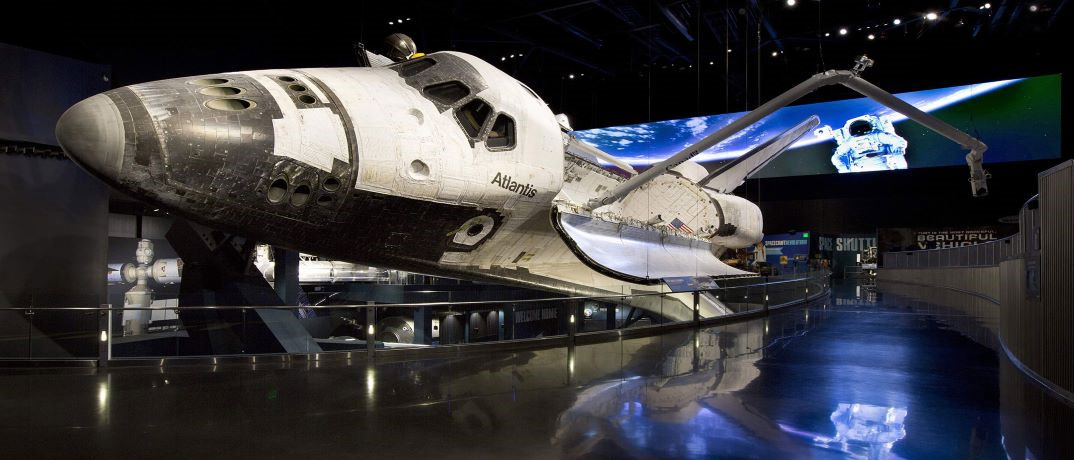 Mission Zone—Heroes & Legends
Discover the Kennedy Space Center launch through the history of NASA's space program through these awe-inspiring exhibits:
 U.S. Astronaut Hall of Fame—Take a stroll through and honor those American astronauts that have been remembered and honored throughout the history of our space programs.
 Eva 23 Documentary—Sit back and take off on this film that covers the amazing story of the International Space Station spacewalk.
Mission Control: The Unsung Heroes of Apollo—Learn all about the Apollo space program – especially the team who can be credited for putting a man on the moon!
Rocket Garden—A guided tour will walk you through all off the incredible rockets of NASA's past: Mercury, Gemini and Apollo.
Astronaut Encounter—You can actually meet an astronaut during this live presentation at Universe Theater!
Mission Zone—Race to the Moon
Go for launch! This Mission Zone will navigate you through pivotal, historical moments that landed America on the moon through these displays:
Saturn V Rocket—Walk beneath the largest rocket ever flown through space, and one of only three remaining in the United States (13 were launched between 1967 and 1972).
Ad Astra Per Aspera—Pay tribute to the three astronauts who died while training for the flight of Apollo 1.
Apollo 8 and The Firing Room—Enter the Firing Room, where the first crew on Saturn V launched into space.
Exploring the Moon—You'll learn all about the Apollo moon landing machines that made it all possible.
Lunar Theater—Sit back and experience the historic visual moments leading up to those infamous words from the moon: "The Eagle has landed."
Apollo Treasures Gallery—This display reveals all of the details and artifacts of the Apollo spacecraft, down to the moon dust on Alan Shepard's spacesuit!
Mission Zone—Shuttle: A Ship Like No Other
The showpiece of this Mission Zone is the space shuttle, of course, the legendary vehicle responsible for transporting astronauts to space and back for the last 30 years. Take it all in through these activities:
Space Shuttle Atlantis—This modern marvel boasts more than 60 interactive exhibits that explore the shuttle's vital importance to NASA.
Hubble Space Telescope Theater—Get an inside look at the lifespan of one of NASA's brilliant pieces of visual technology.
Astronaut Training Simulators—This is your chance to walk (and fly) like an astronaut, using state-of-the-art simulators inside Atlantis.
Forever Remembered—This memorial that commemorates astronauts who died during the STS-51L Challenger and STS-107 missions will remind you of the bravery and sacrifice of these fearless fliers.
ISS Triumph of Technology—You'll get an exclusive peek inside the inner workings of the International Space Station!
Shuttle Launch Experience—Hang on tight! You'll take a seat and experience all the senses that go along with a shuttle launch into space aboard this simulator.
Mission Zone—Now + Next
You'll take a direct flight into current missions to the ISS, as well as upcoming missions beyond through this Mission Zone's futuristic experiences:
Journey to Mars: Explorers Wanted—Think you have what it takes to be the next explorer into deep space? Test out your skills here!
Mars Rover Vehicle Navigator (MRVN)—You'll be one of the first to witness NASA's newest concept vehicle that's intended to roll across the challenging surface of Mars.
Eyes on the Universe: NASA's Space Telescope 3D—Look into this telescope on steroids that will probe deep into the universe.
IMAX Theater—This massive theater plays three space-themed films that will make you feel like you're right there amidst the stars.
Mission Status Briefing—Located at Universe Theater, this briefing will let you in on all that's happening with current missions, the status at Kennedy Space Center and the launch schedule at Cape Canaveral Air Force.
Science on a Sphere—Take a spin with NASA as they teach you a thing or two about Earth and our solar system.
Tours
Bus Tour
This tour is included with your admission to the Kennedy Space Center.
Hop aboard this comfortable motor coach bus and learn more about the both the history and future of space travel. You'll gain access to restricted areas of Kennedy Space Center, such as launch complex 39B and the Vehicle Assembly Building. On this guided tour, you'll also hear from space experts joining forces with NASA for future missions.
Explore Tour
This tour takes the Bus Tour to the next level, with a space expert on board as your guide, stopping for a few mind-blowing photo ops within the Kennedy Space Center.
Launch Director Tour of Space Shuttle Atlantis
One of the specialized Kennedy Space Center tours that will go off the map is this one led by former launch director Mike Leinbach, who offers unique insight into the space shuttle program and the risks and rewards of each mission. Each tour guest will receive a digital photo and signed lithograph of Leinbach. Tickets are $65 each.
Cape Canaveral Early Space Tour
Even before Kennedy Space Center was built, rockets were launched at Cape Canaveral starting as early as 1950 through the U.S. Air Force. This tour will visit the historic military site and its launch complexes, as well as the Air Force Space & Missile Museum, the Mercury 7 Monument, and Launch Complex 34, the memorial site for the crew of Apollo 1.
Fly With An Astronaut
You'll be a part of only a small group on this private, exclusive tour led by a veteran NASA astronaut guide throughout the Kennedy Space Center. Your group will also be treated to a catered lunch with the astronaut.
Dining
Dine with an Astronaut
An out-of-this-world experience, where a buffet lunch is accompanied by astronauts sharing their personal space stories in the main visitor complex. Photo ops and a Q&A session is also included.
Rocket Garden Café
Breakfast and lunch is served in this café daily, alfresco. Choose from breakfast quesadillas and pastries or shrimp tacos, burgers and sandwiches for lunch.
Moon Rock Café
Dine on lunch at this café located at the Apollo/Saturn V Center; indoor or outdoor seating is available. Moon Rock's menu features everything from sandwiches and wraps to pizza, burgers, salads and desserts.
Orbit Café
Take a seat from spinning at this café serving up lunch indoors, like salads, burgers, sandwiches, pizza and more.
Red Rock Grill
Step right up to this outdoor snack stand next to Journey to Mars: Explorers Wanted and order one of their specialty hot dogs, tater tots and a beer.
Milky Way
It's time to cool off at this stand near Universe Theater offering ice cream treats, soda and Space Dots.
Rocket Fuel Food Truck
Refuel at this food truck serving up a variety of snacks, coffee and cold drinks right outside the main entrance.
Shops & Stores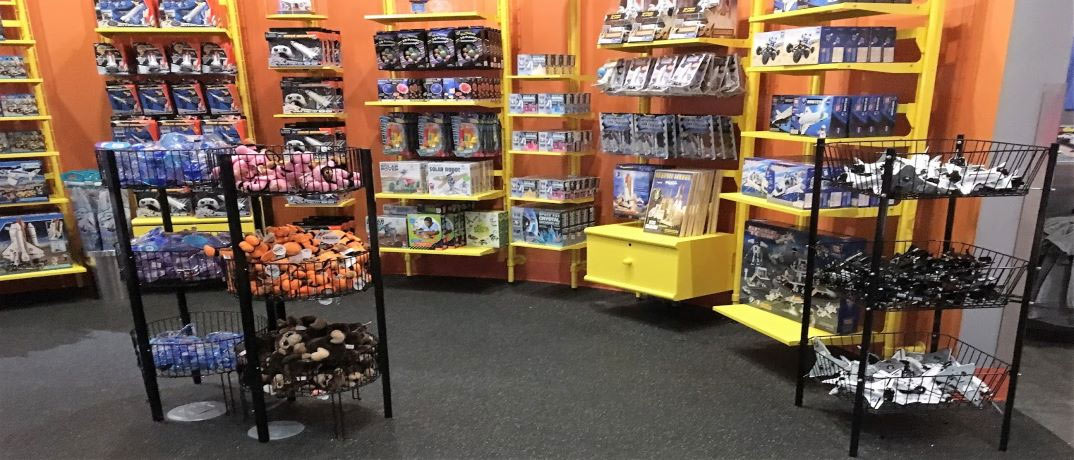 The Space Shop
You can't take off without a stop at The Space Shop, the world's largest store themed on space memorabilia and NASA products. You'll find it's one of those things to do at Kennedy Space Center that will also be unforgettable, featuring a newly renovated store stocked with memorabilia, NASA gear and souvenirs, a Customization Station, and more. You can also meet the Astronaut of the Day and get an autograph on the second floor!
The Right Stuff
This shop located at Apollo/Saturn V Center, specializes in moon landing and Apollo program memorabilia and souvenirs.
Shuttle Express
As you can imagine, this pit stop, located inside Space Shuttle Atlantis, features all gifts that are space shuttle-related.
Information
Located right at the visitor complex entrance, this store sells the necessities, like snacks and beverages, as well as souvenir hats, shirts and toys. You can also pick up your Cosmic Quest activation badges here.
Daily Kennedy Space Center Hours are 9 a.m. to 7 p.m. For a year-round schedule of hours, special events and launches, as well as more info on Kennedy Space Center tickets, visit the Kennedy Space Center website.
Re-entry in Orlando
And when your feet are back on the ground, relax in one of our vacation rentals in Orlando, Florida. Condo-World offers plenty of options in luxury rentals and home rentals for your family, no matter the size of your group. After you're done exploring Orlando's magical theme parks or the activities the city has to offer, you'll love returning to one of our properties to relax and unwind, with private pools, hot tubs and more.