Jump on in at the best trampoline park in Myrtle Beach: Rockin' Jump! It's also the best way to jump out the kiddos' energy on a rainy summer day. You'll find the Rockin' Jump trampoline park to be an incredible way to combine exercise with fun, from their open jump arenas to trampoline dodgeball and basketball to foam cube pits and much more.
Their motto? Safe. Clean. Fun. Here's all the different height-defying, action-packed ways Rockin' Jump makes that happen!
Activities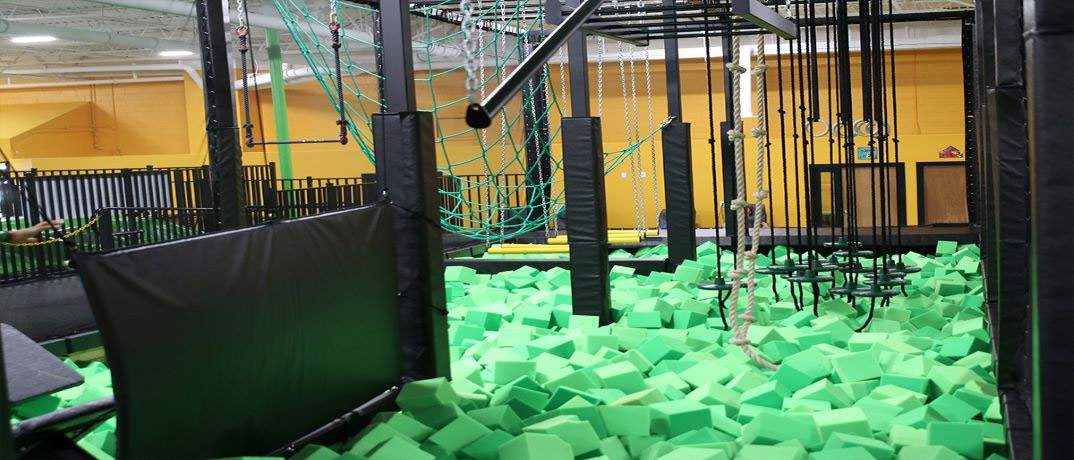 Warped Wall
If you're a fan of the hit TV show competition "American Ninja Warrior," you'll love your very own chance to climb up Rockin' Jump Myrtle Beach's version of the show's warped wall. This new attraction gives you the chance to choose from two different heights.
Wipe Out
This newly added obstacle will test your ultimate balance as you jump and dodge the rotating sweeper bars. The results will be the difference between clearing those bars or getting wiped out.
Aerial Silks
If you want to wrap yourself around the feeling of soaring through the sky, this new Aerial Silks attraction for all skill levels will take you sky-high. The silks will also strengthen muscles, increase range of motion, expand your flexibility and relax your mind.
Fidget Ladder
This new Rockin' Jump challenge wasn't built to be easy, by any means. It requires only the best of balance to steady yourself along the hardwood rungs of the fidget ladder through the air bag below. Climb carefully!
Log Roll
You've seen log rolling somewhere … This new attraction is just the same concept. The only difference is that Rockin' Jump replaces the water with a soft landing bag as you go head-to-head on the spinning beam.
Open Jump Arena
This mega trampoline area is a kid's dream! The main jumping area of countless padded trampolines give kids the chance to jump, flip, play and laugh. All the while, staff is making sure they're safe from all angles.
X-Beam
It's a Rockin' Jump sort of joust, where you're armed with a padded lance, go head-to-head with your friend armed with another lance and aim to knock them off the beam into a pit of cubed foam.
Slam Dunk Zone
Your kids may not be tall enough to dunk on a normal court, but they can feel like an NBA star at Rockin' Jump with their trampoline launch pads that will launch kids into the air into several basketball goals set at varied heights
Ninja Course
America loves the TV show "American Ninja Warrior" craze and now your kids get the chance to test their physical skills above the pit of foam cubes. They'll be able to maneuver through the balance-testing cargo net, swinging steps, gymnastic rings, orange balls, Swiss cheese boards, monkey boards and more. If they complete this course, they can have bragging rights for sure!
Stunt Bag Arena
Ready, set, go and flip into this JumpSafe environment that includes trampoline launches and soft cube pit landings.
Vertical Ops
Climb our three mountains pegged with climbing notches and ring the buzzer at the top! It's exhilarating challenge!
Dodgeball
It's a game we all grew up with, and now Rockin' Jump brought it back to life with a trampoline-based game of dodgeball in their own special bouncy court.
Groups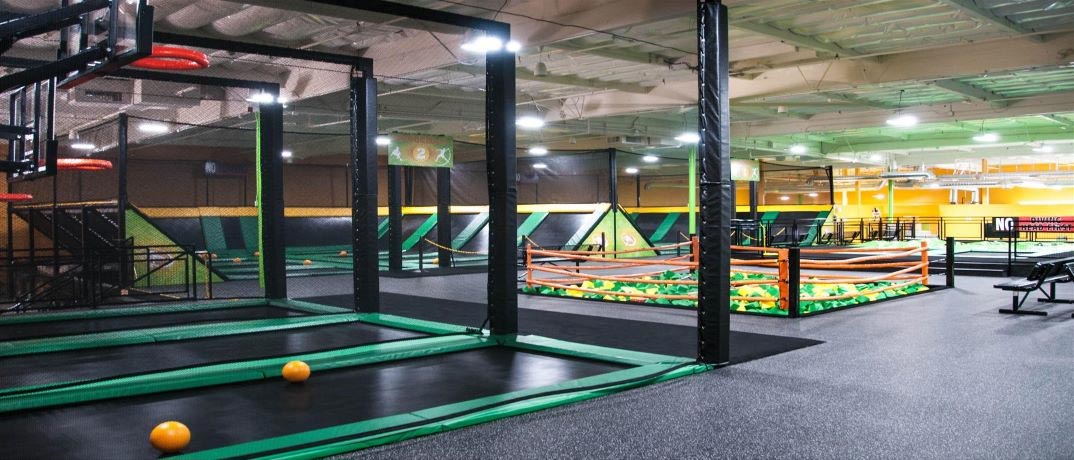 You can plan your Rockin' Jump birthday party, family gathering or family day out by booking a time and signing a waiver at https://rockinjump.com/myrtlebeach/. Hours for Open Jump are Monday-Sunday, 11 a.m. to 10 p.m. (until 8 p.m. on certain weekdays) and, for your little ones, Rockin' Tots is daily from 9-11 a.m.
Where to Stay
And when you're ready to jump into bed to rest for the next day of adventure, book your stay at these nearby Condo-World resorts:
The Strand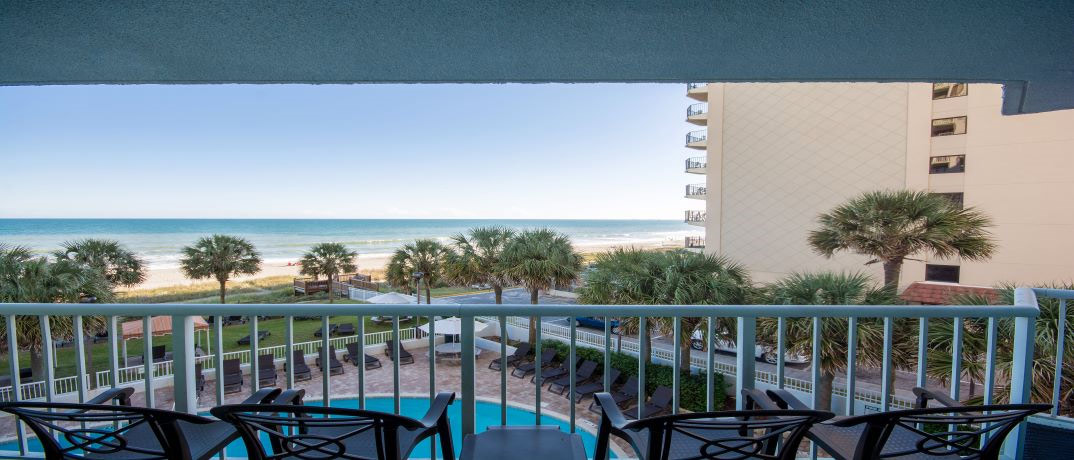 This boutique oceanfront resort features high-class amenities, such as a beautiful oceanfront pool, a large kiddie pool, private cabanas, a whirlpool and a fully equipped exercise room. And your family will get to recharge every morning with The Strand's free hot breakfast, included each day. Each spacious room is gorgeous, laid out with all the comforts of home.
Sandy Beach Resort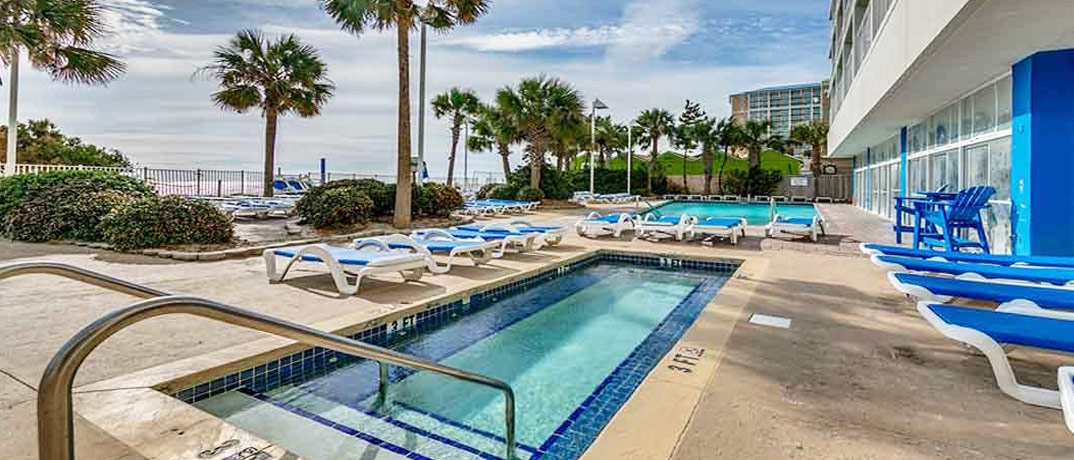 This oceanfront resort will wow you, with it's three oceanfront outdoor pools and multiple other amenities. Sandy Beach Resort is one of the newest resorts in Myrtle Beach with modernly appointed condos, conference rooms and fitness center. This resort is conveniently located to many attractions in Myrtle Beach in addition to Rockin' Jump.