Shopping in the Mountains – Gatlinburg's Mountain Mall
Let's face it. Everywhere we go, we like to shop. When you vacation in Gatlinburg, you're most likely doing so because of the glorious Great Smoky Mountains and all the friendly, Southern hospitality.
What Gatlinburg has in regards to shopping is unique and the places to choose from are as varied and colorful as the mountains that surround them.
One of our favorite places is the Mountain Mall in Gatlinburg located at traffic light #6 on 611 Parkway. Not only is it in the heart of all the action, but most who discover it refer to it as a "hidden gem" and "the biggest little mall." This isn't your typical mall. We like to think of it as a perfect rainy day place to go to shop and people watch. Not to mention the wide variety of stores.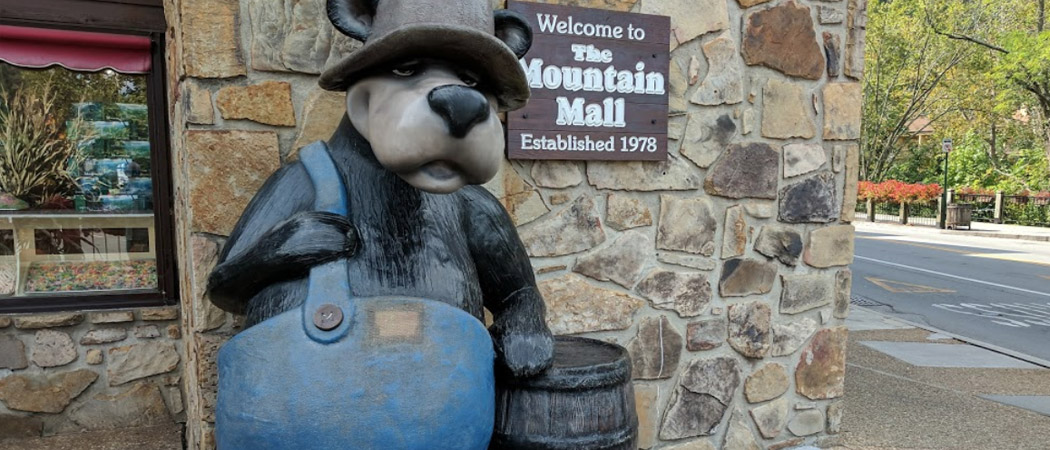 Though we love every place (there's over 30 stores & eateries!) inside this multi-level shopping mecca, we've listed a few of our favorites. Explore it and find yours!
The Rhythm Section, Level A
Bring your nostalgia with you. The Rhythm Section has albums, CDs, concert posters, DVDs and all kinds of entertainment memorabilia you could want. The staff is super knowledgeable about every genre of music and movies that's in the store and their passion about it is infectious. Great shopping and you'll find yourself lost in here, in a good way.
Spas to Go, Level B
This is seriously one of the best massages you'll ever get. For 20 minutes, treat yourself to a "Totally Dry Aqua Massage." For $20, you'll get 15 minutes of exquisite massage by a large machine that you lie down in (they have 5 in the store) and it's reportedly equal to an hour of a traditional, hands-on one. Whatever the case is, it's wonderful and you won't regret it.
New York Pizza and Pasta, Level B
You're going to need some sustenance before or after all the shopping. This family owned pizza and pasta place is great and you can watch them as they prepare your pie. Sold by the slice or the entire pizza. You won't enjoy mountain views, but we promise you'll love the pizza!
Paws and Claws Pet Fashion, Level B
If you dress up your fur baby and love to treat your fur baby to special goodies, this is the place! Find a variety of clothing, strollers, treats and items that show the world you love your pet. Of course, bring your baby with you if you'd like.
Creative Spirit Crafts, Level D
Gatlinburg is rich in artisan-based establishments and communities. This nice little shop sells locally sourced jewelry and art. We guarantee you'll find a beautiful one-of-a-kind gift for someone or for yourself.
The Scented Willow, Level D
A sensory experience where you can pick up candles and fragrances that mimic more expensive brands and natural, kind to the environment makeup. There's also skin products such as bath products, body butters, scrubs, cleansers and more. A very spa-like and soothing environment, you can definitely pickup some great smelling stuff.
The Pepper Palace, Level D
Just the place to find a gourmet jar or bottle of hot sauce, salsa or other flavorful marinades to make up that gift or Christmas basket for a friend who's difficult to buy for. If you're one of those adventurous culinary types, try the Wall of Flame sauce – it packs a lot of heat. The garlic-stuffed olives are delicious and there's a diverse selection of BBQ sauces, rubs and balsamic vinegars. Yummy!
Wild Dimensions, Level F
If you're a virtual reality type of shopper, you're going to love Wild Dimensions! Their 9D Chair is fantastic with most "realities" lasting about 5 minutes, but you'll feel like you are there-whatever you choose, with sound, vision and other special effects. Think the Matrix, but you're way safer when you visit one (or more) of 90 different animated scenarios. You and your kids will love this place!
The Ryan Marsh Gallery, Level F
This is a fantastic and fantastical art store with the artist's one-of-a kind paintings and other creations inside. There's also weird and wonderful chess sets-you can request your own personal color and brand of what you'd like! His work will upgrade the cool factor inside your home or garden, guaranteed.
Doug Wyatt Guitars, Level F
The shop is named after Doug Wyatt, a musician who built his first guitar in the early 2000s. He lives in Asheville, but you can own one of his beautiful creations by shopping here. True craftsmanship and the perfect place for all you musicians-in-waiting. Plus, you can pluck the strings if you're so inclined.
You really can't go wrong visiting Gatlinburg's Mountain Mall – there is literally something for everyone.
Gatlinburg Cabin Rentals
Afterwards, bring all those treasures you found back to your luxury cabin in Gatlinburg. Our cabins are complete with beautiful views of The Great Smoky Mountains. Many of them are also close to downtown Gatlinburg where you can find more shopping, dining and attractions. Book your cabin online with Condo-World!