The Best Moderate Hiking Trails in Gatlinburg
In an earlier post, we let you in on some easy Smoky mountains hiking for those who want a more easy going gait. If you're an expert looking for a hike that fits your level, we also have our expert hikes in Gatlinburg. But, if you're somewhere in between, we've come up with our list of the best moderate Gatlinburg hiking trails. Make that the best hikes in Gatlinburg, TN!
Alum Cave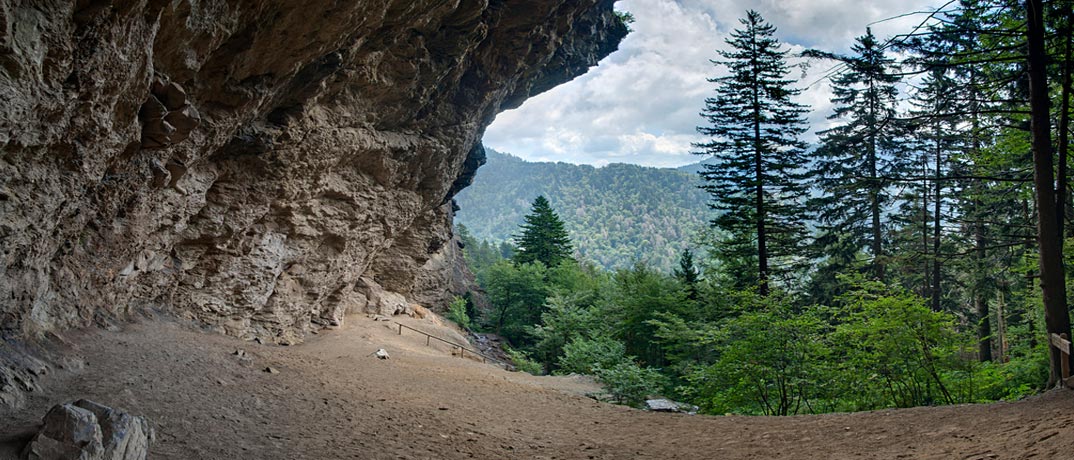 Round trip this hike is about 4-1/2 miles. From Gatlinburg's visitor center, you'll drive 8 miles down Newfound Gap Road. There are two parking lots to hike this one, as it wildly popular. Go early to get a spot. You'll start the hike on a gentle slope and you'll run into some colorful flora along the way. About a mile and half in, you'll see Arch Rock, which is something to see indeed! Landmarks such as Inspiration Point and The Eye of the Needle are along the trail, all offering a well-worth-it pause to soak in stunning views. Near the end, you'll reach Alum Cave that's 80 feet high. The cave is where Epsom Salts Manufacturing Company once stood in the 1800s and salt was mined here. The Confederate Army also used it to mine saltpeter, that was used in gunpowder during the Civil War.
Chimney Tops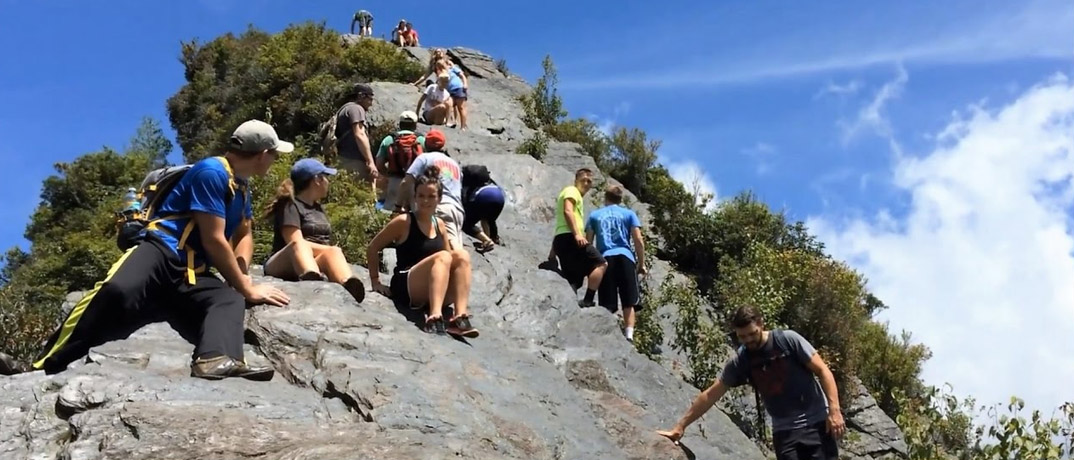 Another hike off of Newfound Gap Road, Chimney Tops. We're putting this one on our moderate list because of the length, (about 3 miles round trip), but it's not one to take children along. This trail was reopened in 2017 after a wildfire that happened in 2016. Rock steps have been reconstructed making the trial much safer. You'll cross several foot bridges as you follow the creek and in spring, wildflowers are lush and blooming. At a junction at Beech Flats, you're halfway through, but stay on the main path to the right to reach the Chimney Tops. You'll go up some pretty steep hills, but the views are unbelievable.
Huskey Gap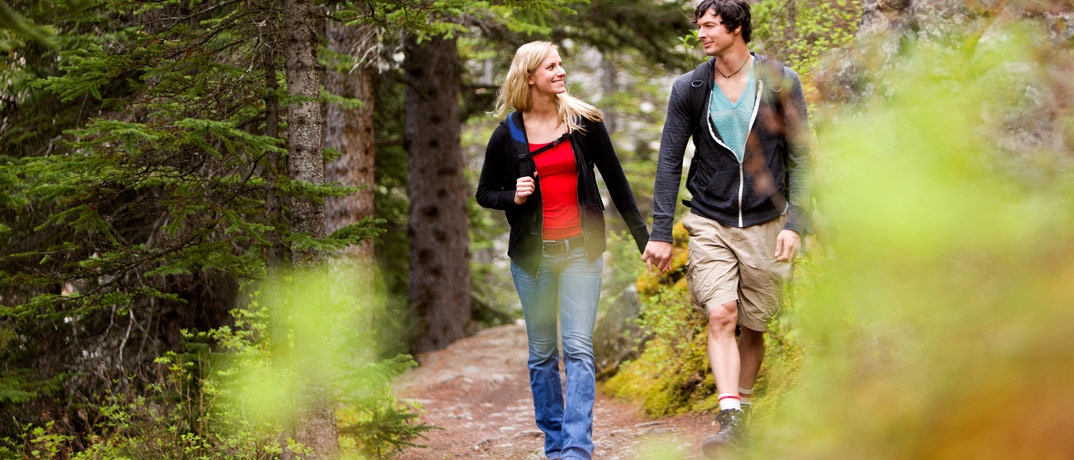 From the visitor's center, the small lot for parking is off Newfound Gap Road, about a mile and half up. This hike is about 4 miles round trip and once you being walking down the trail, the lushness of the surrounding forrest buffets any road noise. This trail is a favorite because of the varietals of wildflowers here, so Spring is best to hike this one if possible. You get some peeks of mountains along the way and on the way back you can see slivers of Mount LeConte.
The Jumpoff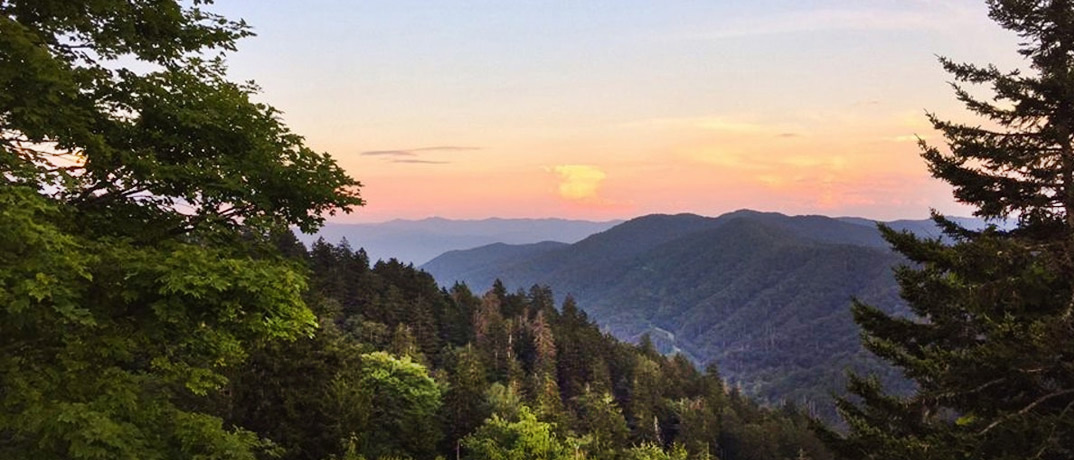 This trail is 6.5 miles round trip and you'll have to drive 13 miles from the visitor's center along Newfound Gap Road. There's a parking lot near the trailhead and you'll hike east on the Appalachian Trail. There's a steady climb but so worth the views of the Smokies. Elevations reach 6000 feet and panoramic views of the mountains are breathtaking. Steady as you go to approach the Jump Off that will stop you in your tracks – Mount LeConte is majestic and it's a favorite spot for hikers to picnic.
Porters Creek Trail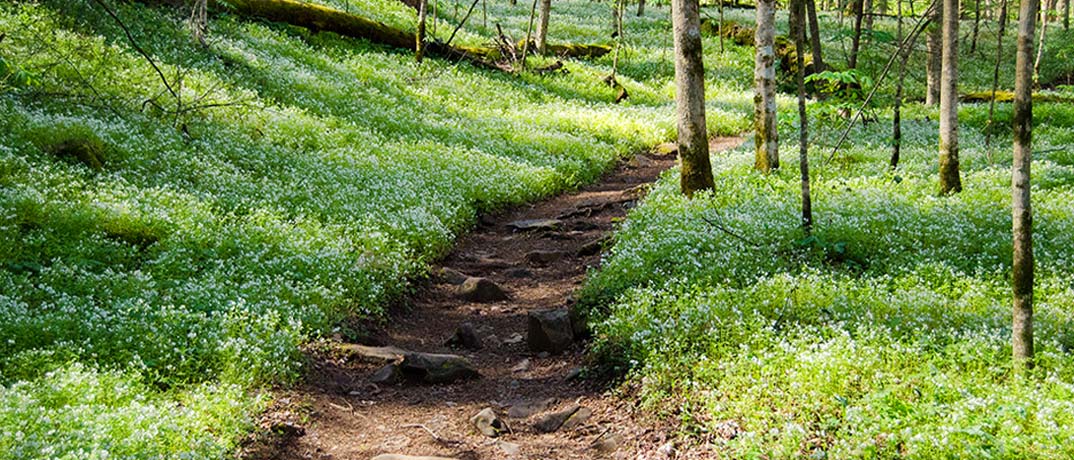 Galtinburg has 10 lights on the main drag. At the third light, turn on 321 east, then right on Greenbriar. After about 3 miles, you'll come to a fork in the road, keep straight and you'll eventually see a parking area for this trail. It's 4 miles round trip and it's a graveled trail along the banks of Porters Creek. You'll pass some historical remnants of a farmstead and a cemetery that dates back to early 20th century. If you veer to the right at the junction you come to, you can view a old farm site and barn from the 1800s. Going left takes eventually leads you to Fern Branch Falls, a lovely waterfall that has the added benefit of mossy spots to rest and colorful wildflowers in perfect concert with the surrounding forest.
Visit the Great Smoky Mountains website for more information about the park and the numerous hiking trail choices.
Gatlinburg Cabin Rental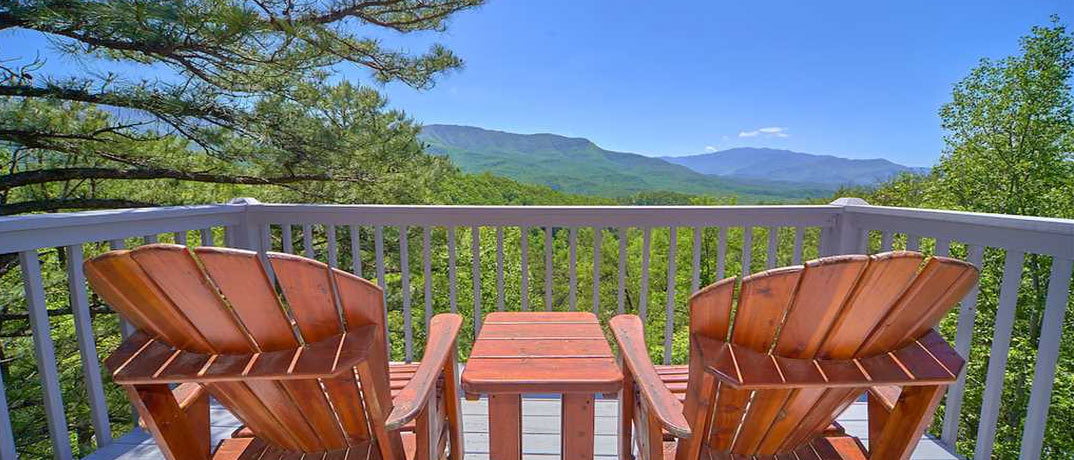 Take a load off after your hikes by relaxing in your nearby luxury cabin or condo in Gatlinburg or Pigeon Forge that you can book with Condo-World.