Let's Go Shopping in The Village!
Strolling down bricked streets. Sipping a cappuccino al fresco. Sitting by a beautiful fountain while writing your novel-in-progress or maybe some poetry. Breathing in the crisp, fall air while passers-by say hello to you or to the shopkeepers whose shops line the streets.
Sounds like a picturesque European village, doesn't it? It's Gatlinburg! If you love to shop within a bucolic, Old World setting, The Village Shops in Gatlinburg is perfect place. With over 27 unique shops and eateries, you can wile away the hours and find some pretty cool stuff to buy while you're at it.
Though all the village shops are wonderful, we've listed a few that we enjoy below. We recommend you visit all of them and if that takes more than a few days, so be it. You're on vacation in Gatlinburg!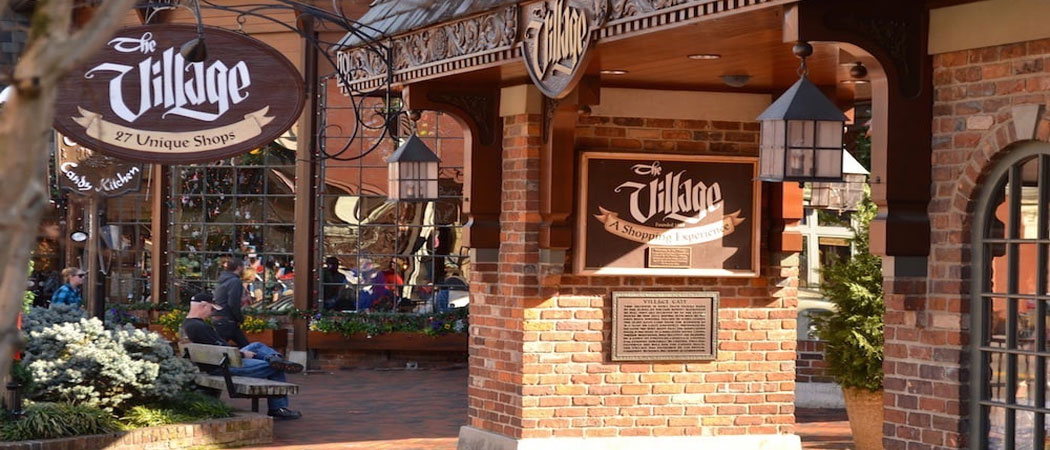 Coffee and Company (Coffee Shop)
Enter the bright red double doors into coffee heaven. This is Gatlinburg's oldest roaster and they serve up not only scads of coffee, served in pretty much every way conceivable, but there's also plenty of yummy cookies and pastries. The fountain is right outside the shop-it doesn't get much better. What's more, their motto is "Peace, Love & Coffee," and yes, you can pick up a tee-shirt or mug that illustrates that sentiment. They'll even ship coffee back home to you and they have seasonal coffees. Pick up few bags and put them in your suitcase-the Costa Rican Tarrazu is divine!
The Lazy One (Lounge Wear)
What's right up there with peace, love and coffee? Great jammies and slippers, that's what. The Lazy One is such a cool, unique shop where you can get matching jammies for the whole family. We're talking penguins, owls, mythical creatures and all kinds of designs to outfit you and yours for binge watching, popcorn eating and any other family night get-together activities you come up with. There's also boxers, tees, mugs and other stuff that is wildly unique and just fun.
Pop Culture (Popcorn)
Grab some gourmet, all natural and organic popcorn at Pop Culture. It's so delicious and and you really can sample every single flavor (there's 25) before buying if you'd like. We're partial to the Sea Salt Caramel, Wisconsin Cheese and Reese's Crunch, but you be the judge. Order some while you're there and have it shipped to your home-nothing like some good corn waiting for you after you get home from a great vacation!
Verbenas (Body & Bath)
This sweet little and sweet-smelling shoppe is for the "body, bath and home" and all, good for the soul. There are gorgeous soaps, lotions, serums, perfumes, scrubs, hand and makeup bags, as well as men's personal products. You can concoct your own signature scent if you'd like. It's a wonderful place to peruse, it's fanciful black and white decor is reminiscent of a Parisian shoppe.
Master's Editions Gallery (Fine Art Gallery)
What's better than visiting an art gallery while strolling in the village? This one is over 2,000 square feet and it houses some special works by local and national artists. There's always artist events going on. If you love traditional and realistic paintings, you'll love this place.
The Day Hiker (Hiking Equipment)
You're in the Great Smoky Mountains (GSM). You HAVE to stop by The Day Hiker where you can pick up everything you need for a day of hiking! Apparel and more for the entire family at budget-friendly prices. The friendly shopkeepers know these parts and they'll be happy to help you pick out the perfect trail and gear plus their collection of maps and books about the GSM are awesome. Find your favorite medallion of the place that you hiked to here or pick up an incredible day pack at a price that is as great as the mountains that surround you!
Life is Good (Life is Good Apparel)
We have to include this shoppe because going inside it is like hugging a warm puppy on a cold day while sipping hot chocolate. Seriously, you could most likely buy everyone on your Christmas list something here and spread good, positive cheer while doing so. "If you never get lost, you never get found…Life is Good." Yes, you can wear that on a tee-shirt and your dog can have her or his own personal Life is Good tee-shirt too.
The Sock Shop (Socks)
Do you know someone who you can never figure out what to buy them for birthdays, gifts or just a thank-you-for-being you gift? Stop by the Sock Shop and get them a few pairs of outrageously unique socks. Who doesn't need socks? Who doesn't love cool socks? Pick up a few for you too. If there good enough for both Present George W. Bush and President Obama, they must be great!
The Cheese Cupboard (Premier Cheese Store)
We had to include cheese on our list, especially Gatlinburg's "premier" cheese shop. There's a huge selection of domestic and imported cheeses and other gourmet-like sauces, mustards, crackers, chocolates and more. Go upstairs to the Hofbrauhaus Restaurant for a reuben and a German beer, but bring cash as they don't accept credit cards.
The Spice & Tea Exchange (Tea Shop)
This is such a great shop to explore. There's all kinds of spices, sugars and teas plus you can create your own gourmet gift basket for yourself or someone else. The gifts can be tailored to specific interests such as the chef in your family, the fitness fanatic and even your pooch. There's also soy scented candles, olive oils and really kitschy-kool kitchen accessories.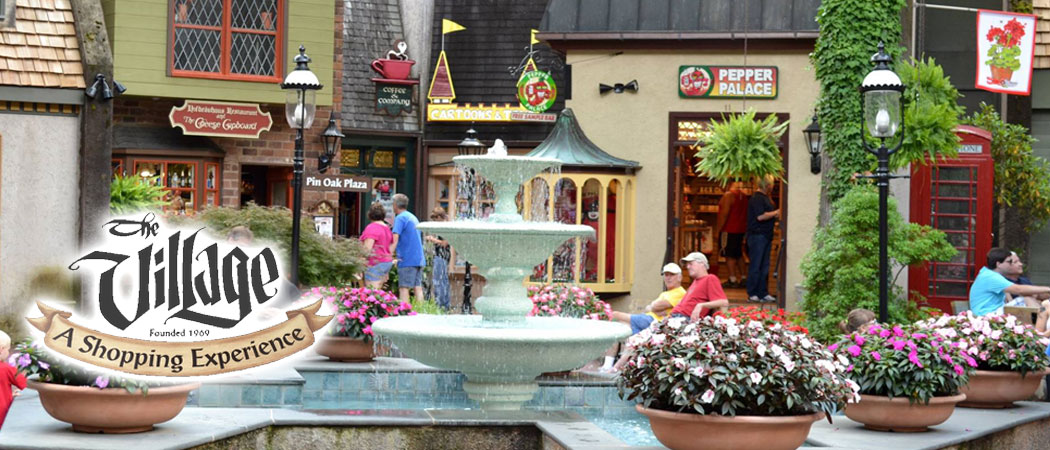 These are just a few of our favorites but be sure and tour them all while you're there. The Village is a very special place within a very special place-Gatlinburg and The Great Smoky Mountains.
For more information about The Village Shops in Gatlinburg, visit their website. Location: 634 Parkway in downtown Gatlinburg at traffic light #6.
Be sure to visit Condo-World to select a private and luxurious Gatlinburg cabin, many of which are close to The Village and so much more!