Lights! Camera! Action! Production Central at Universal Studios Orlando is the section to visit for those of you who love all things movie and TV. Located at the front entrance of Universal Studios, Production Central is the first area you'll see – and you'll want to stick around to explore all that it has to offer, from the sounds and scenes on the Music Plaza Stage to posters and sets from Hollywood films to shops selling movie souvenirs to restaurants where you can rest and refuel to continue on your adventure.
Here's the preview of what to expect in this blockbuster section:
Attractions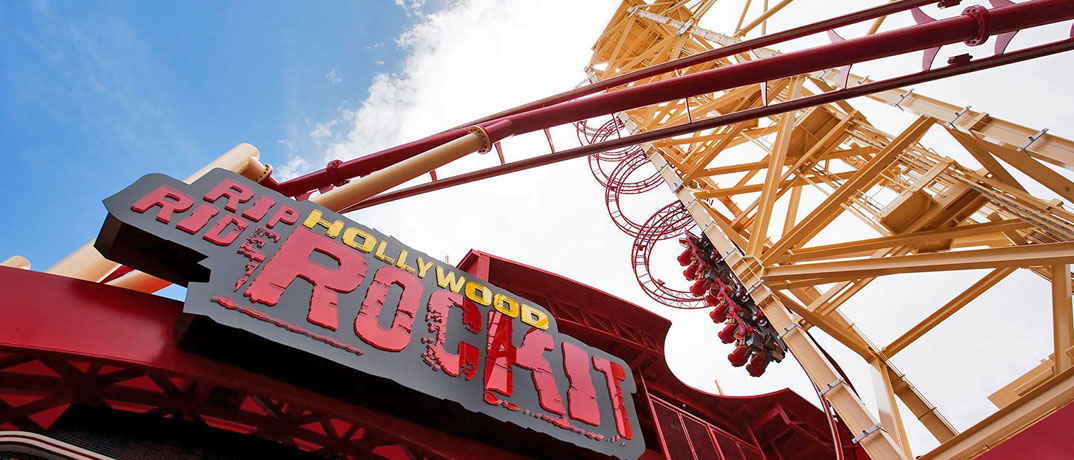 Despicable Me: Minion Mayhem
The Despicable Me Minion Mayhem attraction will be on the highlight reel of your trip to Universal Studios. Located just inside the main entrance, the Minion ride will have you seated in a high-tech motion simulator that moves and vibrates in sync with animation projected onto a IMAX-size screen using high-def, 3-D digital technology. The Despicable Me ride will immerse you in a storyline that combines elements from the movie, including Gru, his adopted daughters and those wild, yellow minions in Gru's house and his lab. Tip: You'll be at an advantage with a shorter wait time if you ride Despicable Me as soon as the park opens.
Hollywood Rip Ride Rockit
This X-Car coaster has been a mainstay in Universal Studios for the last decade, speeding across 3,800 feet of steel track at a top speed of 65 mph. The ride covers a lot of land, starting in Production Central, continuing into the New York area and racing toward the lagoon that separates Universal Studios from Islands of Adventure. The first hill of Rockit is 17 stories tall, the highest point of any roller coaster in Orlando. After the exhilarating vertical drop, you're launched into the Double Take loop inversion, followed by more loops, turns and banks. If that's not enough, your thrilling ride is accompanied by color-changing LEDs along each row and high-end audio and video technology that allows you to choose the genre of music you prefer (classic rock, country, disco, pop or rap) – there's even a way to play Rip Ride Rockit secret songs in its catalog if you ask the right attendant.
Tip: The singles line is a real time-saver.
Shrek 4-D
The Shrek 4D ride will have you seated inside a 3-D moving theater showing a film that follows the adventures of Shrek, Donkey and Dragon as they attempt to rescue Fiona from her kidnapper, Lord Farquaad. You'll begin in the pre-show holding area that doubles as Lord Farquaad's dungeon, then move into the main theater, where your seat is choreographed to move, bump and vibrate with the movie's action. The 4D effect comes into play with slight sprays of water and scents throughout the show. Tips: Content in the preshow and film aren't scary for small children. Stationary seating is available upon request. Shrek at Universal Studios shuts down one of its two theaters in the fall to transform into a haunted house for Halloween Horror Nights, which increases line wait times.
Transformers: The Ride 3-D
The popular movie series "transformed" into Transformers: The Ride 3-D in 2013 here at Universal Studios and the ride's popularity since then has been overwhelming. The action starts in the NEST Base, where video monitors play out the backstory that's centered on protecting Allspark from the Decepticons. Once aboard the simulator ride system, you'll feel like your right in the middle of the action-packed chase, thanks to your dichroic 3-D glasses and high-def video imagery and detailed set pieces.
Dining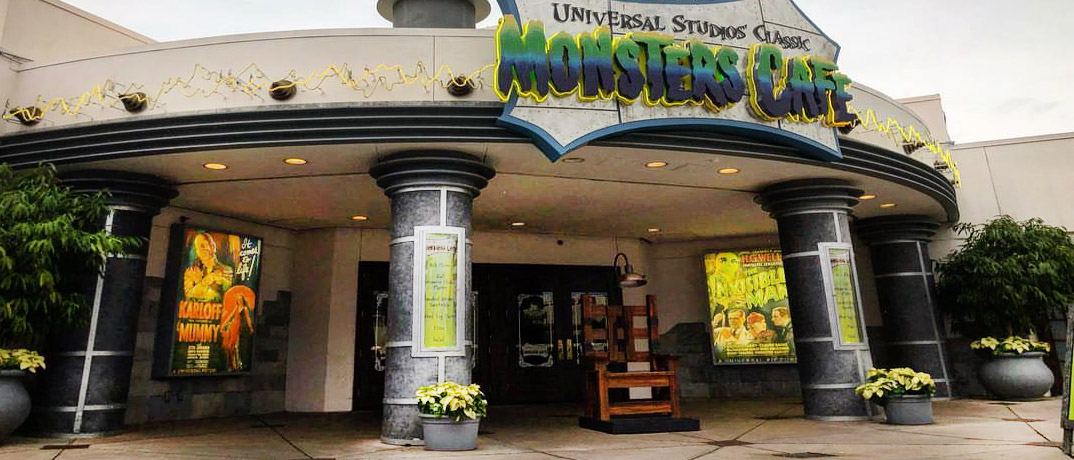 Bone Chillin'
Cool off with a cold drink from Bone Chillin', proffering water, juices and alcoholic beverages for Mom and Dad from several windows at this kiosk.
Studio Sweets
Satisfy your sweet tooth at Studio Sweets, where, candy, pastries, freshly baked muffins, gourmet cookies, homemade fudge and other sweet treats are the star of the show.
Universal Studios' Classic Monster Café
Cool off, eat up and take it all in at this café that features a bulk of indoor seating out of the hot sun, an American-themed menu (pizza, cheeseburgers, hot dogs, rotisserie chicken and beer), and an interior décor filled with movie props from famous monster films, like "The Creature from the Black Lagoon" and "The Mummy," as well as the TV show classic, "The Munsters."
Additional Food Stands & Carts: Front Gate Popcorn, Production Central Dippin' Dots, Rockit Snacks and Silver Screen Snacks.
Shopping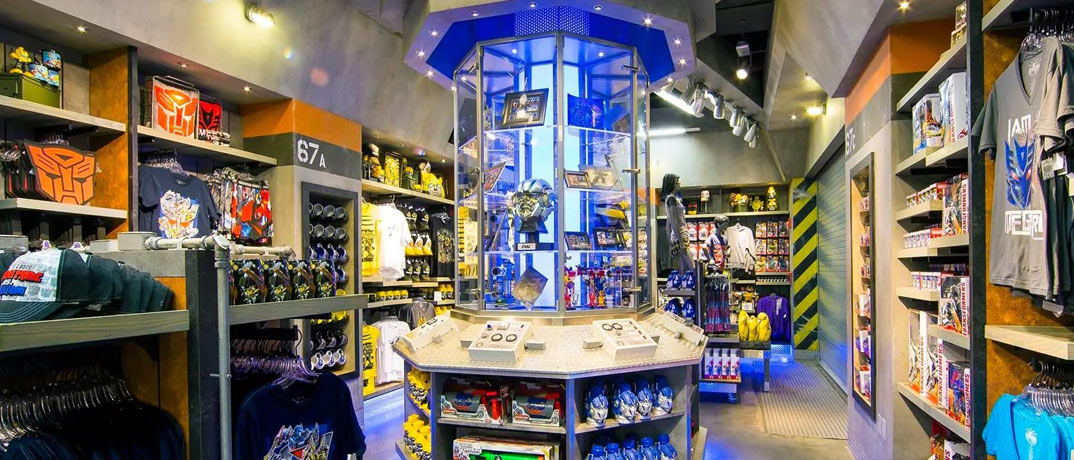 Betty Boop Store
Enter the world's largest selection of Betty Boop merchandise at this store that's stocked with just about anything featuring Old Hollywood's cartoon sweetheart. You can also find Universal Studios-themed mugs, apparel, gifts and more.
It's A Wrap
To finish your day, stop by this store near the Universal Studios exit to pick up any last-minute apparel, toys, novelty hats and souvenirs. It's a Wrap is also your package pickup location while you shop throughout the park. The End.
On Location
This is the location to find anything the film crew would need before heading out to the set, including film, camera supplies, photo frames, hats, backpacks, sunglasses, suncare products and more. This store also serves as the park's photo pickup location.
Shrek's Ye Olde Souvenir Shoppe
Shrek-themed gifts and supplies are the main storyline here, including apparel, toys, plush characters, DVDs, novelty hats (and Shrek ears), and more collectibles.
Despicable Me's Super Silly Stuff
Find your very own Minion to take home with you, along with oodles of other Despicable Me merchandise, like toys, apparel, candy, accessories and more. There's also games and gadgets invented by Dr. Nefario, like the infamous fart gun.
Transformers' Supply Vault
Buy all of your essential NEST gifts and gear here, such as official Transformers action figures, apparel, cadet hats, magnets, car decals, apparel, coffee mugs and more.
Universal Studios Store
This is the park's biggest selection of Universal Studios merchandise, so shop 'til you drop! Hats and apparel, backpacks, toys, souvenirs, plush characters and much more are in store.
Production Central is appropriately located in an area of the park near the main entrance and in between bigwig film production cities: New York and Hollywood.
Rentals Near Universal Studios Florida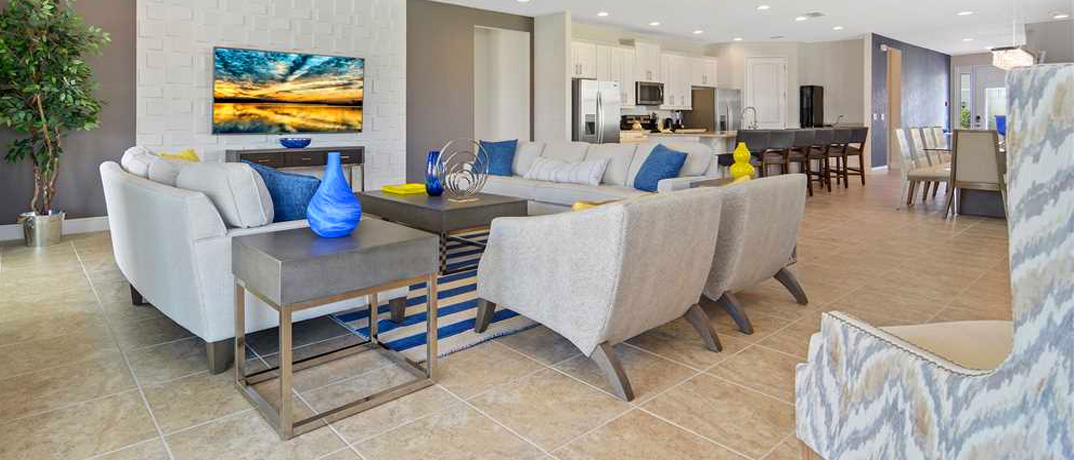 And when it's time to roll the credits at the end of your day, book your stay in Orlando, Florida, Condo-World offers plenty of options in luxury home rentals for your family, no matter the size of your group. After you're done exploring Orlando's magical theme parks or the activities the city has to offer, you'll love returning to one of our properties to relax and unwind, with private pools, hot tubs and more.