It's a Harry Potter World, and you're not only reading it, but you're living in the magic of it when you visit The Wizarding World of Harry Potter™ – Diagon Alley, which is now open at Universal Studios Florida.
All of your favorite enchanted creatures and curses, villains and heroes await for you to explore throughout the streets of London in the form of magical attractions, entertainment stops, shops and dining venues. Consider this your detailed map of all that Universal Studios and Harry Potter has to offer you before you land in Orlando!
Attractions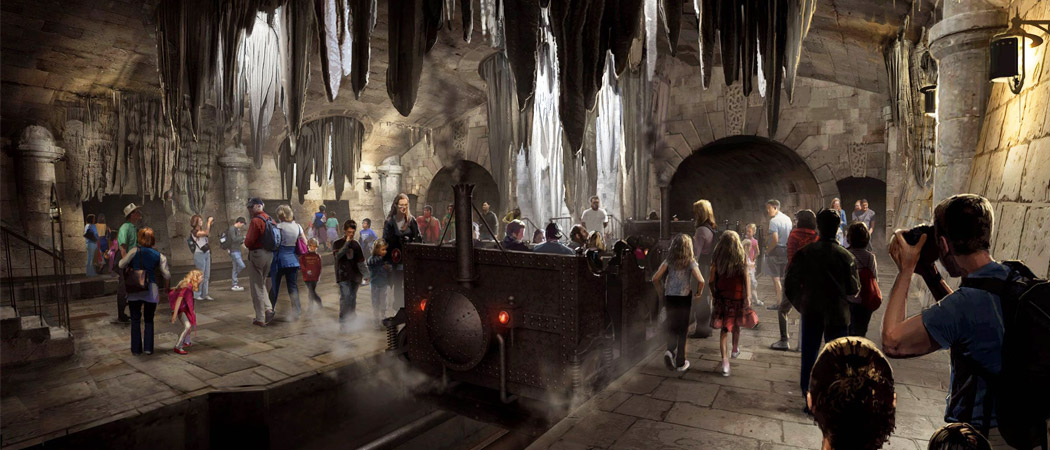 Harry Potter and the Escape from Gringotts
Sit down and hang onto your seat, as this multi-dimensional, motion simulation thrill ride will have you blasting through Gringotts, the goblin-run bank at the far end of Diagon Alley. (You can't miss it beneath the massive fire-breathing dragon. Before you climb aboard, you'll witness the bank's gorgeous marble lobby, complete with four chandeliers that twinkle overhead with a combined 62,000 crystals. The ride itself will navigate you through the cavernous passageways deep underground, where you'll encounter the dangerous Gringotts vaults, along with Harry, Ron and Hermione – and you'll have to escape the villains Voldemort and Bellatrix, trolls and other creatures before your safe return. Note: riders are required to be at least 42 inches tall; children under 48 inches require a supervising companion.
Entertainment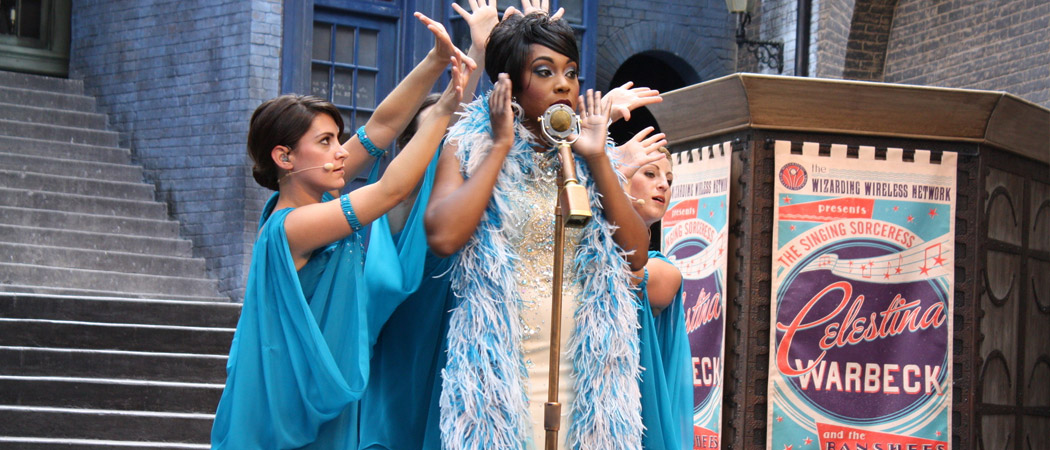 Celestina Warbeck and the Banshees
This show will be music to your ears, as Celestina Warbeck and the Banshees take the stage to perform original wizarding songs, such as "A Cauldron Full of Hot, Strong Love," "You Stole My Cauldron But You Can't Have My Heart," and "You Charmed the Heart Right Out of Me." The swinging singing sounds feature Molly Weasley's favorite singer – and may be yours, too, after you hear her for yourself.
The Tales of Beedle the Bard
Presented by the Wizarding Academy of Dramatic Arts, this trunk show showcases scenic pieces, props and puppetry created by Emmy Award-winning designer Michael Curry. You'll enjoy the players' retelling of two famous tales by Beedle the Bard, a 15th century author of wizard fairytales, "The Fountain of Fair Fortune" and "The Tale of the Three Brothers.
Gringotts Money Exchange
To make things even more authentic, you can exchange your U.S. currency for Gringotts bank notes (in $10 or $20 increments) by asking the goblin behind the counter a question. Your wizard money can be used for purchases anywhere within Diagon Alley and Hogsmeade within Islands of Adventure.
Knight Bus
Certainly an entertaining sight to see (and hear), this purple, triple-decker bus is parked on the London Embankment. The Knight Bus is one that stranded witches and wizards flag down with their wands in emergencies and now you can take in as you pass by to peek in the windows and see curtains, beds and a chandelier, plus hear chatter between a talkative shrunken head hanging over the steering wheel and the bus conductor.
Dining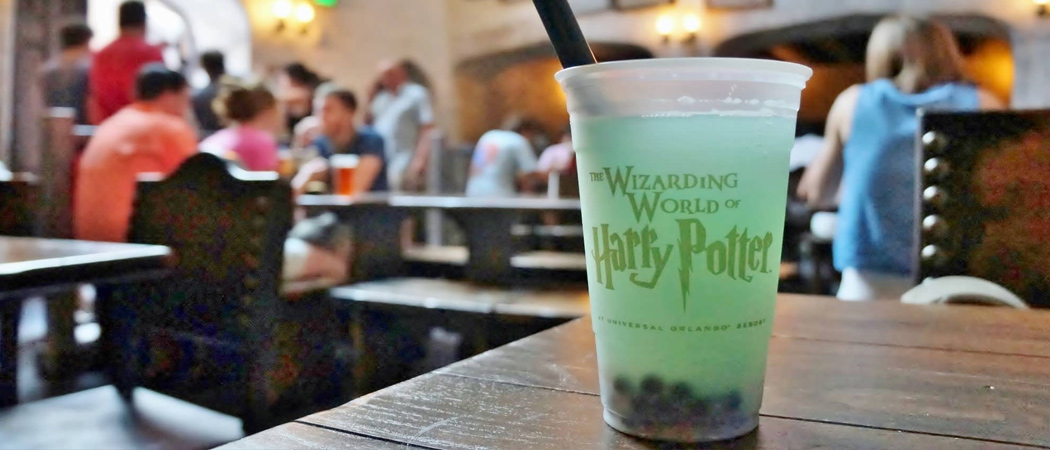 The Leaky Cauldron
Fill up on British fare here at this rustic pub and inn, a replica of Harry's summertime home away from home in "Harry Potter and the Prisoner of Azkaban." Dine on Bangers and Mash, Fisherman's Pie, Toad in the Hole, Ploughman's Platter and more under The Leaky Cauldron's cathedral ceiling.
Eternelle's Elixir of Refreshment
Specialty elixirs and Gillywater (water) combine here to magically transform into refreshing, colorful beverages, such as Fire Protection Potion, Babbling Beverage, Draught of Peace and more.
Florean Fortescue's Ice Cream Parlour
Treat yourself to a scoop (or two) of soft-serve ice cream at the same place Harry indulged in the sweet treat. Choose from unique flavors like Butterbeer, Sticky Toffee Pudding, Chocolate Chili, Earl Grey and Lavender, Salted Caramel Blondie and more. Refreshments, such as bottled Pumpkin Juice, teas, ciders, water, pastries and shortbread, are also served.
The Fountain of Fair Fortune
A refreshing respite for both parents and kiddos, The Fountain of Fair Fortune serves a variety of beers and non-alcoholic beverages, such as Gillywater, Pumpkin Juice, Frozen Butterbeer and more.
The Hopping Pot
This walk-up counter within Carkitt Market offers a quick way to cool off with a cold Wizard's Brew, any Dragon Scale beer, or a variety of non-alcoholic drinks.
Shopping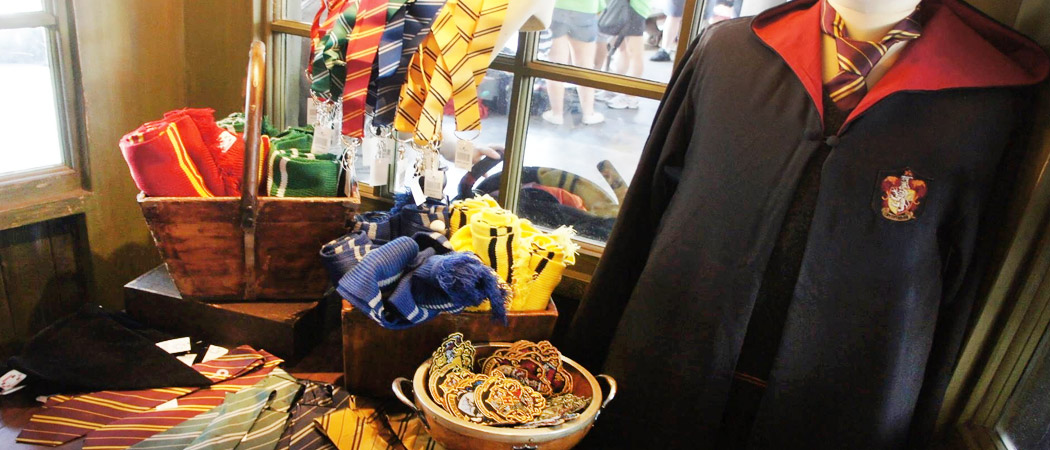 Ollivanders
Makers of Fine Wands since 382 BC, Ollivanders' showpiece is the countless wand boxes stacked to the ceiling. This is not only a shopping experience, but interactive entertainment as well, as you can see a wand choose a wizard. Purchase an Ollivanders wand, Harry Potter wand replica, collectible wand sets, or one of the Interactive Wands to cast spells throughout Hogsmeade.
Madam Malkin's Robes for All Occasions
If you're serious about owning a wizard's wardrobe, shop here for hats, authentic Hogwarts uniforms, ties, scarves, sweaters, and jewelry, along with replicas of Hermione's Yule Ball gown and Dumbledore's robes.
Weasley's Wizard Wheezes
Run by the identical twins Fred and George Weasley, this shop, as you can imagine, is stocked with novelty joke items, magical jokes, tricks and toys, like Pygmy Puffs, U-No-Poo pills, Puking Pastilles and more.
Wiseacre's Wizarding Equipment
The one-stop-shop for wizarding supplies, this store features crystal balls, telescopes, binoculars, armillary spheres, compasses, magnifying glasses, hourglasses, and a line of apparel and accessories from your Hogwarts house.
Magical Menagerie
On the hunt for one of Hogwarts' magical animals? They all live here in the form of Crookshanks, Fang, Buckbeak, Scabbers, Pigwidgeon, Hedwig and an assortment of Cornish pixies, ferrets and Pygmy Puffs. And if you'd like to practice your Parseltongue, there's a snake in the front window that should do the trick.
Quality Quidditch Supplies
If you're game for Quidditch, you'll find everything you need for the sport here, including
Sweaters, brooms, Golden Snitches, Bludgers, Quaffles and more, plus hats, pennants and apparel to cheer on your favorite Quidditch team.
Borgin & Burkes
This shop in Knockturn Alley isn't for the faint of heart, featuring sinister items like Death Eater masks, skulls, film relics and more. You'll even be able to see the Vanishing Cabinet used by Draco Malfoy to sneak Death Eaters into Hogwarts castle.
Scribbulus
When your power is writing, you'll find all wizarding writing supplies here, such as ink and inkwells, feather quills, parchment, writing paper, stationery sets, notebooks and journals, bookmarks, envelopes, postcards and more.
Wands by Gregorovitch
This longtime rival to Ollivanders is yet another standout wandmaker in the wizarding world. Peruse Gregorovitch's selection of wand replicas, Interactive Wands and more.
Sugarplum's Sweetshop
Dying for dessert? This sweetshop will save you with its selection of fudge, candies and confections, including Bertie Bott's Every-Flavour Beans.
The Hogwarts Express
All aboard and take note: The Hogwarts Express train will take you on a direct route to the Islands of Adventure's Wizarding World of Harry Potter – Hogsmeade right next door, or vice versa. This adventure beyond Platform 9 ¾ does, however, require Park-to-Park admission to take the Hogwarts Express Universal train. Either station you choose to board from, you'll see characters from the films guiding the way.
Rentals Near Universal Studios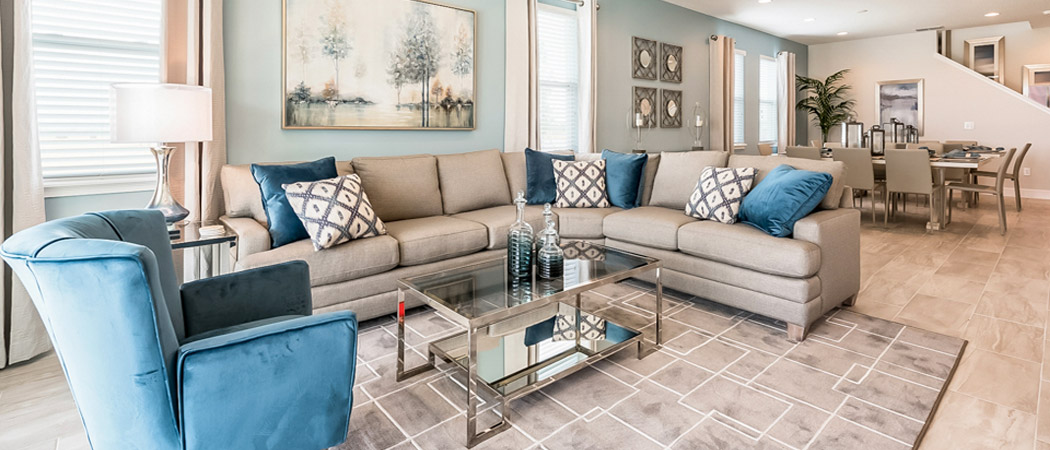 And, if you're on the hunt for a place to stay in Orlando, Condo-World has you covered, with luxury vacation rentals that feature can't-miss amenities, like outdoor pools, fully equipped kitchens, on-site restaurants and more. Search through our comprehensive inventory of properties throughout Orlando.