Escape to the tropical oasis of Universal's Volcano Bay Water Park in Orlando, where you can splash, slide, drop and race down the mountains and waterfalls of this refreshing Hawaiian water sanctuary. Nearly 20 Volcano Bay rides, plus waves of shopping and dining options, will entertain the entire family for a cool day under the Florida sun.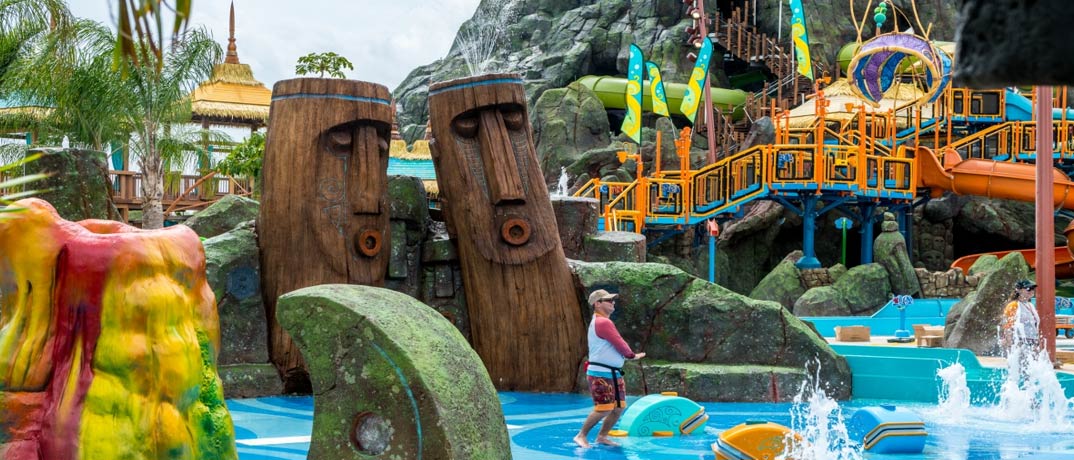 At Universal Volcano Bay, you'll also get the chance to experience virtual ride lines, with the TapuTapu wrist wearables that allow you to hold your place in line and schedule a certain time. Here's what else you can expect at each twist and turn of this Universal water park.
Rides & Attractions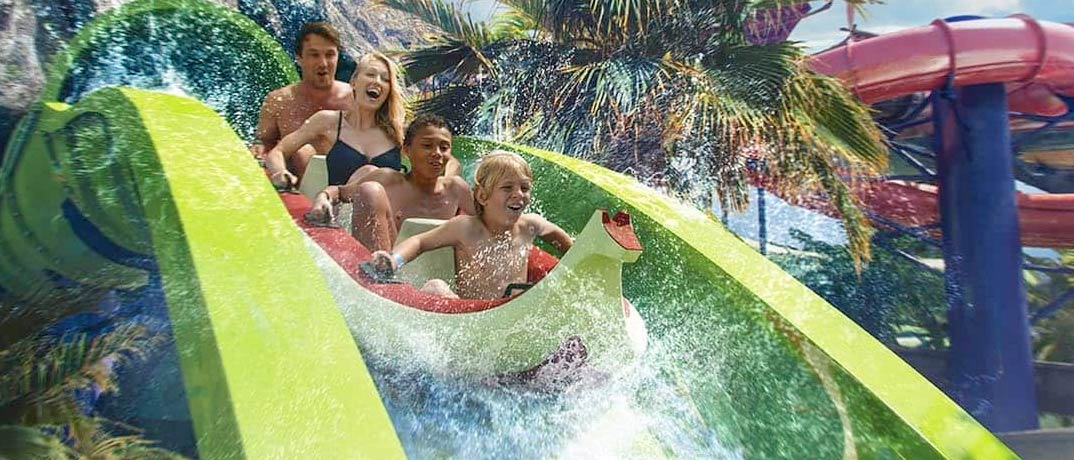 Krakatau Aqua Coaster
Take a seat in a four-person canoe and prepare to travel upward into the dark twists and turns of the volcano before you plunge into a gushing waterfall.
Kala & Tai Nui Serpentine Body Slides
Snake through one of two intertwining tubes that drop from twin trap doors at the top of the volcano. Don't worry, it all ends with a splash in the beautiful waters below.
Kopiko Wai Winding River
When you're ready slow things down from the rest of the Volcano Bay slides, this relaxing river floats you along a tropical landscape and beneath the lava rocks of Stargazer's Cavern.
Ika Moana of the Honu ika Moana
Follow the path of the ancient Waturi people by riding the ocean waves on a five-person raft that twists and turns down this slide that also glides over surprising geysers that burst like a whale's blowhole!
Ko'okiri Body Plunge
If you dare to face this fall down the volcano, you are fearless. Named after God, the volcano God, The Plunge features a 70-degree fall through a drop door that travels from 125 feet above ground.
Honu of the Honu ika Moana
Hold on tight to the four-person raft of this slide that mimics the ancient Waturi people's ride on the ocean on sea turtles. Highlights are the race through an open flume and two walls painted with Waturi turtles.
Ohno of Ohyah & Ohno Drop Slides
This is one of two drop slides that starts with a brave climb across a rope bridge and ends with a deep plunge that ends six feet above the pool below. Be sure to yell "Ohno!" before you splash into the waters at Krakatua.
Ohyah of Ohyah & Ohno Drop Slides
The second of the Volcano Bay drop slides will have you climbing up the side of a cliff before you plummet through twists and turns and get dropped off the slide four feet above the pool waters below. For this one, yell, "Ohyah!" as you fly out of the slide!
TeAwa The Fearless River
This whitewater rapid ride along TeAwa, The Fearless River, is overflowing with thrills and chills on its route to Hammerhead Beach. You'll be hanging on with white knuckles!
Tot Tiki Reef
The kiddos will have a blast splashing on this kid-sized water play area that features splashy slides, water volcano, tikis spraying out fountains and interactive whales that spray and sing as tots raise and lower their hands.
Waturi Beach
This is the center of paradise within the heavenly Wave Village, where the warm waves of the Watari Beach lagoon is surrounded by panoramic views of a sky-high volcano and breathtaking waterfalls.
Puka Uli Lagoon
Take a break from the adrenaline rush here, where the entire family will appreciate the leisurely water features, including tropical bongo drums, spraying jets of water and poolside relaxation.
The Reef
Speaking of, relaxation is the theme of this pool, too, where you can lounge the day away beside Waterfall Cove or travel through a clear plexi tube through the 5.5-foot shallow waters into a playful, private waterfall.
Punga Racers
And you're off to the races on these single-rider manta ray mats that speed down four lanes through underwater sea caves! Kid-friendly, this slide is created after the legendary hero, Punga, the playful son of Tangaroa, god of the sea, and Mahuika, goddess of fire.
Tonga of Taniwha Tubes
Choose from two tracks of twisting green slides that will give you a surprise spray of water here and there!
Puihi of Maku Puihi Round Raft Rides
Puihi will toss you through a dark, winding cavern, where you'll experience zero-gravity hang time before you're thrown out of the intensely long funnel and into safety in the pool at the bottom.
Runamukka Reef
Tiny tots will love this play area flooded with splashing, bursting geysers, water guns, mini slides and dump cups set among fanciful bamboo sea creatures and play structures.
Maku of the Maku Puihi Round Raft Rides
If you're up for a challenge, this six-person raft adventure is for you! You'll travel through a lava-tube path, volcanic gorge and then spin through bowl vortexes before you're shot through a mind-bending flume to the pool at the end of the canyon.
Dining and Restaurants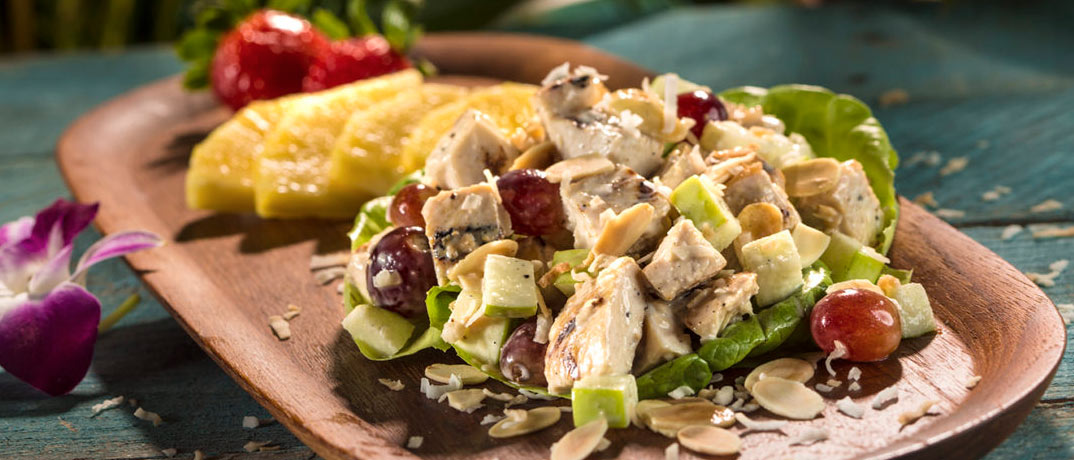 Whakawaiwai Eats
Popular tropical eats are on the menu here, including island pizzas, salads, specialty foot-long hot dogs and more, set along the river.
Bambu
This is a convenient stop in a shaded hideaway, serving fresh-crafted burgers and sandwiches, garden salads and fruit salads.
The Feasting Frog
Feast on this frog-shaped patio setting and take in refreshing poke bowls, tacos, and nachos with fresh guacamole.
Kohola Reef Restaurant & Social Club
Get a true taste of the islands with this creative hotspot serving mango pulled pork sandwiches, chicken sandwiches, pizzas and burgers.
Dancing Dragons Boat Bar
Parents, unwind and refresh with a tropical cocktail served out of an outrigger canoe on the sand.
Kunuku Boat Bar
This bar pours specialty cocktails, frozen drinks, draft beers and fountain sodas so you can cool off and recharge.
Shopping and Stores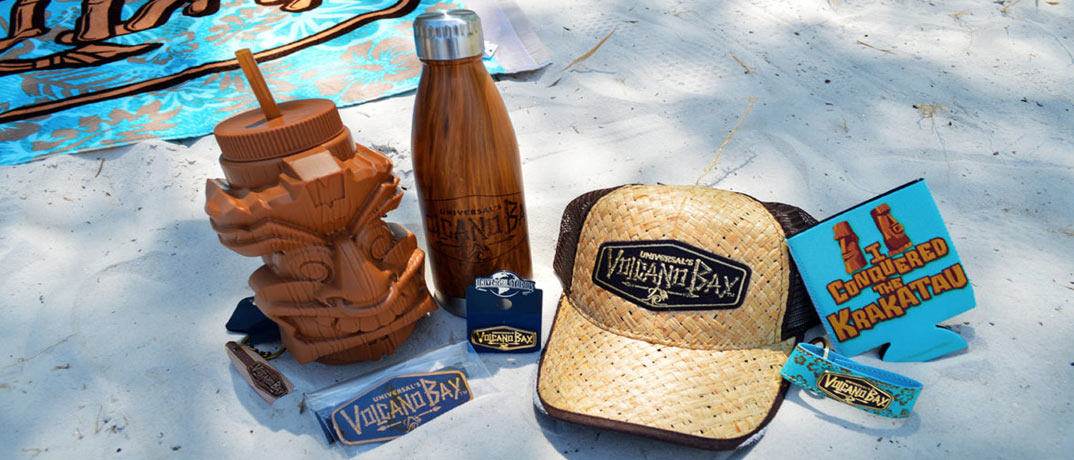 Waturi Marketplace
Two stores are located in this one shopping location, selling women's, men's, kids' and beach apparel.
Krakatoa Katy's
You'll find everything you need in this shop on the sands of Waturi Beach, from beach wear and sundries to souvenirs and more.
Additional Park Information
Feel like a VIP by renting one of the one- or two-story private cabanas, which comes complete with Volcano Bay towels, comfy seating, concierge service and more.
Volcano Bay hours are 9 a.m. to 8 p.m. daily, but could vary throughout the year.
Orlando Vacation Rentals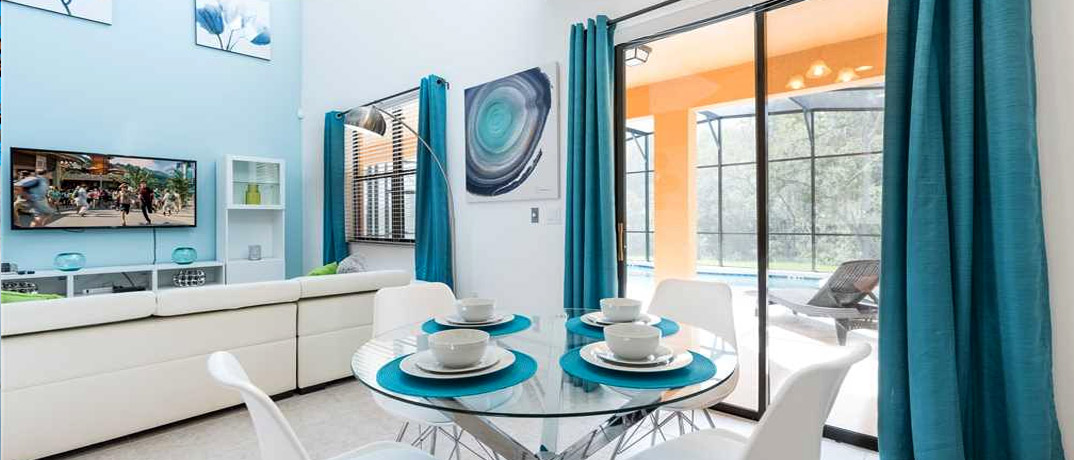 And, if you're on the hunt for a place to stay in Orlando, Condo-World has you covered, with luxury condo rentals that feature can't-miss amenities, like outdoor pools, fully equipped kitchens, on-site restaurants and more. Search through our comprehensive inventory of properties throughout Orlando.