Just like the latest Jurassic World movie, Jurassic Park Universal Studios within the Islands of Adventure section doubles as an action-packed, adrenaline-pumping journey through all of the thrills and chills of the prehistoric age in an uber-modern spin. From rides and attractions to eats and treats to shows and shopping, Jurassic Park Orlando will blast you back in time, bite by bite, in a way you'll never forget!
Rides & Attractions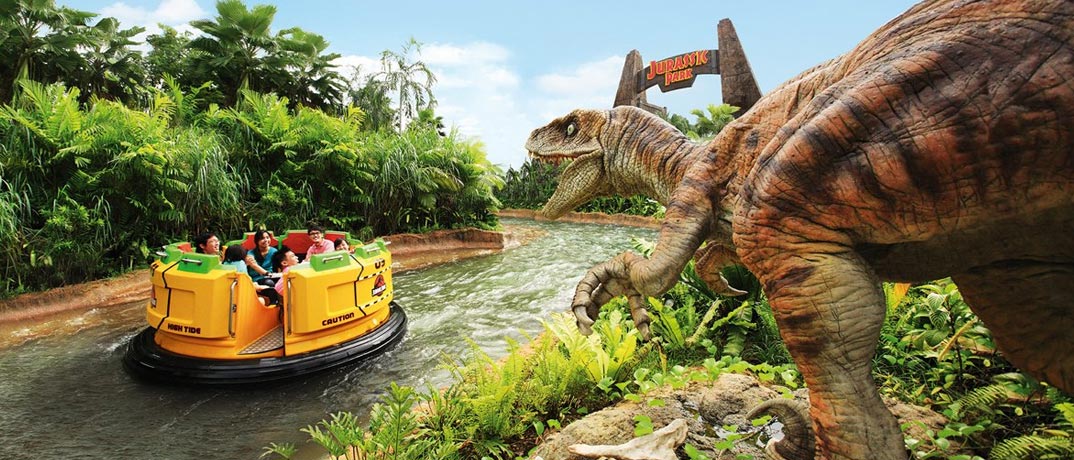 Pteranodon Flyers
This Jurassic World ride takes flight aboard a Pteranodon, a prehistoric flying reptile that will give you a bird's eye view of Jurassic World beneath its 10-foot wingspan (the average wingspan of an adult male Pteranodon was 18 feet long). You'll swing a bit from side to side, but the flyers in Jurassic Park Islands of Adventure soar smoothly and gently – perfect for young guests. Proof of that, guests may only be over 56 inches tall if they're accompanying a child between 36-56 inches tall.
Jurassic Park River Adventure
Where on earth could you ever climb aboard a boat like this one on Universal Studios Jurassic Park ride? On this another-world water cruise, you'll begin by witnessing a precious stegosaurus scene, but then you'll get caught up in the wild waters of this Jurassic Park water ride adventure past the currents of Jurassic Park's restricted area that hides T-Rex and other dangerous creatures – oh, and then there's the 85-foot drop you'll come face-to-splash-face with. Jurassic Park River Adventure is one of the most mammoth water rides in Universal and you'll want to catch this one.
Dining & Restaurants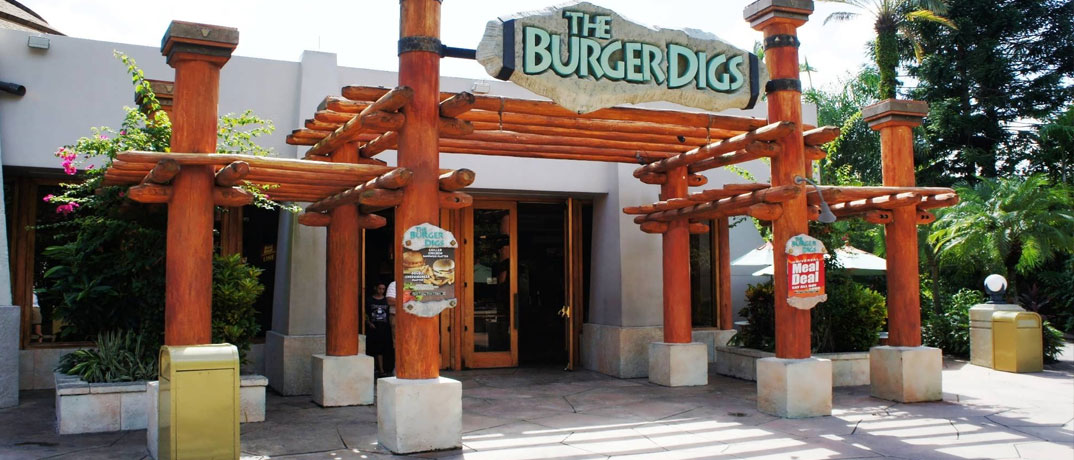 Thunder Falls Terrace
Fall for this menu of rotisserie chicken, ribs, smoked turkey legs, soups, salads and more. At Thunder Falls Terrace, you'll warm up to the comfort foods and, at the same time, cool off in the cool indoor dining room.
Pizza Predattoria
Grab a slice of pie or choose from any of the meatball subs and salads from this Italian eatery, located on the strip of midway-style games. You can pair up your pizzas with a refreshing icee to refuel before you return to Jurassic Park's rides. (Open during park hours.)
The Burger Digs
Dig into Burger Digs' juicy burgers, chicken sandwiches, chicken tenders, fries and onion rings at this quick-service pitstop located near the Jurassic Park Discovery Center. (Open during park hours.)
The Watering Hole
If you're thirsty, this is the spot to get your drink on, from beer, wine and frozen cocktails to fountain sodas and lemonade. The Watering Hole, despite its name, also offers a menu of munchies under the jungle hut, including nachos, hot dogs, soft pretzels, churros and more. (Open during park hours.)
Entertainment & Shows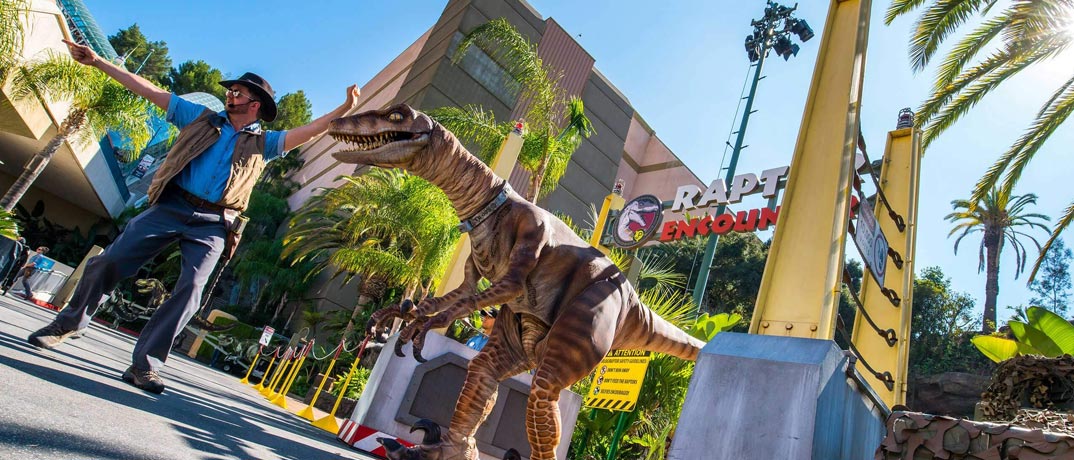 Raptor Encounter
This Universal Raptor Encounter experience will give you a chance to come close to some of the most intelligent (and most dangerous) dinosaurs on Isla Nubla: the raptors, including the newest addition, Blue. You'll also learn a thing or two from the show's experts trained in all things raptor.
Jurassic Park Discovery Center
This interactive area of the park will really allow you to dig into our prehistoric past. The Jurassic Park Discovery Center offers fun DNA tests to find out what dinosaur you would be, experience the senses of dinosaurs, play dino trivia and take in fossils and dinosaur eggs in the nursery.
Camp Jurassic
The multi-level playground will give kids dinosaur-sized playtime, with dark caves and amber mines, capture nets, themed slides, suspension bridges, a lava pit chamber, the ground-rumbling Thunder Lizard Trail and water cannons.
Shops & Stores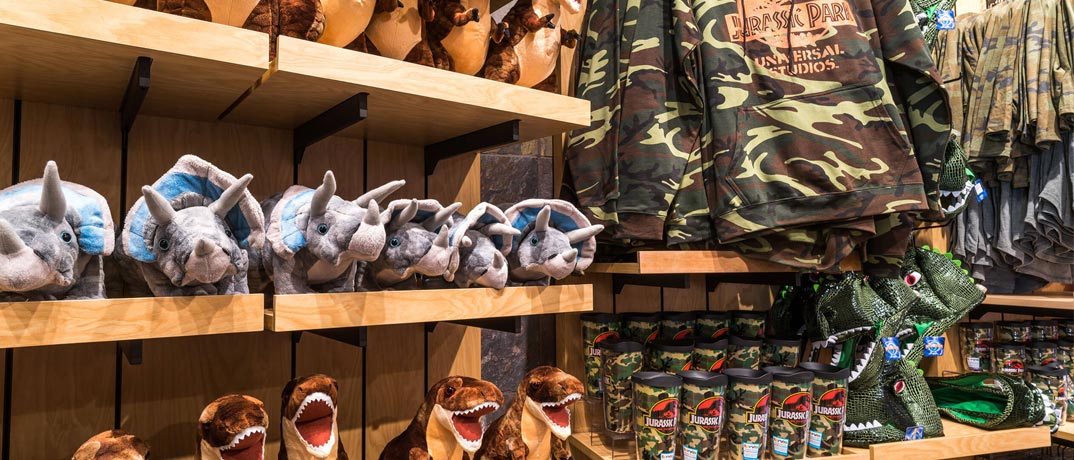 Dinostore
This treasure chest of archaeological finds includes an inventory of dinosaur collectibles, toys, apparel, books, fossil replicas and educational discoveries.
Jurassic Outfitters
This Jurassic boutique is here to dress you from head to toe in official Jurassic Park apparel, hats, accessories, gear and more. You'll also find goodies like beach towels, toys and souvenirs.
Neighboring Park Sections
After you've traveled back in time in Jurassic Park, your future path could take you next door within Universal's Islands of Adventure to conquer the thrilling challenges at Skull Island: Reign of Kong. Or, on the other side is The Wizarding World of Harry Potter—Hogsmeade, where all of your favorite enchanted creatures and curses, villains and heroes await for you to explore throughout Hogwarts™ castle in the form of magical attractions, entertainment stops, shops and dining venues.
Rentals Near Universal Studios Florida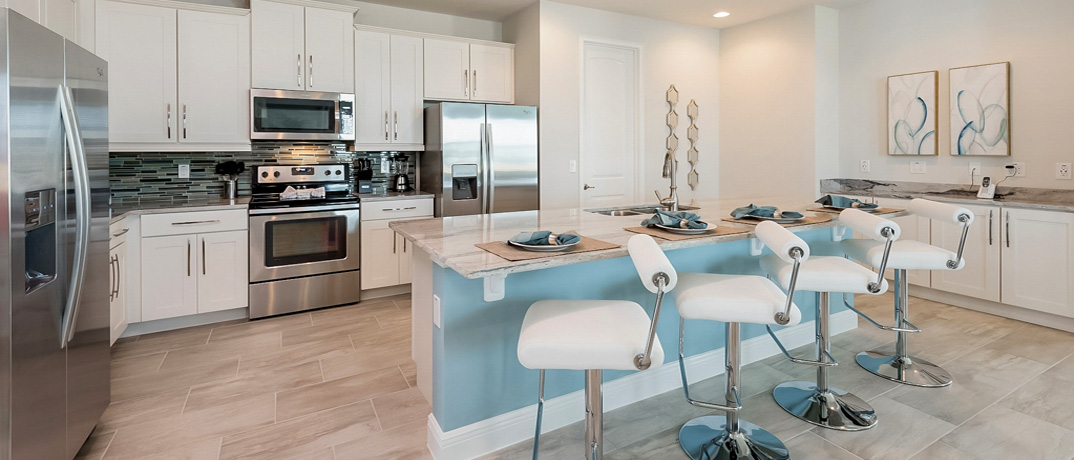 And, if you're on the hunt for a place to stay in Orlando, Condo-World has you covered, with luxury condo rentals that feature can't-miss amenities, like outdoor pools, fully equipped kitchens, on-site restaurants and more. Search now through our comprehensive inventory of properties throughout Orlando.