Seeking the Ultimate Craft Beer On 30A?
When in Destin, it's time to have a local brew, just like the Destin folks do, right?
Savor the flavor and kick-back and experience the exploding craft beer scene on the Scenic Highway 30A (often referred to as "30A," a 24 mile stretch of stunning Gulf of Mexico coastline). You'll be absolutely amazed at what you'll discover!
Throughout this hops-inspiring coastline brew road trip, you'll have the opportunity to experience four of our favorite local brewers offering a variety of craft brew choices, as well as many other locally brewed choices served on draft, in bottles, on tap, and in "crowlers" – 32 ounce draft beer to go in a can (or 64-ounce growlers). While we suggest that you separate visits so that you can enjoy the essence of each brewery and bar, the tour schedule is completely up to you. Without a doubt, the brews are a-flowing, and there's a special quirkiness to enjoy at each stop. Bottoms up, fellow beer enthusiasts!
The Craft Bar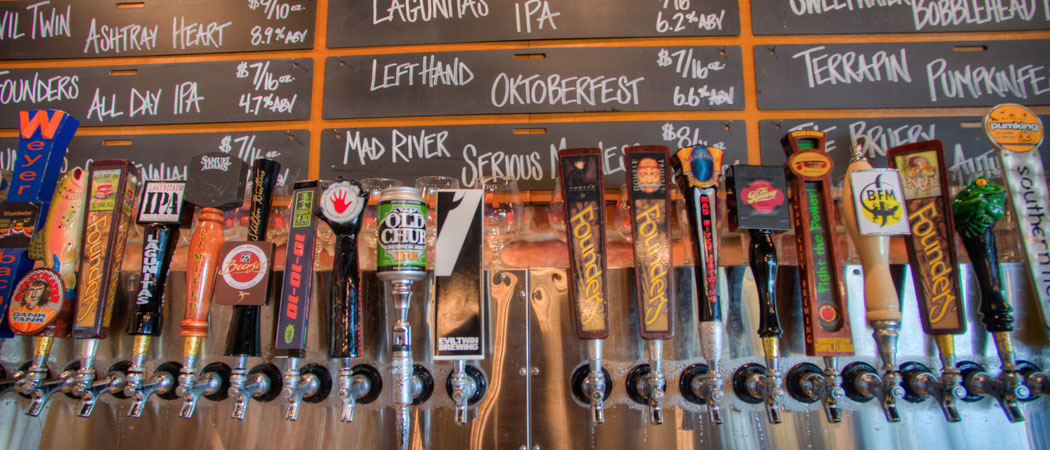 655 Grand Boulevard, Ste. D 102, Miramar Beach, FL
(850) 608-6226
For both the guys and the gals, this is the ultimate gastropub complete with locally and regionally sourced beer, food, and spirits. Offering 30+ craft beer on tap including many great local favorites from its Niceville beer bottling plant, The Craft Bar is a great visit for the beginner, intermediate, or advanced craft beer aficionados. In addition to their beer-making skills, The Craft Bar also offers their very own "crowlers" which are 32 ounce sealed and fresh portable craft beers to take to the beach and more (note that "growlers" are 64 ounce portables with glass and other challenges). The Craft Bar tops it off with fresh burgers, salads, and sides to meet your gastronomical needs with amazing, top-quality, locally sourced beef and seafood. Are you ready for the most amazing and gastro-perfect craft brew-inspired experience? Beer Tip: Be sure and try the beer flights so that you'll be able to sample a variety of options. And, another fave is the locally brewed Hooter Brown Ale. You won't be disappointed!
Grayton Beer Brewpub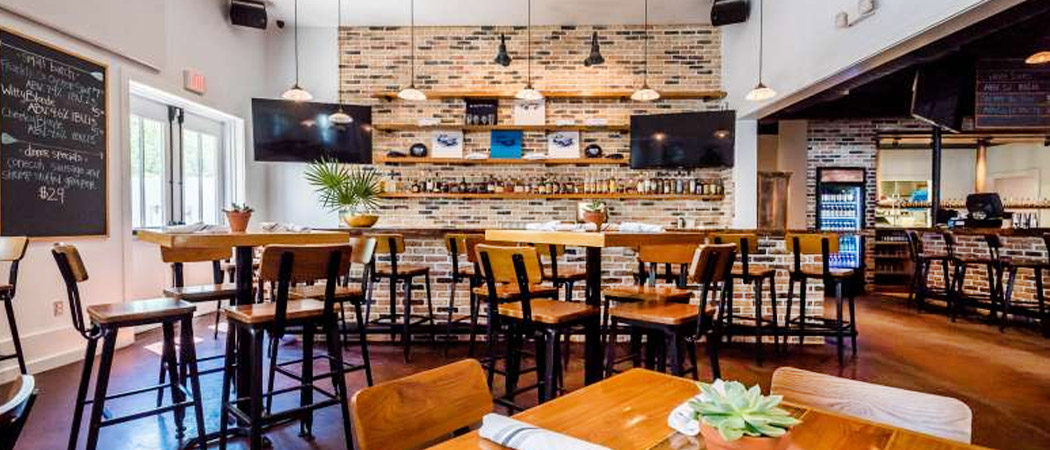 217 Serenoa Road, Santa Rosa Beach, FL
(850) 231-4786
While this humble place started as a small brewery, it quickly grew to a "must visit" vibrant brew, restaurant, and bar scene off the popular, beautiful, and scenic Highway 30A. Imagine being in a cavernous 30,000 square-foot, state-of-the-art production facility for one of the area's most unique taprooms and on one of 30A's most famous beaches. Plus, they've got you more than covered with plenty of games including darts, Jenga, and other games of fun and intrigue! In addition to the 20+ beers on tap, many of which are brewed onsite, Grayton Beer Brewpub also offers wine and craft cocktails with a great rotation of seasonal and year-round beer, complete with wine and craft cocktails, and beer-complementing beachside food with fresh local ingredients. Are you ready for some serious fun??? Beer Tip: Be sure and try the Fish Whistle IPA and the 30A Beach Blonde Ale, both recommended by locals and visitors alike.
Growlers Garage 30A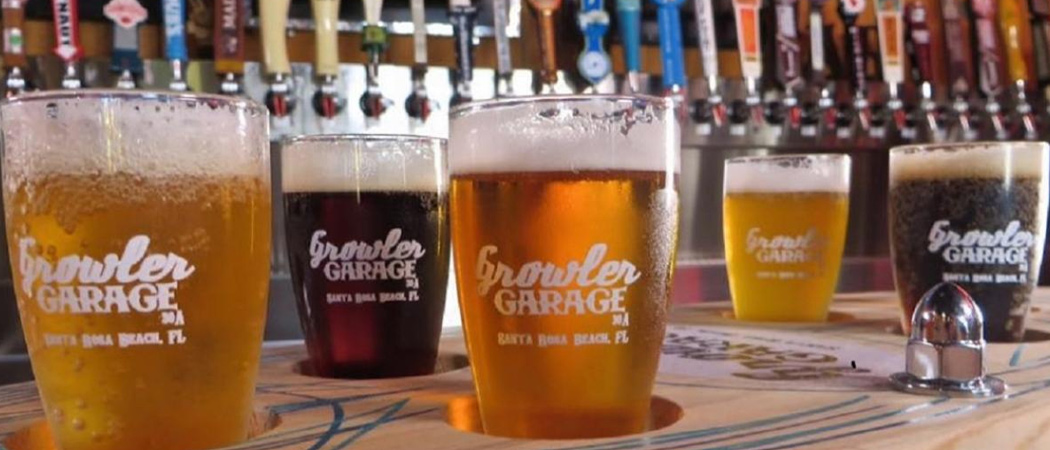 4368 West County Hwy 30A, Suite 101, Santa Rosa Beach, FL
(850) 660-1965
This is definitely a "must visit" local love and quite unique community brewery. Their 30A location is on the drive, and with 40+ different ice cold ready "to go" craft beers, you can't go wrong. But, that's only the beginning. Think about this as the "brews" scene meets the "arts". Yes, the arts. The owners of Growler Garage have a deep love and affinity for bikes of all types, and they combine that love with their passion for beer. While it's very different and eclectic, there's a natural vibe and energy that you feel when visiting Growlers. In addition to some over-the-top amazing craft beer, you also have an incredible atmosphere filled with nostalig signage, custom- painted guitars, surfboards and really, really cool bikes. Their slogan that you'll immediately embrace is "Beer, bikes, and surfboards. Guitars. Really good craft beer to go." You'll find seating outside as there's no room in the taproom. And, if you haven't already seen it, look on Growlers' website to view their claim-to-fame segment on the Cooking Channel with Emeril's Florida (note that esteemed celebrity chef Emeril Lagasse has a home in the 30A area and is an active resident). Beer Tip: Be sure and try the unique and refreshing Ace Pineapple, complete with a tart twist. Also, the Grayton Beach Beer Blonde is highly recommended as a favorite "go to" local beer.
Idyll Hounds Brewing Company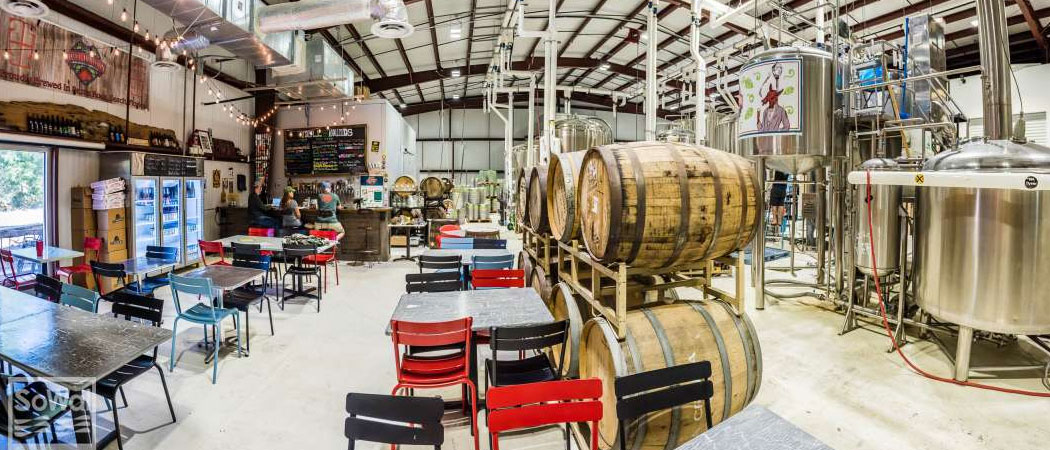 845 Serenoa Rd., Santa Rosa Beach, FL
(850) 231-1138
Take a visit off the main path and experience one of the flavor-first breweries in the beautiful 30A Emerald Coast area. While Idyll Hounds Brewing Company was original designed for locals only, it quickly grew into not only a locals favorite, but also an off-the-beaten-path favorite for visitors, as well. If you're looking for ambience, then you'll need to move on down the road to another place. But, if you're looking for an authentic and cool place where you can be part of the scene complete with eerie fermentation tanks and bourbon casks, then you've arrived at the right place. This isn't a fancy showroom, but instead, is a quaint and cozy taproom where you can hang out, or stand for a while (seating is limited and optional). Nevertheless, you'll find lots to love here at this unique brewtopia. Beer Tip: There are several great Idyll Hounds Brews to take advantage while on your brew tour. Be sure and try the Divide and Conch'r IPA. Also, the Chet's Nuts Roasting is a must taste that will leave you coming back for more!
Where To Stay In 30A
When you're looking to stay in South Walton Florida near these incredible local breweries, be sure and explore our many 30A vacation rentals, all of which provide the perfect location as well as so much to see and experience in the area including plenty of water activities, entertainment, dining, shopping, golfing, attractions, and so much more. Cheers!