A Smoky Mountain Christmas
People travel from all over the world to experience a Gatlinburg Christmas in the Great Smoky Mountains. Some claim that a Pigeon Forge Christmas is a must-do because of their stunning light display during the Winterfest festival in the Old Mill District.
Both towns, which are within minutes of one another, go all out to ensure anyone visiting the Smokies experience a Christmas they'll never forget. Christmas begins early in the mountains, with several events and displays beginning in early November.
Check out our extensive guide of things to do during the Christmas season. We promise they'll make even the most "Grinchy" member of the family catch the Christmas spirit!
A Dollywood Christmas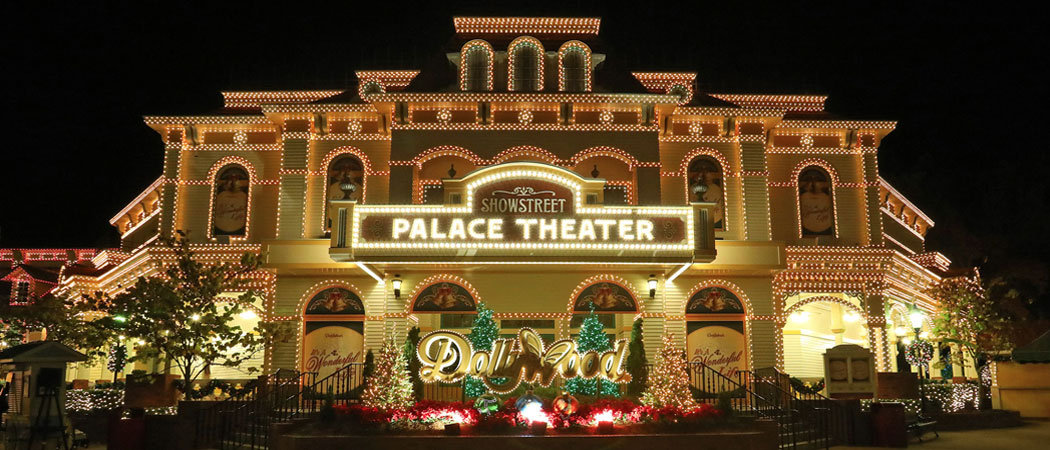 Dolly Parton, a bold visionary, singer, actress, entrepreneur and all-around business genius doesn't do anything without a lot of fanfare. A Dollywood Christmas is over-the-top wonderful with a lineup of unforgettable events, shows and parades that celebrates Christmas. Many travel here annually to experience it because of its dedication to the "true meaning of Christmas" and the caliber of entertainment. It begins November 10 and runs through January 2019. The Celebrity Theater, Showstreet Palace, Valley and Pine theaters have musicals and Christmas classics such as "It's a Wonderful Life" and "Twas the Night Before Christmas." Every night Dolly's Parade of Many Colors marches through the streets, complete with lights, floats and surprises for the crowds. There's Christmas caroling with acapella performances, Santa Land and light shows second to none! For more info visit the Dollywood Christmas website.
The Gatlinburg Space Needle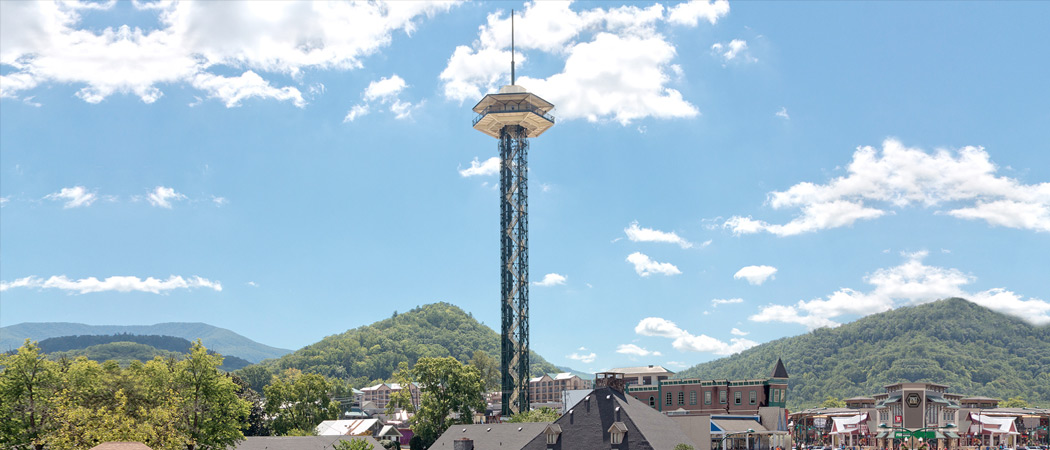 View 360 degree mountain views and the magical majesty of Christmas from the Space Needle. Over 400 feet tall, it's one of the best places to view the Christmas festivities going on all over Gatlinburg. Visit their website for pricing.
Pigeon Forge Christmas Lights & Gatlinburg Christmas Lights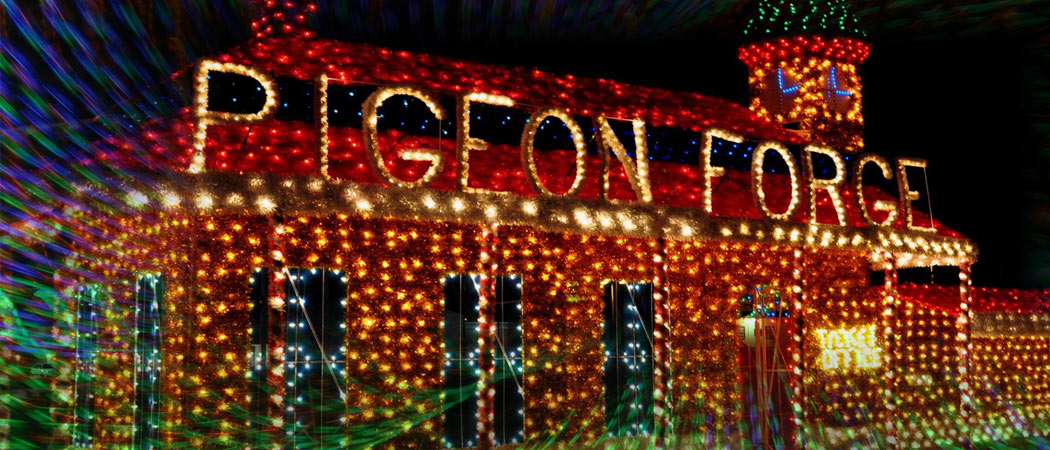 The lights that line the parkway of both Pigeon Forge and Gatlinburg are sparkling and magical displays of mountain creatures, iconic Christmas figures, patriotic scenes and so much more. The lights begin in early November and run through January and February. Families can experience Pigeon Forge's light display by walking or driving through. Download a map here or stop by the Pigeon Forge Welcome Center at 1950 Parkway.
You can ride the trolley in Gatlinburg to view their inspiring lights in the heart of downtown Gatlinburg. Tickets are only $5 and the trolley leaves from the Gatlinburg Mass Transit Center. Download a trolley route here. Located at traffic #5, the 45-minute ride leaves hourly-6:30, 7:30 and 8:30 every night from November through January (except Christmas, Christmas Eve & Day, New Year's Eve & Day).
Shadrack's Christmas Wonderland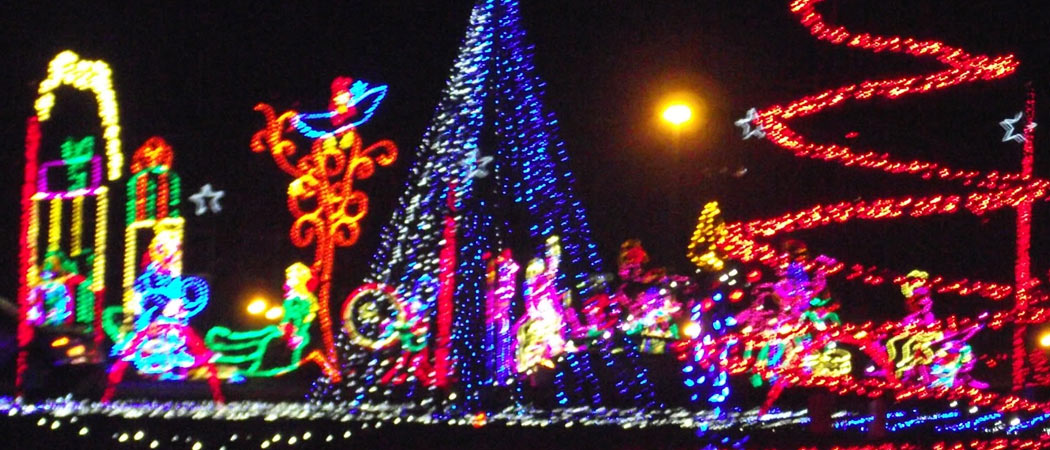 A short drive from Gatlinburg and Pigeon Forge is Sevierville, which is one of six locations to experience an incredible light show synchronized to music that you tune into through your car radio. You'll drive through enormous displays of hundreds of thousands of lights touting the most technologically advanced equipment in the industry. Also onsite is a Christmas village where you can enjoy pony and camel rides, take photos with Santa and pick up snacks, hot chocolate and coffee. The light show is $20 per vehicle and the show runs from November 9, 2018 to January 6, 2019. For more information visit their website here.
Winter Smoky Mountains Tunes & Tales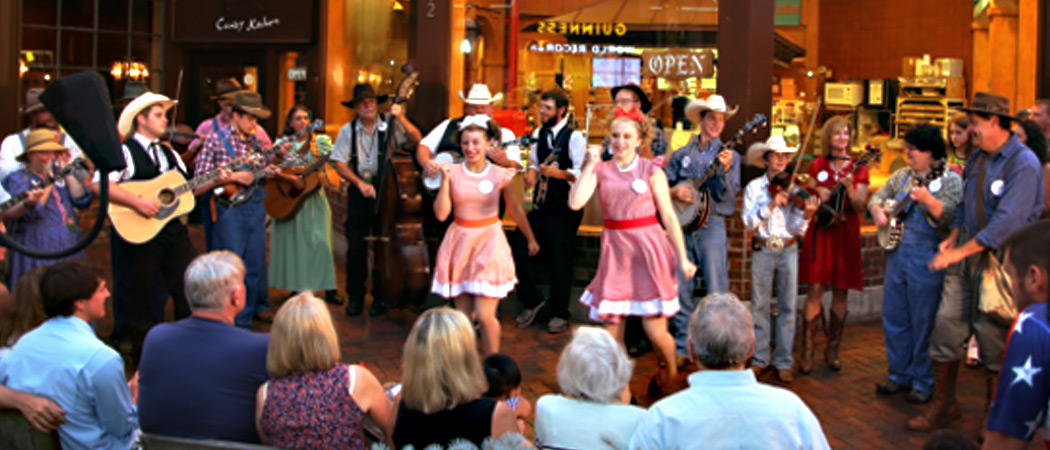 After Thanksgiving, you'll run into lots of Christmas joy along the streets of Gatlinburg. There's live music, storytellers, carolers and Christmas characters Friday and Saturday evenings. You'll hear country, bluegrass and Appalachia-style music as you enjoy the spectacular mountain views and lights that surround you. You and your family will love this interactive Christmas experience.
Fantasy of Lights Christmas Parade – Gatlinburg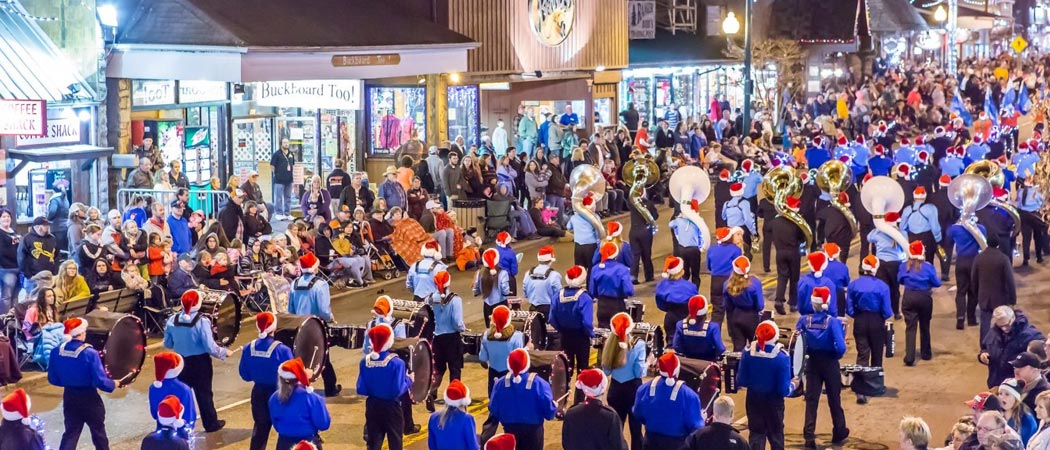 This year, 2019, marks Gatlinburg's 43rd annual Fantasy of Lights Christmas Parade. On December 7, the lineup of floats, dancers, musicians, marching bands and more has attracted over 20M people to date, from all over the globe. The parade begins at traffic light #10. If you can find a spot on River Road that is parallel to the main drag, you can park free. Otherwise, find a spot at Ripley's Aquarium or the McMahan Parking Garage. Begins at 7:30 p.m.
The Titanic Museum Attraction – Christmas Celebration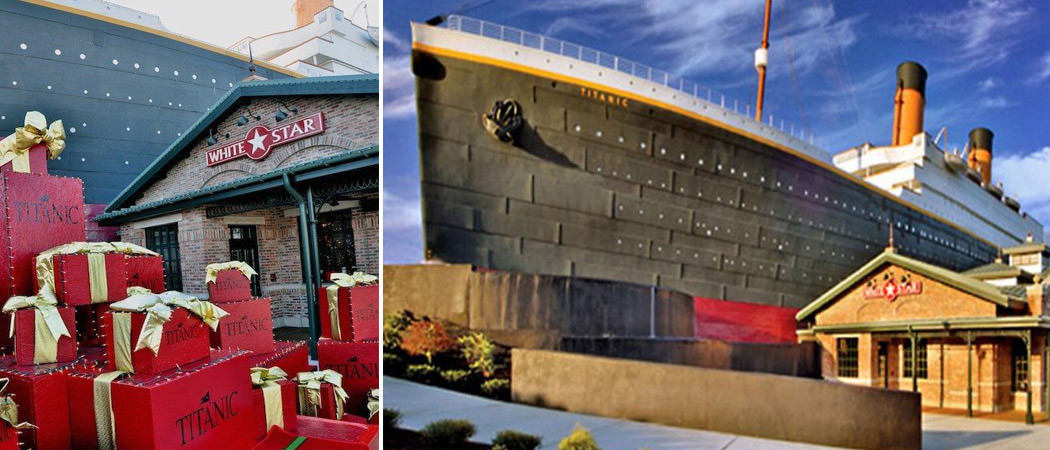 From November 10 through December 31, 2018, the Titanic is decorated in all its Christmas glory. There's live reindeer and you can have photos taken with Santa. The interior is decorated with lights, wreaths and the crew, is decked out in Christmas garb. Buy tickets here.
The Incredible Christmas Place – Shopping, Pigeon Forge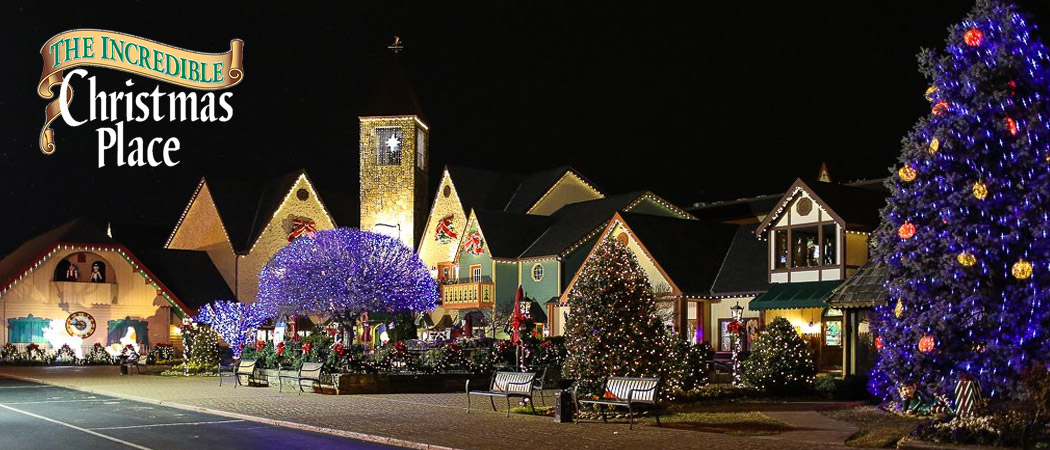 This is the place to get into the Christmas spirit! Located at 2720 Parkway in Pigeon Forge, The Incredible Christmas Place has any and every thing Christmas including personalized gifts. Open 365 days a year, it's especially warm and fuzzy during the Christmas holidays. Stunning displays of trees, lights, miniature Christmas villages and any and every thing Christmas!
The Village Shops – Shopping, Gatlinburg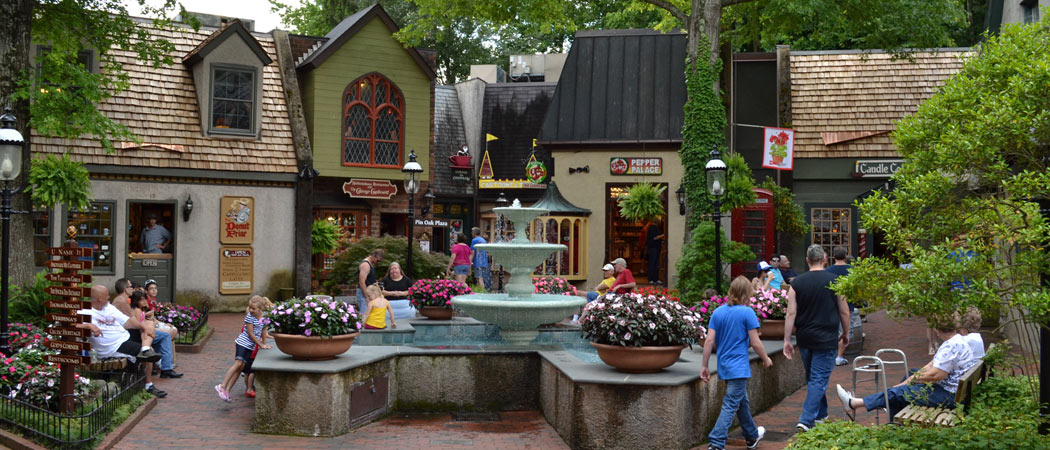 This lovely European-style village gets all decked in its Christmas finest and it's particularly wonderful strolling its cobblestoned streets during the seasons. Shop 27 different unique shops and eateries to find the perfect gift for you or your someone special. Visit The Village Shops website.
There's so much shopping to do in both Pigeon Forge and Gatlinburg! Our quick list includes:
Christmas Entertainment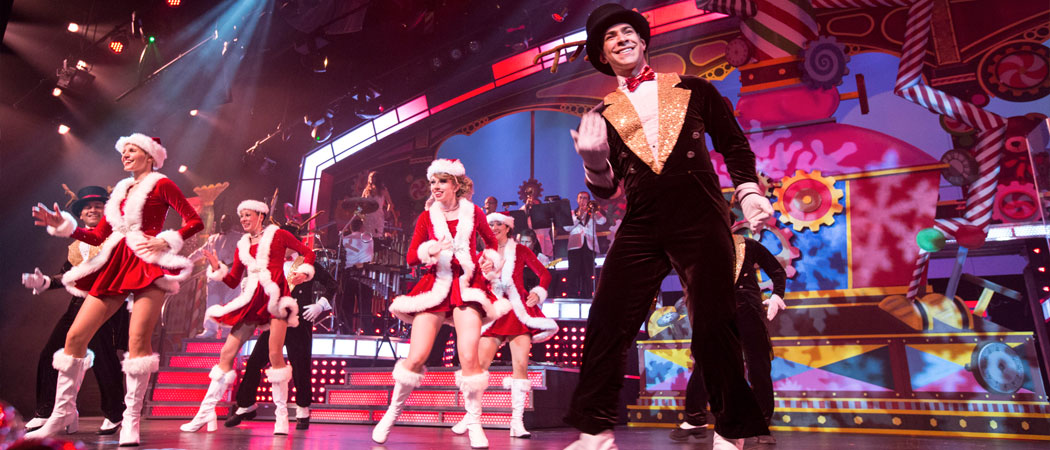 Christmas at the Smoky Mountains Opry is packed full of Christmas shows and entertainment. Their season lineup includes Christmas at the Smoky Mountain Opry with singers, dancers and multi-million dollar special effects. The Hatfields and McCoys Disaster Dinner Show includes an all-you-can eat buffet and entertainment that shines a big Christmas light on funny Christmas antics between two feuding families. The Comedy Barn Christmas Show is about about laughs, singing, dancing and getting the family involved in the fun. The Magic Beyond Belief Christmas Show brings in incredible Christmas music, magic and mermaids! Let the festivities begin! For ticket info and times, visit the website here.
Other Christmas shows to check out:
Christmas Celebration Dinner Show, filled with world-class actors, acrobatic, music, special effects and a four course feast. A superb dinner show for the entire family. Check their website here.
Pigeon Forge Christmas Show at Country Tonite. Learn more here.
Biblical Times Dinner Theater. The age-old beloved tale of "true story of Christmas as told in the Bible." Enjoy a "feast" while viewing this lovely show. More info here.
Wining and Dining During a Smoky Mountains Christmas Vacation
Song & Hearth: A Southern Eatery at Dollywood is open on Christmas Eve & Day for buffet dining from 5-10 p.m. and 11 a.m. to 7 p.m., respectively. Prime Rib, glazed ham, pot roast and chicken and salmon along with a bounty of sides and specialty desserts. Visit their website for more info. Location: 2825 DreamMore Way in Pigeon Forge.
For Christmas breakfast, try Regan's House of Pancakes and the Applewood Farmhouse in Severville.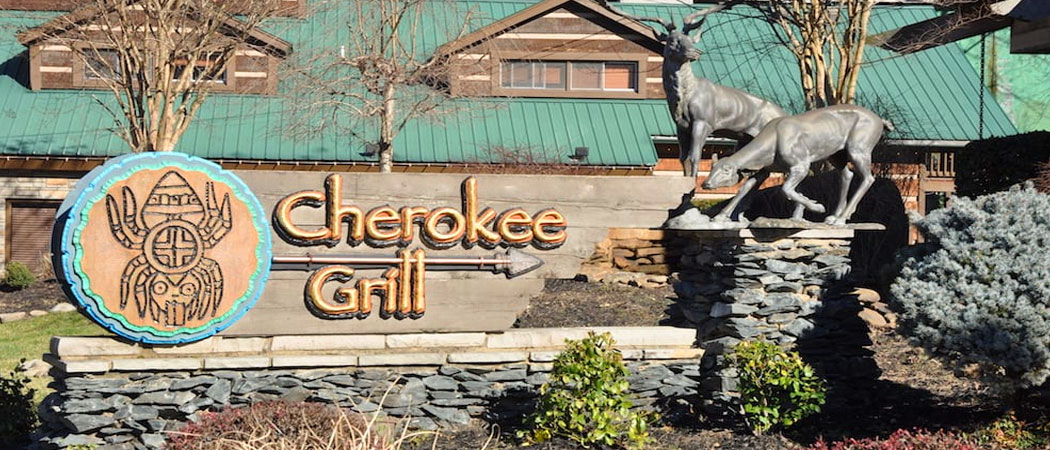 The Cherokee Grill is open during Christmas and the vibe is "upscale mountain lodge." Steak, seafood, chicken and other Christmas specials, plus gluten free options. Find their menus here. Location: 1002 Parkway, Gatlinburg.
For breakfast try the Flapjack's Pancake Cabin and Crockett's Breakfast Camp.
Groceries & Specialties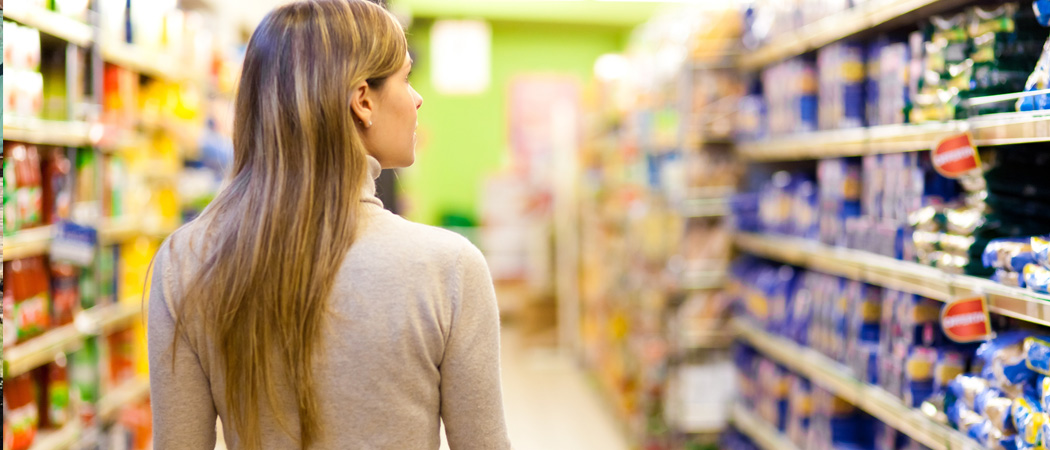 If you want to pick up some vegan or vegetarian Christmas cheer, visit Whole Earth Grocery Natural Foods Store and Cafe. Check their website regarding Christmas hours. Location: 446 East Parkway in Winery Square, Gatlinburg.
All Sauced Up in both Gatlinburg and Pigeon Forge. Gourmet foods and gifts. Check their website here.
Want a Christmas feast and sundries delivered? Check out Sheri's Store to Door for that.
If you need wine or spirits for Christmas celebrations, visit Park Liquor Fine Wine & Spirits at 1235 East Parkway in Gatlinburg. Call ahead for their holiday hours and visit their website here.
Part of planning the perfect Smoky Mountains Christmas vacation is reserving a luxury cabin. We have plenty to choose from to make your season the merriest. Visit Condo-World's Pigeon Forge luxury rentals and find our Gatlinburg cabin rentals.