Thanksgiving In The Great Smoky Mountains
There's nothing quite like a Gatlinburg or Pigeon Forge Thanksgiving. The reason for that is simple. The mountains. The weather. The people. The ambiance is rather magical, evoking a sense of tradition and family, A hearkening back to a simpler time.
November has dry, cool weather. At times, especially in the higher elevations, there's snow. Both Gatlinburg and Pigeon Forge decorate their town and storefronts in colorful and sparkling Christmas glory.
A Thanksgiving in the Great Smoky Mountains is special indeed. We've come up with a list of happenings and things to do during the season.
Gatlinburg Winter Magic Trolley Ride of Lights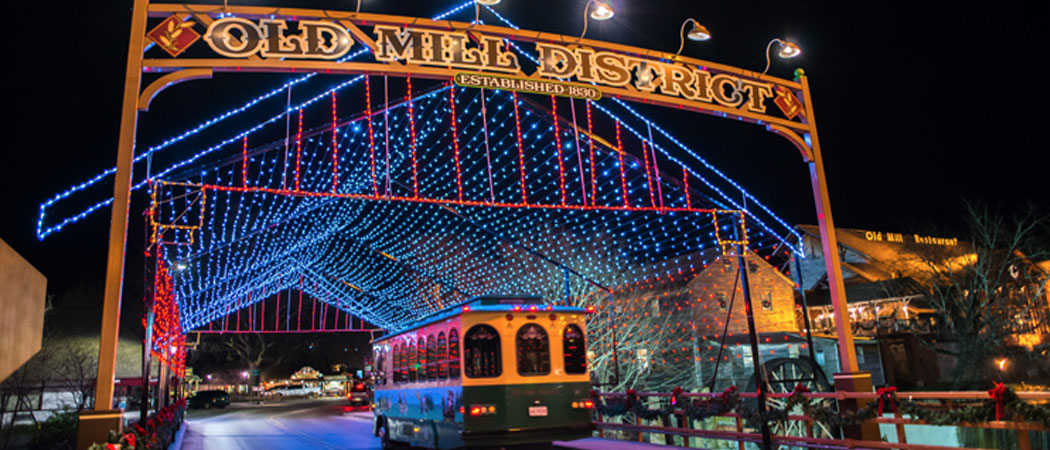 From November 7, 2018 to January 26, 2019 (except Christmas Eve or Christmas Day), you can take a trolley ride through downtown to view a spectacular light show made up of LED lights. You'll see bright displays representing the Great Smoky Mountains landmarks and animals, Christmas icons and more. Admission is $5 and kids under 3 are free. Download the Winter Magic route here.
Great Smoky Thanksgiving Arts & Crafts Show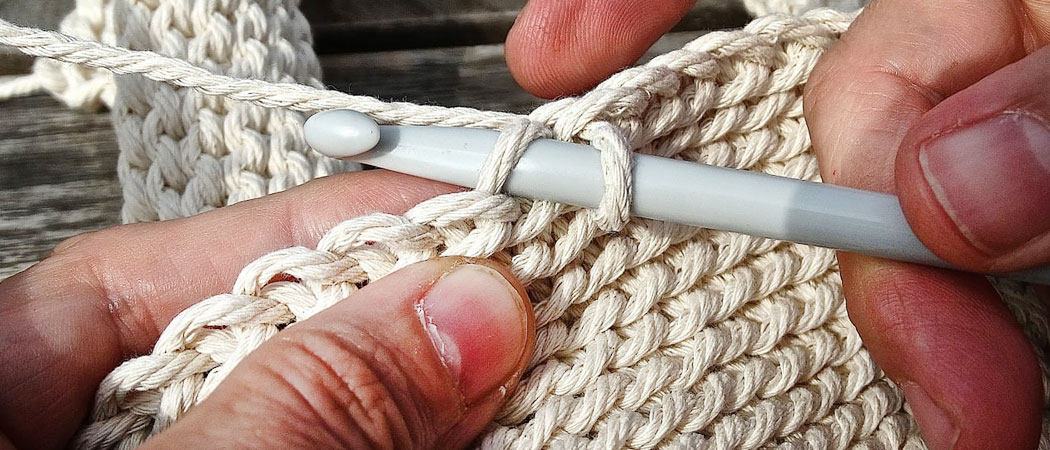 This arts and crafts show located at the Gatlinburg Convention center runs from November 20-25, 2018. Admission is free and if you'd like, hop on the trolley and spend the day exploring the community's arts and crafts community. You'll visit unique shops, galleries and eateries for 8 miles. It's only $1 to get on the route. For more information, visit their website here.
Gatlinburg Festival of Trees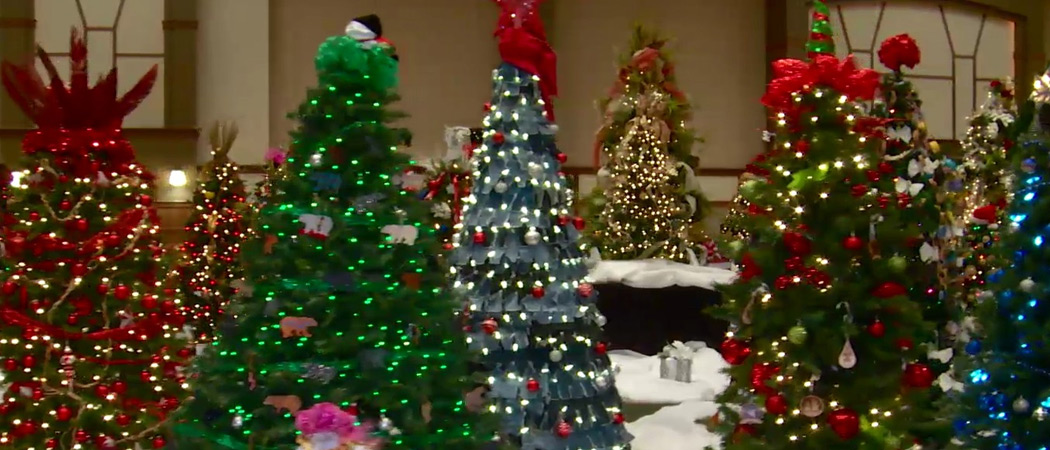 This year, 2018, marks the 45th anniversary for the annual Gatlinburg Festival of Trees, benefiting the Boys & Girls Club of the Smoky Mountains. The event, located at W. L. Mills Conference Center at traffic light #8, Historic Nature Trail, begins November 21-24, 2018. The event includes a preview party and silent auction, the festival and Santa visits. A wonderful family event where you can view Christmas trees of every shape, size and color and do some good. Visit the website here for more info.
Pigeon Forge Winterfest Driving Tour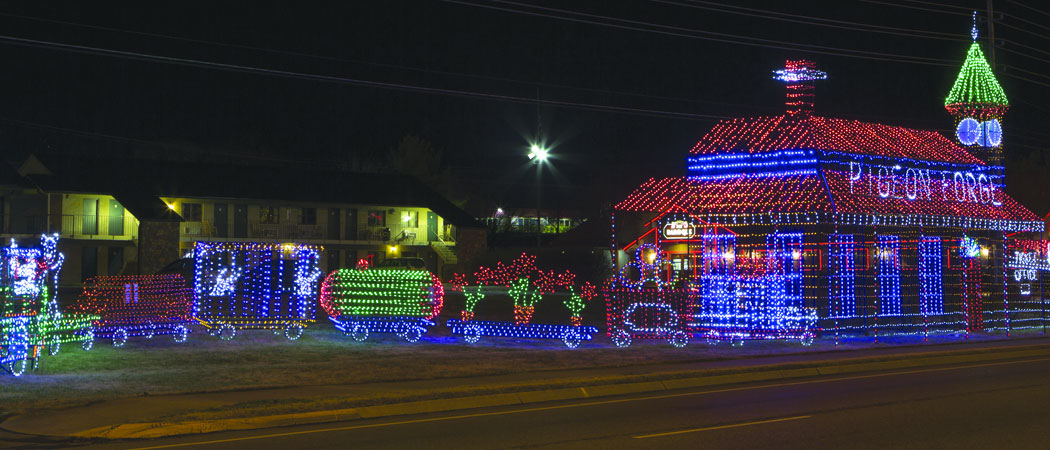 From early November to the end of February, the Pigeon Forge Winterfest Driving Tour beams brightly on Pigeon Forge's Parkway and you'll see brightly-lit Disney characters, iconic salutes to veterans and so much more. Download the map route here.
Cades Cove Loop Lope & Turkey Trot 5K at the Chapel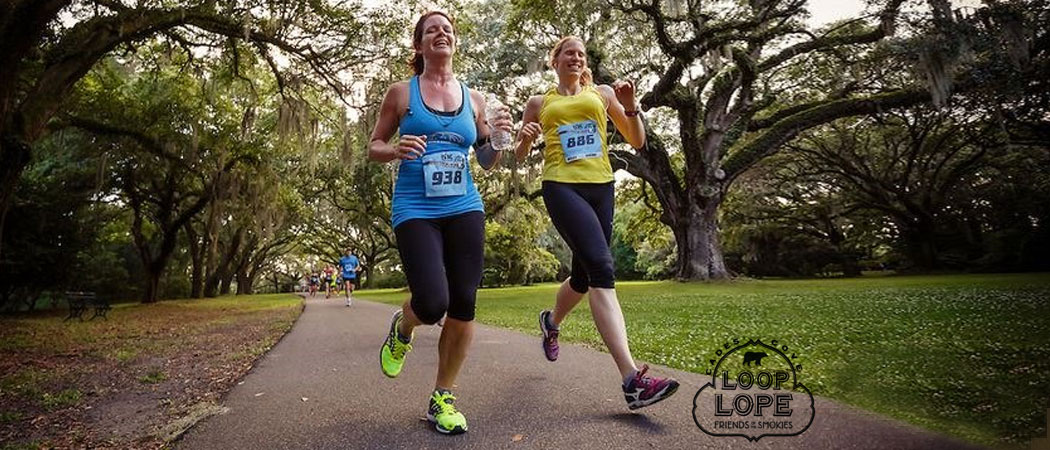 If you're in the area in early November and love to celebrate the season with some outdoorsy exercise, don't miss the annual Cades Cove Loop Lope. The footrace is the Great Smoky Mountains National Park and you can choose a 5K or 10 mile course. For more info and to register, click here.
In nearby, Sevierville, the annual Turkey Trot at the Chapel is scheduled for Saturday, November 17, 2018. Visit the website for race info and to register here.
If you're willing to take on a holiday run challenge further away from Gatlinburg and Pigeon Forge, check out this site for races that will have you burning calories before that big Thanksgiving Day feast!
Dollywood Seasonal Celebrations!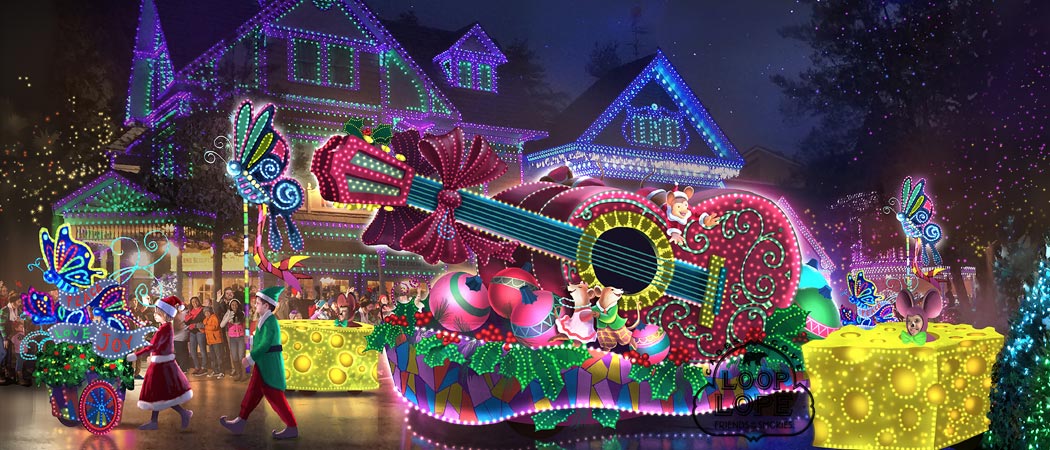 No one does it better and more extravagant than Dolly! The Harvest Festival runs from September 28 to November 3 and has Pumpkin LumiNights, gospel singing and artists showing off their wares. Smoky Mountain Christmas at the Park begins on November 10 and runs through January 5, 2019 and is a favorite among Dollywood diehards, locals and visitors.
Black Friday Shopping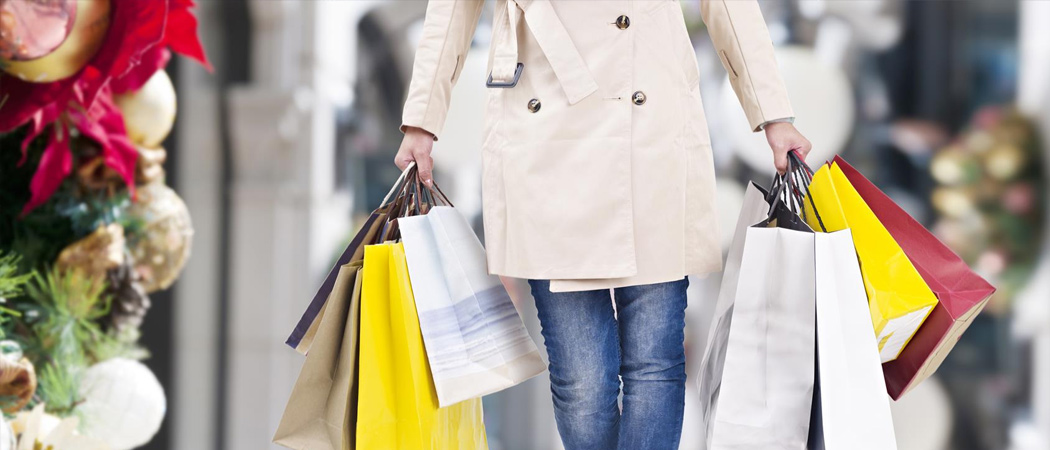 If you're the type of person who doesn't mind crowds and loves bargains, don't miss Tanger Five Oaks Outlet Mall in Sevierville, just minutes from Pigeon Forge. The Black Friday deals start at 6 p.m. on Thanksgiving Day and go through the weekend. Get "Moonlight Madness" deals and additional discounts during the weekend.
The Island in Pigeon Forge always has Black Friday deals, with over 60 shops to satisfy the retail savvy, savory and sweet-tooth shopper and everything in between during their Black Friday deals. Packed full of eateries, sweet shops and specialty shops, it's a great place to get yourself and others the perfect holiday gift.
The Mountain Mall in Gatlinburg is in the heart of Gatlinburg located at traffic light #6. An indoor mall with a Smoky Mountain theme, the shops have national chain stores as well as specialty shops. Look for Black Friday deals from various vendors. Check out their merchant directory here.
Christopher & Banks Outlet at the Pigeon River Crossings Center on 2616 Teaster Lane in Pigeon Forge has women's wear and the Black Friday deals to be had are usually even better than their seasonal sales!
Thanksgiving Dinner In Gatlinburg
The Seasons of Ober Loft & Lounge is always open on Thanksgiving and each year, has a special Thanksgiving buffet. The views are beautiful and the food, great. Visit their website here.
Have a unique Thanksgiving experience at The Melting Pot on 959 Parkway. They're open from 2-10 p.m. on Thanksgiving and serve up a melting pot feast featuring proteins, veggies and dessert. What a way to share on Thanksgiving! Visit the Melting Pot's website here.
Smoky Mountain Brewery – Gatlinburg & Pigeon Forge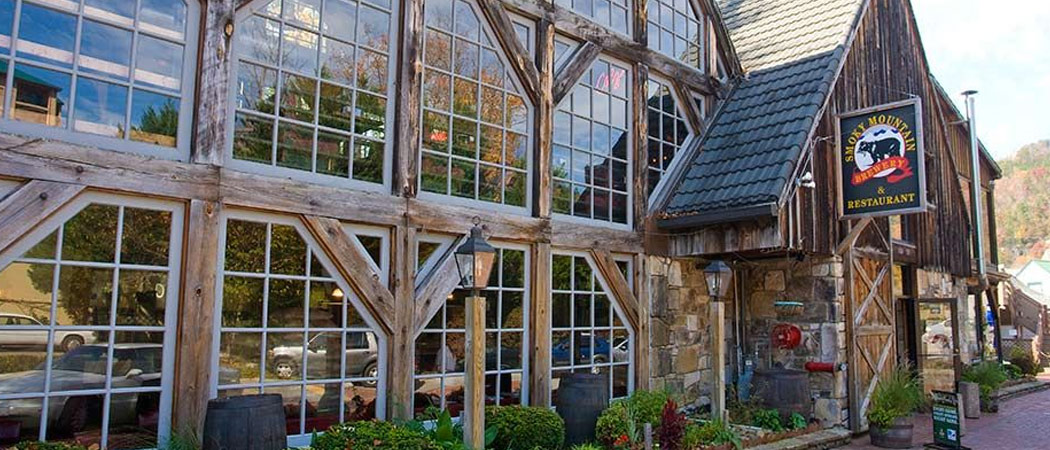 If a laid-back "Bavarian beer hall" and "ski lodge" vibe is what you're looking for in order to have a memorable Thanksgiving, you can visit either of Smoky Mountain's Breweries locations to do just that. Great beer and great food – Happy Thanksgiving! Take a look here.
The Park Grill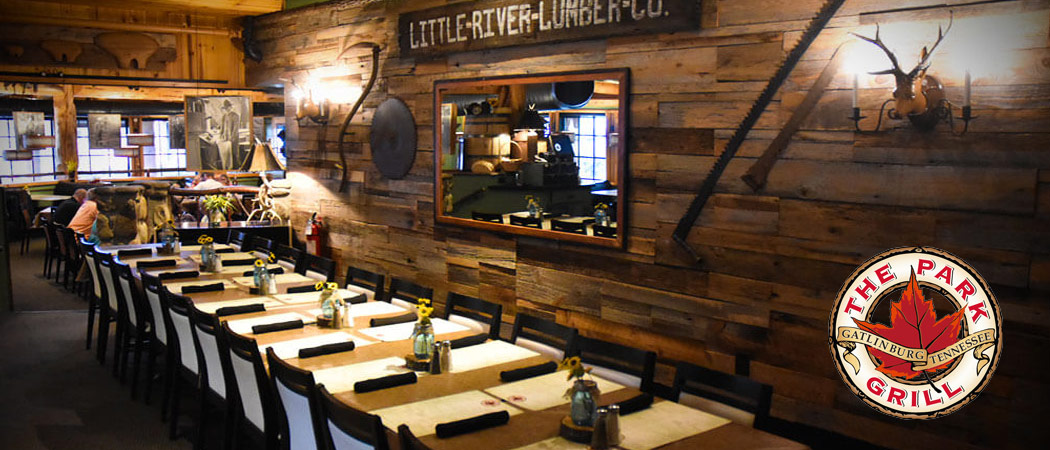 There is a special Thanksgiving menu served up every year from 11:30 a.m. to 9 p.m. at The Park Grill on 1110 Parkway in Gatlinburg. Very close to the Great Smoky Mountains National Park, this homey and beautiful restaurant has a down-home friendly feel and is a Gatlinburg landmark.
Calhouns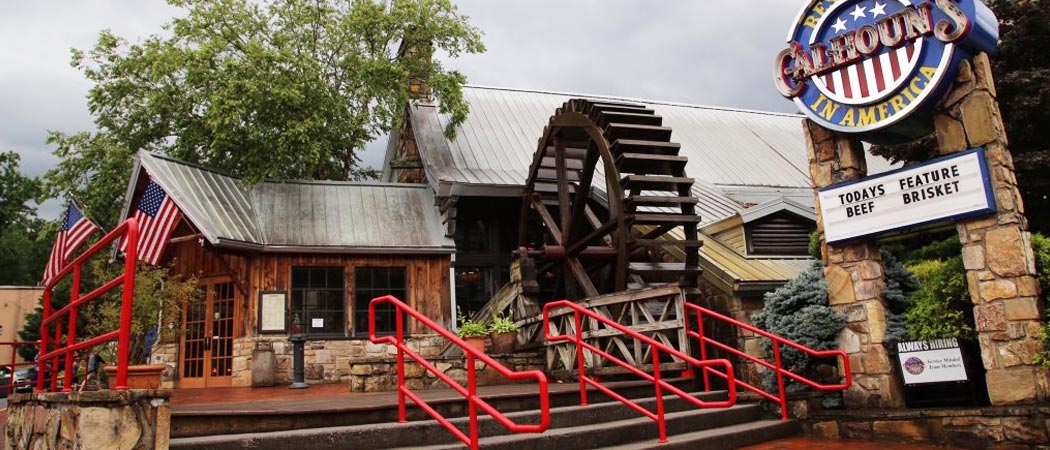 An East Tennessee favorite with locations throughout the area, this one is on 1004 Parkway and is open for Thanksgiving from 11 a.m. to 10:30 p.m. If you're craving Tennessee Bar-B-Que instead of turkey, this is the place to go. Visit the website to learn more.
Thanksgiving Dinner in Pigeon Forge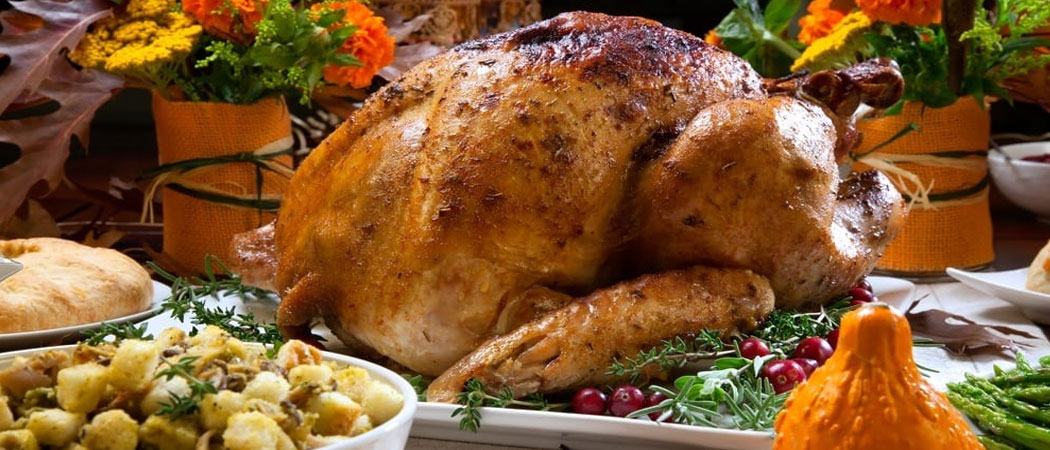 Paula Deen's Family Kitchen is famous for down-home, country cooking and it's right in heart of Pigeon Forge at 131 The Island Drive. Enjoy some southern cooking from the master of it from 10 a.m. to 7 p.m. on turkey day. You'll need to get your name on the list early, at least an hour before opening as it's very popular on Thanksgiving Day. Check out the down-home goodness here.
The Old Mill Restaurant opens at 11 a.m and closes at 9 p.m. on Thanksgiving Day. Classic Southern Food in a tried and true Pigeon Forge restaurant that is a local and visitor favorite. Located at 164 Old Mill Avenue. Click here for more info.
Mama's Farmhouse located on 208 Pickel Street is exactly how it sounds. A sweet place to enjoy with family and friends, plus with their award-winning biscuits to soak up Thanksgiving gravy, you can't go wrong if you choose Mama's to spend Thanksgiving. Given the prestigious award of having the Best Banana Pudding in Tennessee, you'll at least want to grab some Thanksgiving dessert! Open from 10:30 a.m. to 9 p.m.
If you prefer a steak instead of the traditional turkey dinner, Alamo Steakhouse at 3050 Parkway in Pigeon Forge and 705 East Parkway in Gatlinburg, can provide you with "steak perfection." Grilled over an oak fire and served up with homemade soups, sauces and gravy, it may just become a new Thanksgiving tradition. Open 11 a.m. to 10 p.m.
There's so much to see and do in Gatlinburg and Pigeon Forge during the Thanksgiving holiday. The first step in planning the perfect getaway is reserving the perfect luxury cabin. Reserve your luxury Pigeon Forge or Gatlinburg cabins at Condo-World today! Happy Thanksgiving!