North Beach Resort & Villas's most famous outdoor entertainment complex is waiting for you to experience everything is has to offer! Between restaurants, stores and attractions, you can spend all day at Barefoot Landing!
Barefoot Landing Restaurants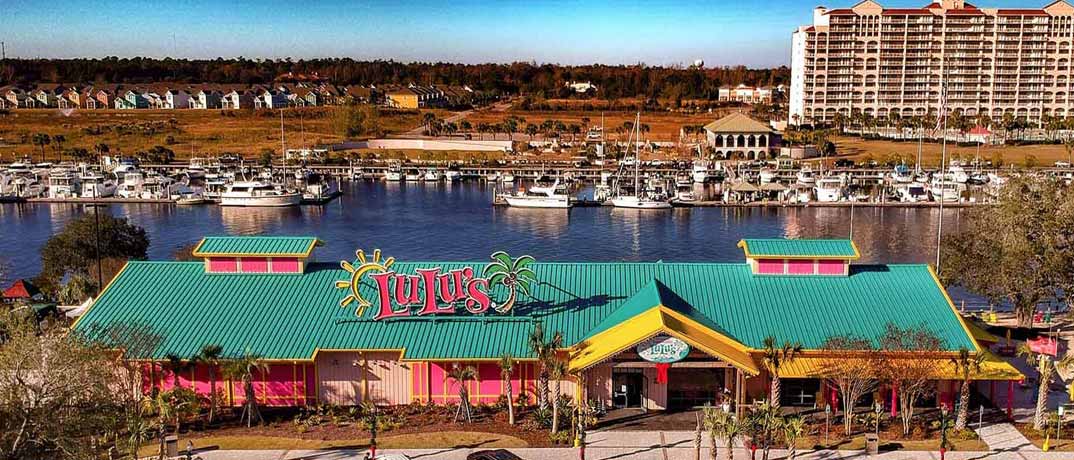 Whether you're up for a full meal or happy hour, you should check out the Barefoot Landing restaurants! If you're ready to try something new, you can find a unique dish at Blueberry Grill. Barefoot Landing is also home to Greg Norman's Australian Grille for those looking for Mediterranean cuisine and an extensive wine list. For a local seafood buffet, visit LuLu's Cafe at Barefoot Landing and if you want the classics, check out River City Cafe. Barefoot Landing has many eateries for you to choose from, check out the full list below!
LuLus
A brightly colored café with breakfast combos with orange juice and burgers with a soda in a 1950s style restaurant.
Blueberry Grill
Do you want breakfast for dinner? Visit a modern restaurant with a fully loaded breakfast and lunch menu. Choose from specialty blueberry recipes, heart healthy options, a gluten free and vegetarian menu and a wide variety of lunch specials.
River City Café
Burgers, fries, giant onion rings, fried zucchini, salads, BBQ sandwiches and jumbo hot dogs are waiting for you at the local's favorite restaurant.
Greg Normans
You'll find appetizers, salads and seafood galore, as well as pasta, poultry and other meats at this unique restaurant. They have separate menus for happy hour, drinks and wine, and desserts. There is also a special menu for kids and groups.
Bully's Pub and Grill
Order a popular food off the Crazers menu or something else off the Sandwiches and Such menu. They have plenty of burgers and fries and a specialty menu.
Cafe de Paris
Espresso, ice coffee, frappes and smoothies, oh my! Pair your coffee with a crepe, waffle or salad while you're here too!
Crooked Hammock Brewery
The best beer in town to go with a large pretzel or other appetizer before moving on to lunch and dinner backyard meals.
Dick's Last Resort
A wide range of food and drinks await you as well as sarcasm and funny hats!
Flying Fish
You will find the classics here as well as all kinds of seafood. This is a great place for gluten free food and happy hour as well!
House of Blues
Have some entertainment with your food! Come for drinks or some southern inspired food made from scratch and stay for the live music.
Joe's Crab Shack
Seafood, gluten sensitive and seasonal menus are available as well as desserts and plenty of drinks to choose from at this casual dining venue.
Johnny Rockets
Step back into time with a burger and milkshake while listening to a juke box and the staff sing throughout your meal!
Raco Mundo
Taco Tuesday just got a lot more interesting when you have plenty of traditional Mexican food to choose from. They also have salads, rice bowls, fajitas, quesadillas and daily specials.
Ultimate California Pizza
Pizza and garlic sticks sound delicious doesn't it? Have a flavorful family dinner at UCP tonight!
Umberto's
Upscale plates of appetizers, entrees, pasta, steaks and chops, seafood, and house specials. Don't forget dessert before you go!
Wild Wing Café
Laid-back atmosphere with wings and other saucy things. Enjoy soups, salads and sandwiches as well as other various menu items too!
Stores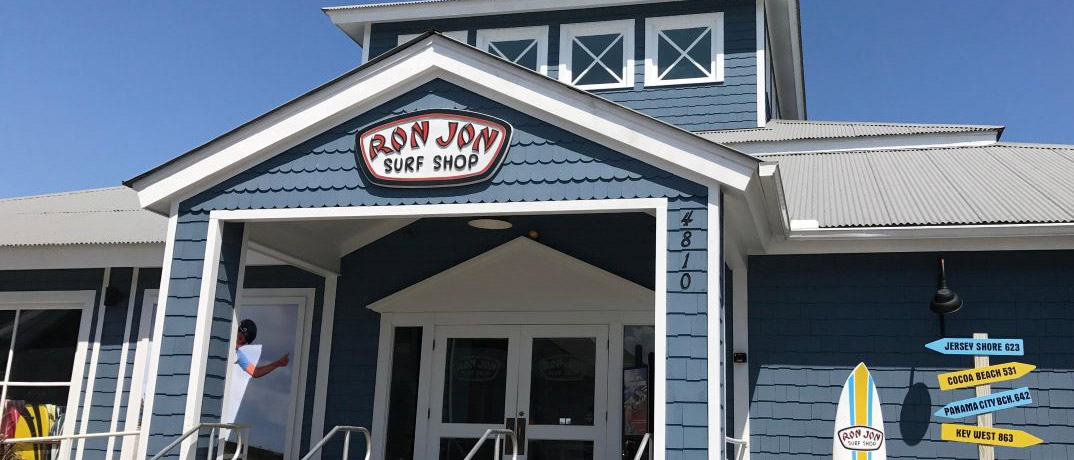 Barefoot Landing has tons of stores for you to visit while you're here as well! Find some souvenirs to take home or even do a little early Christmas shopping. You will find something for everyone around the Barefoot Landing shops! You can go clothing shopping at Blue Moon, Carolina Hat Company, Del Sol, Designer Sunglasses, Earthbound Trading Company, Hat Fanatic, Purpleologist, Ron Jon Surf Shop, Southern Connection and Sunglass Hut.
If you're looking for souvenirs you should check out a specialty store like 3D Krystal Photos, Silver Shack, Beach House, Black Market Minerals, Christmas Mouse, Crabby Jack's, Paux Paws, Pearls & Co, Sand and Sun, Tiki Jim's and Toy Kingdom.
Attractions At Barefoot Landing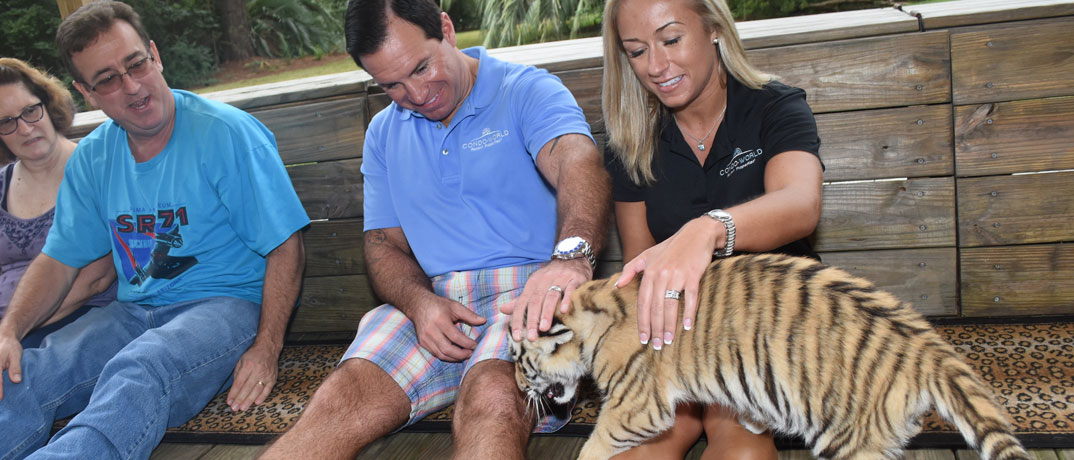 If you're looking for more than shopping and dining, don't worry! Are you into Tigers? Barefoot Landing has a Tigers Preservation! They also have some other attractions nearby as well, check out the list below.
T.I.G.E.R.S.
Visit the preservation station and see all kinds of animals for free. You can hold a baby tiger and get a photo taken too!
Alligator Adventure
See all kinds of reptiles, amphibians and alligators on this adventure! Stay for the live shows and get to hold a snake!
Alabama Theater
Feel like seeing a light show or something seasonal for Christmas? Check out this beautiful theater while you're in town!
As you can imagine, Barefoot Landing has to be very large in order to hold all these restaurants, shops and attractions! You can view a map of the complex, here!
Browse Nearby Vacation Condos
Barefoot North Tower
Barefoot North Tower is the closest you can get to Barefoot Landing! So if you're looking to fly down and not rent a car, this is a great option for you! They offer 1, 3 and 4-bedroom condos with waterfront views. You can still get the full beach experience with the beach only 3 minutes away!
North Beach Resort & Villas
North Beach Resort & Villas is right across the highway from Barefoot Landing! This resort offers 1 to 5-bedroom condos and houses in addition to their five star amenities. Enjoy a day at the Cinzia Spa after getting the full experience of Barefoot Landing!