Valentine's Day Specials in Myrtle Beach
Treat your sweetheart to a romantic night out in Myrtle Beach! You'll find a bevy of dinner specials, exclusive events, hotel packages and unique date night ideas throughout the Grand Strand to help you celebrate Valentine's Day. Be sure to book early as reservations fill quickly at these Grand Strand events.
Ripley's Aquarium – Splash of Love
The 7th annual Splash of Love event will be held for two days this year at Ripley's Aquarium in Myrtle Beach; February 13th and 14th! Your evening includes a four-course dinner and one long stemmed rose for your love in a unique aquarium setting. Upgrade to the Tunnel of Love package and dine with the sharks among other perks or upgrade to the You're My Penguin package to dine with the newest arrivals in the Penguin Playhouse. Prices start at $120/couple plus tax. Tunnel of Love starting at $180/couple plus tax. And the You're My Penguin VIP starting at $300/couple plus tax.
La Belle Amie Vineyard
Spend the afternoon at La Belle Amie Vineyard in Little River on the Saturday after Valentine's Day. They're hosting a cozy bonfire with wine tastings, live music and romance. Admission is $7.
Wine & Design
Do something creative with your Valentine this year at Wine and Design in North Myrtle Beach. They're hosting two couples' specials this year for $65 on February 14. The 6 p.m. session features a lovely painting titled Kissy Fish and the 8:30 p.m. session is a King and Queen. Bring your own snacks and wine or beer and cozy up for a fun night of painting with your love.
The Melting Pot
Make your reservations at one the most popular Valentine's Day dinner spots in Myrtle Beach – The Melting Pot. The unique restaurant offers cheese and chocolate fondues as well as grilled entrees and top-rated wines and cocktails. Add on a photo package or chocolate dipped strawberries for a special surprise for your Valentine.
Medieval Times Dinner & Tournament
For a one-of-a-kind date night experience, why not head out to Medieval Times Dinner and Tournament in Myrtle Beach? The show is the quintessential romantic story with knights vying for the heart of the fair princess. Did we mention there's a great meal included too? Ask about their Valentine's Day specials with photo packages, champagne and more when booking your evening out.
Romantic Restaurants in Myrtle Beach
If you're searching for the perfect restaurants for Valentine's Day, we've got a few recommendations for you to try. These romantic cafes and restaurants serve some of the best food on the Grand Strand in an intimate setting – perfect for treating your special Valentine.
Thoroughbred's Restaurant – 9706 N. Kings Hwy., Myrtle Beach
Rivertown Bistro – 1111 3rd Ave., Conway
21 Main Prime Steakhouse – 719 North Beach Blvd., North Myrtle Beach
New York Prime – 405 28th Ave. N., Myrtle Beach
Collector's Café – 7740 N. Kings Hwy., Myrtle Beach
Greg Norman's Australian Grille – 4930 US-17, North Myrtle Beach
Aspen Grille – 5101 N. Kings Hwy., Myrtle Beach
The Library Restaurant – 6613 N. Kings Hwy., Myrtle Beach
Hook & Barrel – 8014 N. Kings Hwy., Myrtle Beach
Ciao Restaurant – 5223 N. Kings Hwy., Myrtle Beach
Sea Blue Restaurant & Wine Bar – 501 Hwy. 17 N., North Myrtle Beach
Bistro 90 – 7209 SC-90, Longs
The Brentwood Restaurant & Wine Bistro – 4269 Luck Avenue, Little River
Places to Stay this Valentine's Day
North Beach Plantation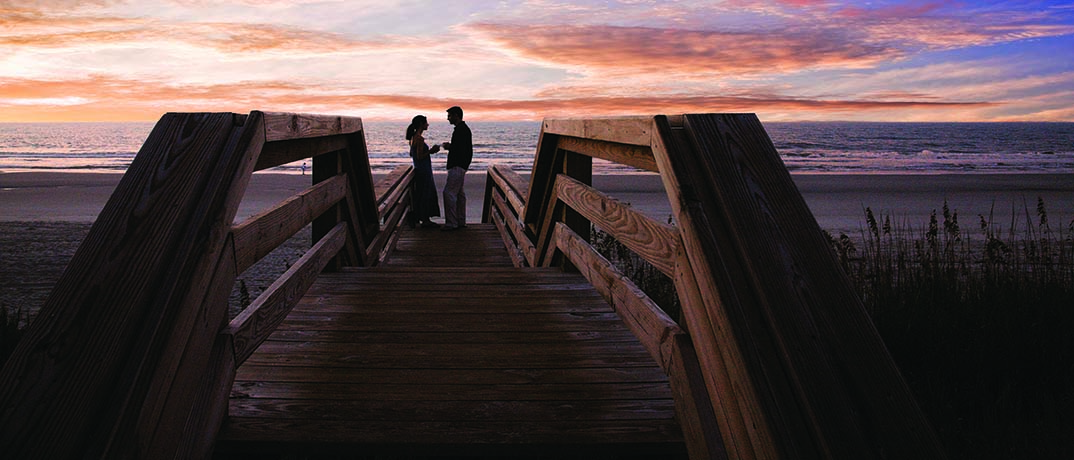 Book your Valentine's Day stay at North Beach Plantation for a luxury experience like no other. The sprawling oceanfront towers offer high-end condo rentals with up to five bedrooms as well as a seven-bedroom penthouse suite pulling out all the stops. The cooler months are the perfect time to take advantage of the indoor pools and swirling hot tubs or for visiting the on-site Cinzia Spa for a relaxing massage. Book your stay now for up to 35% off your Valentine's Day weekend hotel package.
Sea Watch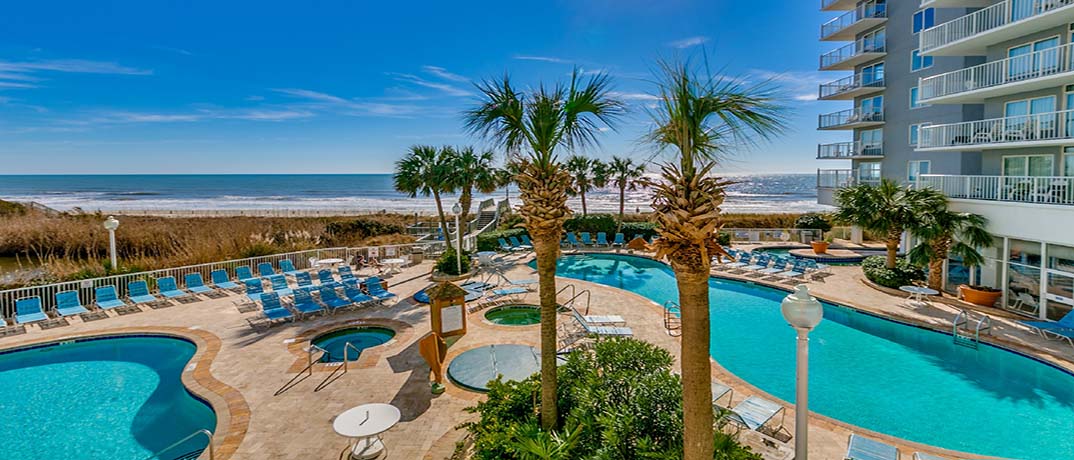 Find your favorite private stretch of beach while visiting Sea Watch Resort in Myrtle Beach this Valentine's Day. Select a cozy oceanfront studio or one-, two- or three-bedroom condo, each with their own private balconies, and wake up to the sound of the waves crashing on the shore. Make your way downstairs and spend some time in the water in their covered indoor pools and whirlpools. The nightly fire pit is a huge hit with guests staying at Sea Watch and the perfect place to unwind after a romantic night out. Valentine's Day packages are up to 20% off when you book now with Condo-World!