Northwest Florida's Scenic Highway 30A is loved by locals and tourists, alike! Many call it home, and even more call it their "home away from home." While you may be a newbie and wondering what this 30A is all about, or you might be a long-time local, there are many hidden gems and fun little secrets that you might not know about this beloved area and in the history of 30A.
Scenic Highway 30A — or just 30A, as residents call it — a meandering 19-mile corridor that hugs the Gulf of Mexico coastline, tucked between Destin and Panama City, is actually a string of small, creative beach towns. Here are some fun facts about 30A you can use in your next beach day trivia.
30A and South Walton is made up of 16 different communities.
There are 16 unique communities that make up South Walton and the 30A area. Each community offers a variety of character, activities and vibes, and most were master-crafted by visionaries with a big plan in mind for their little community. These communities all have their own personality and carefully-crafted architecture that make each a place to stop on your next beach vacation itinerary. Visitors can enjoy unique boutiques and shops to fine foods prepared by famous chefs or a special snack from the famous Airstream Row in Seaside. With every community you visit, you step into a wonderful world, different from the one you just left.
History of 30A
South Walton County, in general, was an important Native American settlement as European artifacts have been found in the area. In 1911, Grayton Beach, one of the first 30A communities, was a small resort for beach goers from other areas of Walton County and Alabama. In the 1920's, newspapers in the area advertised Grayton Beach as a place to buy a beach lot and as a place to relax and recuperate from daily life. Prior to 1923, there were only small cottages that dotted the beach built prior to 1900. But, new houses began to replace those; ones which were described as "air castles" with low hip roofs called storm roofs and large screens with hinged shutters to protect from hurricanes. Today, Grayton Beach, an eclectic, thriving tourist destination, awaits your visit. It's even been named the "Best Beach in America" by "Dr. Beach," author of America's Best Beaches and many of the other 30A communities have now received prestigious awards as well.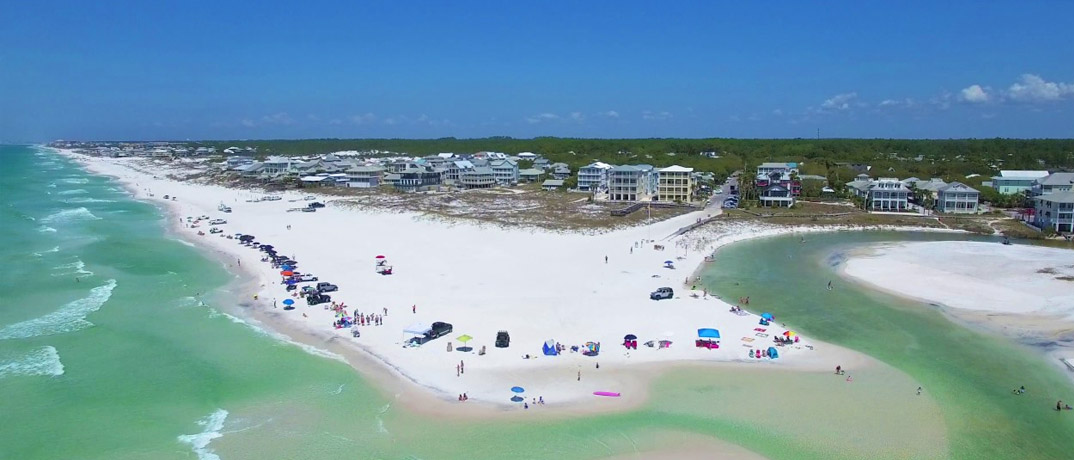 The latter-day history of 30A begins in 1979 when Robert Davis inherited an 80-acre parcel of white-sand beachfront and turned the remote scrub brush into a new kind of coastal retreat. Called Seaside, it also produced the New Urbanist movement, with its town center for business and shopping, the beach and Gulf at your fingertips and all cottages just a walk or bike ride away. Hence, more of the 30A communities spring up in the same fashion, but with different personalities. Now, you can stroll the shaded boardwalks of Rosemary Beach and you'll think you've strayed into Charleston. Or find yourself in the sleek, white surroundings of the Mediterranean in Alys Beach. WaterColor is a warm, inviting mix of parks and Old Florida-style homes. And, because of the uniqueness, personality but diverseness of 30A, there's even rumors of famous music artists and celebrities owning homes in the area.
White Sand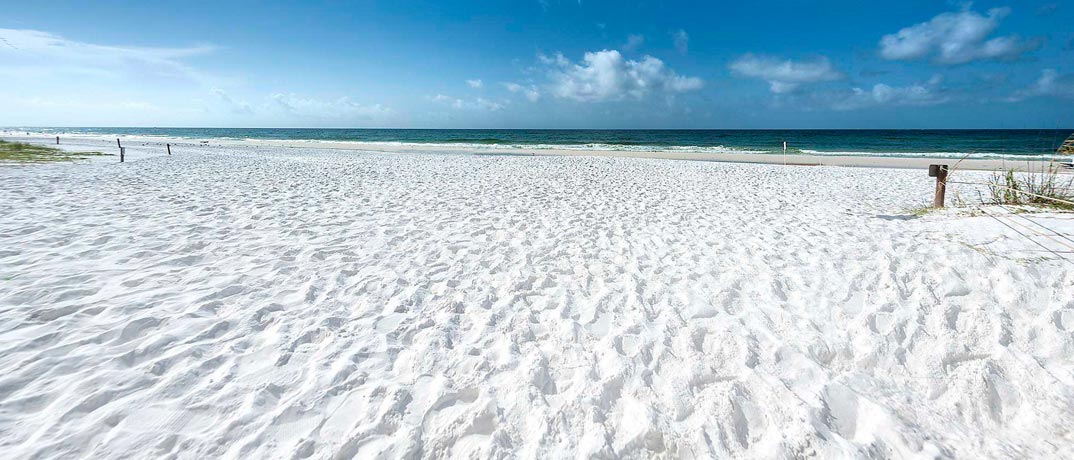 Today, there are many reasons people travel the country (and the world) to visit 30A, but one thing that attracts most is the distinct beauty of the pristine, sugar-white sands and emerald green waters. The unique, crystal sand along 30A consists of pure, small quartz particles which came from a process starting in the Appalachian Mountains. Over thousands of years, as the Appalachian Mountains weathered, quartz and other particles were washed down through the Apalachicola River, ending in the Gulf. So how is the sand on 30A beaches so white? The sand is almost 100% quartz, which is a highly unusual occurrence to find on other Florida beaches, and the extra-white color comes from the natural 'bleaching' from the water and the sun.
Seaside Founded "New Urbanism Movement"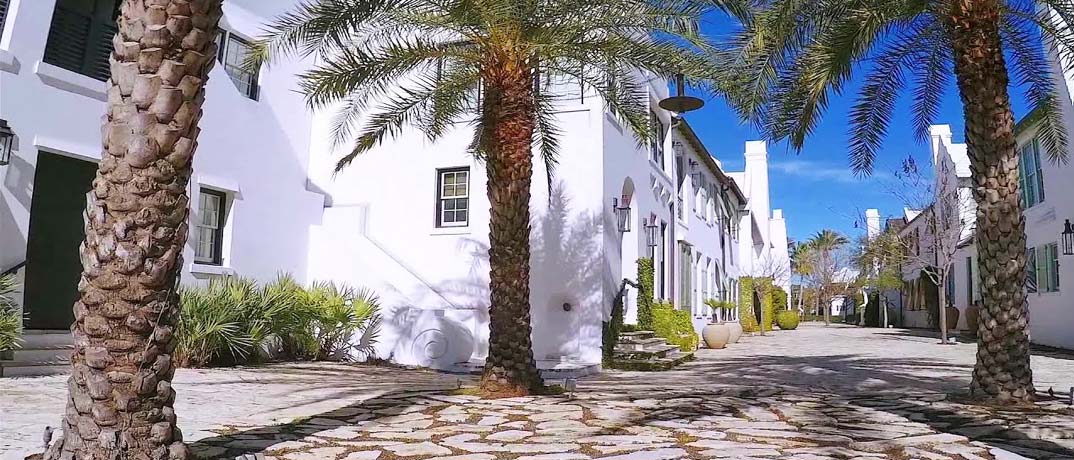 30A is the birthplace of New Urbanism, its town development the first in the world to the usher in New Urbanism design. The New York Times called this movement "the most important phenomenon to emerge in American architecture" in 50 years. Seaside, in particular, began the movement. Founded by Robert and Daryl Davis more than 30 years ago, Seaside's innovative "small town" design was carefully planned by architects Andrés Duany and Elizabeth Plater-Zyberk. Seaside offers a thriving town center with shopping and dining, all within walking distance to homes, cottages and offices. With its nine unique beach pavilions, cobblestone streets, quaint pastel cottages, and white picket fences where no two are alike on the same road, there is a Seaside Neighborhood School and a Seaside Repertory Theatre where you can take in a show. Travel is by foot or bicycle. There's a town grocer (the famous Modica Market), a book and record store (Sundog Books and Central Square Records), charming art and jewelry galleries, cafes, toy shops, clothing boutiques, a weekly farmer's market, outdoor concerts, movies under the stars, daily sunset bell at Bud and Alley's, and fresh strawberry or peach mojitos on the porch at Great Southern Cafe … It's the way life should be.
It entails designing traditional enclaves intended to create an enhanced sense of place. Sidewalks, bike paths and old-fashioned white picket fences (no two patterns are alike) make Seaside a walkable and architecturally compelling town. Seaside fostered an innovative impulse that is the gem of 30A's identity. Planned communities modeled after Seaside quickly sprouted and are a visitor's paradise, more little jewels spreading up and down 30A—Rosemary Beach, Alys Beach, Watercolor, Watersound and others.
30A Architecture
Spectacular and varied architecture embodies the 30A life-style as much as the white sand and emerald-green waters. Seaside, built on 80 acres of Northwest Florida's Gulf Coast, is located almost right smack-dab in the middle of 30A. Some of the 30A communities are prominent topics in architectural schools and magazines and are visited by design professionals from all over the world. Seaside is included in the American Institute of Architects list of Florida Architecture: 100 Years 100 Places. Recently, Seaside announced the completion of a unique landmark honoring America's greatest historian and educator of art and architecture, Vincent Scully. Commissioned by Seaside co-founders and renowned architect and urbanist Dhiru Thadani, world-renowned street artist Andrew Pisacane, known as "Gaia," paid tribute to Scully with the wall-sized mural on Seaside's purple wall at 25 Central Square along Hwy. 30A. Seaside's success with offering architects an opportunity early to be creative was the catalyst that drove other new 30A communities to design beautiful, yet inviting communities, such as Rosemary Beach, Alys Beach and Watercolor.
The essence of Rosemary Beach comes from the careful arrangement of its public spaces and private homes. Neighborhoods are interconnected by a network of pedestrian lanes, footpaths and boardwalks with secret pathways that lead to the town square, tennis courts, swimming pools and the beach. Every home in Rosemary Beach is architecturally unique and is custom-designed and built to reflect each owner's tastes, needs, and lifestyle and offering you that diversity. Yet, every house is an inextricable part of the fabric of the town, reinforcing its coastal character. The shapes and silhouettes at Rosemary Beach beckon you to a world of St. Augustine, the West Indies, New Orleans and Charleston.
Alys Beach, with its sparkling white stucco homes, angular tiled rooftops and narrow streetscapes defy easy classification of style, region or era. It combines the harmonious forms of Bermudan architecture with the gracious character of courtyard living and a deep respect for the natural environment. The architecture is not simplistic, but life is and invites you to relax near your own fountain, pool or greenery in the privacy of your personal courtyard — a bit of outdoor space all your own, and designed for cool, gently breezes and soft soothing sounds.
The Truman Show was Filmed in Seaside
30A's modern-day history began when Seaside was founded in 1981 and thrust further into the limelight in 1998 with the filming of The Truman Show starring Jim Carrey. Many of the original set landmarks can still be discovered while walking through Seaside. One of the most prominent is Modica Market where some of the popular movie's shots were filmed. You can see old photos and posters there from the movie. And, be sure to tell Charlie Modica hi for us!
Coastal Dune Lakes
30A's coastal dune lakes are extremely rare, a unique geographical feature occurring in only a handful of places in the world–Madagascar, Australia, New Zealand, Oregon, and here in the Panhandle of Florida. 30A is home to the world's largest concentration of the dune lakes, a string of 15 woven throughout 26 miles along Northwest Florida's Gulf Coast sharing an intermittent connection with the Gulf. In addition to their unique form, they are among the most picturesque places in Florida. Local state parks Topsail Hill Preserve State Park, Grayton Beach State Park, Deer Lake State Park and Camp Helen State Park offer beautiful vistas where one can view the lakes nestled in the sand dunes. The locals work hard to protect the dune lakes where you don't want to miss capturing the amazing sunset view or try a very popular activity — paddle boarding! Did you know world-renowned YOLO Board was founded in Santa Rosa Beach and offers stand-up paddle boarding! The lake outfalls offer you great birding opportunities, too!  You can also rent a kayak or canoe and engage in both salt and freshwater fishing.
The lakes are formed by winds that redistribute the sand and create shallow basins (most only averaging 5 feet deep). Mostly freshwater, the contents of coastal dune lakes sit within a few feet of the Gulfs saltwater, separated by a natural berm of sand. Following a heavy rain or other inflow, sand berms are breached causing freshwater to flow openly into the Gulf of Mexico. This action is known as an "outfall" and it's the time when seawater can also flood back into the dune lake until the levels stabilize. This results in a rare ecosystem that's home to both fresh and saltwater species.
More Than 200 Miles of Biking and Hiking Trails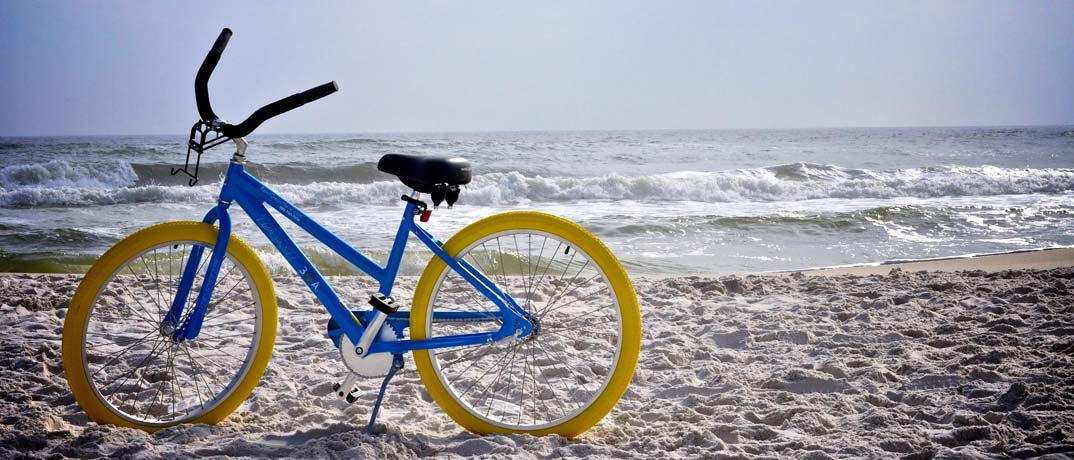 You might think of 30A and South Walton as home to some of the world's most beautiful beaches, but visitors that enjoy an active lifestyle and outdoor activities, can take some time to hit the trails before (or after) they head to the beach! Hikers and bikers can enjoy nature with over 200 miles of South Walton trails nearby while visiting 30A. Running the full length of Scenic Highway 30A, the 19-mile paved 30A Bike Path (also called the "Timpoochee Trail") winds along coastal dune lakes and through the charming beach communities.
30A is Just Under 25 Miles Long
County Highway 30A is only 24 miles running East to West in South Walton, along Florida's Emerald Coast. While this famous stretch might not be long in length, it welcomes millions of visitors with open arms, unique character, charming personality, stunning beaches, and many opportunities to make memories with friends and family.
Building Height is Restricted to 4 Stories
The lovely lifestyle offered in South Walton is enhanced not only by the huge expanse of protected forested shoreline and coastal dune lakes but by a lack of development. In 2006 Walton County decided they wanted to keep it this way and banned all future high-density towers. Buildings can be no higher than four stories which will put a clamp on high-density population growth and preserve pastoral splendor. This ensures a laid back, serene splendid setting for your visit.
Thriving Arts Scene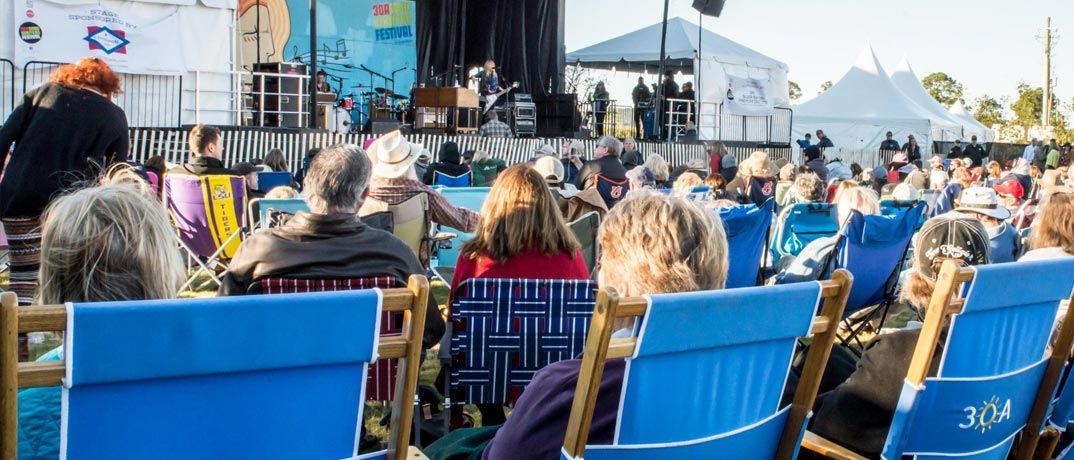 There is a thriving arts community along Scenic 30-A that includes an "Artist of the Year" program to highlight the work of area artists. There is also an abundance of art studios, as well as antiques and craft stores. In Seaside, the Seaside Repertory Theatre presents live shows throughout the year. And the 30A Songwriter's Festival draws larger crowds each year since its inception and has now become one of the most favorite events of the area. Digital Graffiti, a one-of-a-kind projection art festival where artists use the latest digital technologies to project their original works onto the iconic white walls there, is held at Alys Beach each May and has also become one of the most unique forms of artistic events of 30A.
A Celebrity Hangout
30A is a secret celebrity hangout! Guests such as Kenny Chesney, Reese Witherspoon, Lady Antebellum, Luke Bryan, Sean Payton, Katie Holmes, Faith Hill, Zac Brown, Katherine Heigl, Courteney Cox, Sheryl Crow, Emeril Lagasse, Amy Grant, Mike Huckabee, Jane Seymour and countless others have been spotted. Some even own homes on 30A.
Eden State Gardens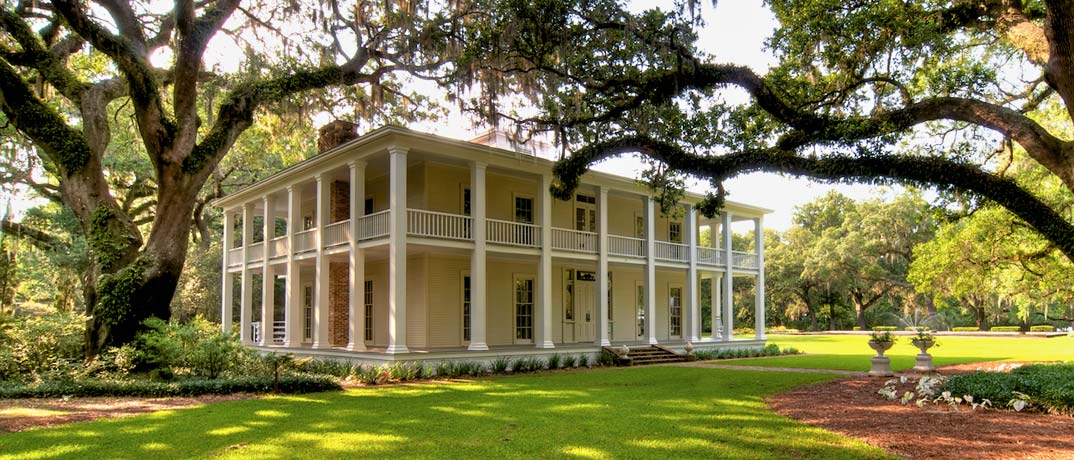 Close to 30A, you can visit the historic home of Eden Gardens State Park and Wesley Mansion, which dates back to 600 years. This two-story mansion is located on CR 395 at the shore of Tucker Bayou surrounded by towering Spanish moss-draped live oaks and welcomes you for tours and events throughout the year. It is now a 63-acre Florida State Park with ornamental gardens and heritage roses.
Stay on 30A
A 30A award-winning vacation destination, offering quaint towns, beautiful beaches, family-friendly activities and events, and a respite for relaxation, awaits you. World-renown fishing, award-winning restaurants, nightlife and nature surround you as well as a variety of family-fun activities. Don't delay; call Condo-World today to book your 30A vacation rental. What's that sound? 30A is calling your name!