You don't need a superhero cape to feel the power and excitement flying high above and underfoot on the streets of the Marvel Super Hero Island section of Universal Studios' Islands of Adventure.
Open since 1999, Super Hero Island has always been one of the most popular areas of the park, featuring thrilling attractions, dining and shopping options. Get ready to come face to face with legendary Marvel comic book heroes, such as Spider-Man, Captain America, Cyclops, Wolverine, Storm and Rogue, along with villains like Dr. Doom and The Green Goblin.
Incidentally, Disney now owns Marvel Comics, but Universal still owns the rights to certain character groups (Avengers, Spider-Man, Fantastic Four and X-Men). Hang on tight! Here's what you can expect to see and do on your next visit to Marvel Super Hero Island.
Attractions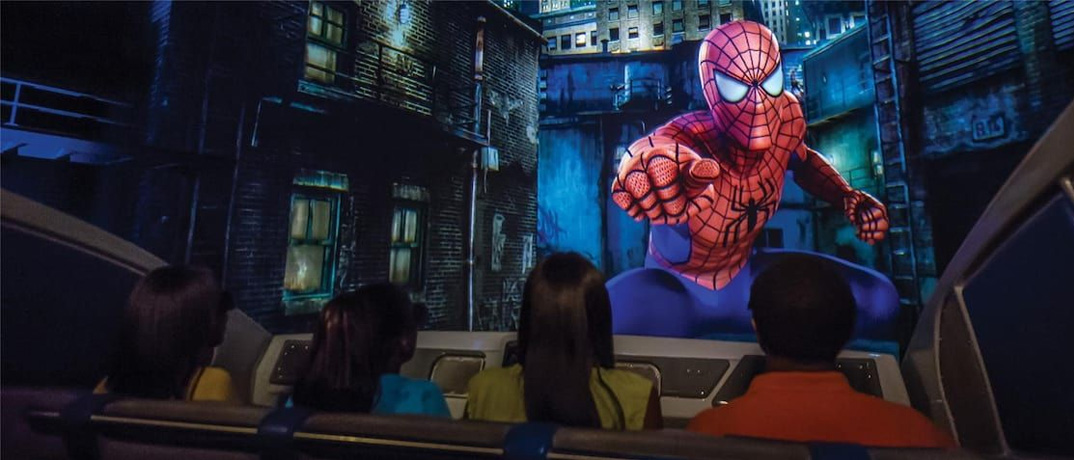 Doctor Doom's Fearfall
Blast up 200 feet in the air, only to free-fall back down. We'd say you could enjoy the bird's eye panoramic views over Marvel at Islands of Adventure, but that  probably won't happen as you're strapped in to experience negative-g air time at the top of this ride. Fearfall, needless to say, isn't for the faint of heart.
Storm Force Accelatron
It's Disney's Mad Tea Party spinning teacups on steroids! Storm Force Accelatron spins five riders seated in one round vehicle, which is part of a group of three similar vehicles for a total of 12 ride vehicles that all spin around Accelatron's center axis. Are you dizzy yet? On top of that, the ride spins to the accompaniment of a simulated thunderstorm, complete with flashing lights, loud music and a storyline centered around X-Men heroine Storm. Tip: Ride early or late to avoid long lines.
The Amazing Adventures of Spider-Man
Not only is this attraction one of the top-ranked in all of Orlando, the ride was enhanced in 2012 with a 4K high-definition digital upgrade after it first opened more than 15 years ago. And you can definitely tell throughout this ride that spins and tilts your 12-passenger motion simulator vehicle through 13 scenes (1 ½ acres long) of 3D digital projections, actual sets and props, and special effects like fog, water and fire. The storyline transports you into the Daily Bugle newspaper office, where you're recruited to go get the story (and where Peter Parker works as a photographer) on Spider-Man's worst archenemies. What can we say, other than it's amazing. Tip: The single rider option can cut your wait in line down tremendously.
The Incredible Hulk Coaster
You can't miss this coaster's massive loops looming above the Islands of Adventures skyline. Completely rebuilt in 2016, The Incredible Hulk Coaster now features lights flashing to a synchronized soundtrack, a revised storyline that has you volunteering for General Thaddeus, an updated entryway showcasing a statue of the Hulk, and a coaster track that shoots you like a jet off an aircraft carrier from 0 to 40 mph in 2 seconds. You'll also spin upside down into a zerogravity barrel roll a mere 100 feet off the ground, loop through several rolls and vertical loops in just a little over 2 minutes. Tip: You'll be asked to use the free electronic lockers near the entrance of Hulk for storage of anything that may come out of your pockets during the ride. And, at the boarding area, there's a separate line for those who want to ride in the first row, which is worth the 5 or 10 minutes extra wait time.
Dining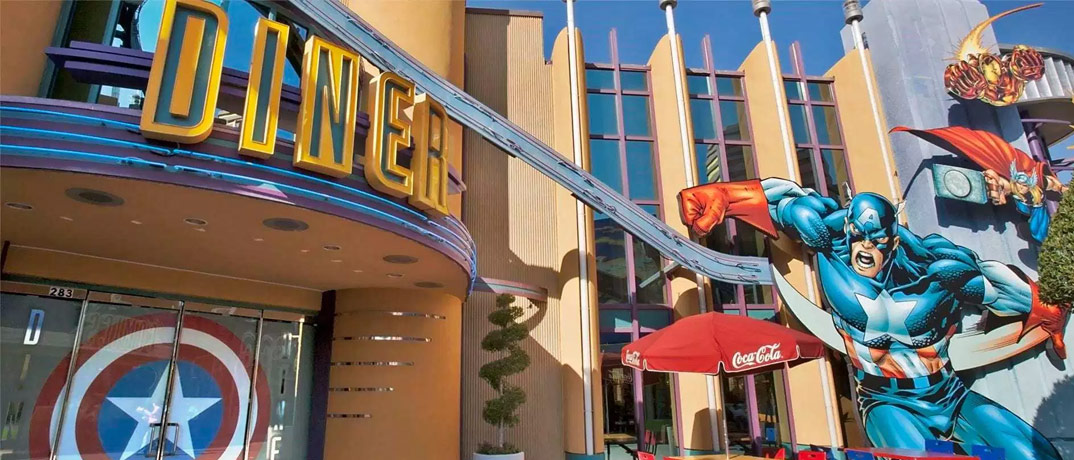 Café 4
This quick-service restaurant serves up Italian casual classics (pizza, pasta, subs and salads) inside the Baxter Building, headquarters of the Fantastic Four. Thursday through Sunday evenings, Café 4 hosts a special Marvel Character Dinner at 5 p.m., featuring appearances from Captain America, Spider-Man, Wolverine, Cyclops, Storm and Rogue. The dinner's buffet menu features goodies such as orzo, mozzarella and tomato salad, penne Bolognese, Tuscan pizza, chef-tossed Caesar salad and more. A separate theme park admission is required ($49.99 for adults and $24.99 for children ages 3-9).
Captain America Diner
Just as you'd expect, this superhero diner features an All-American menu of favorites, such as cheeseburgers, chicken sandwiches, chicken fingers, fries and salads.
Food Stands & Carts
If you're looking for a quick bite between rides so you can make the most of your time at Marvel Super Hero Island, there are also a handful of food stands waiting to serve you snacks like Auntie Anne's Pretzels, hot dogs, popcorn, cotton candy, fruit, ice cream, and Lemon Slush.
Shopping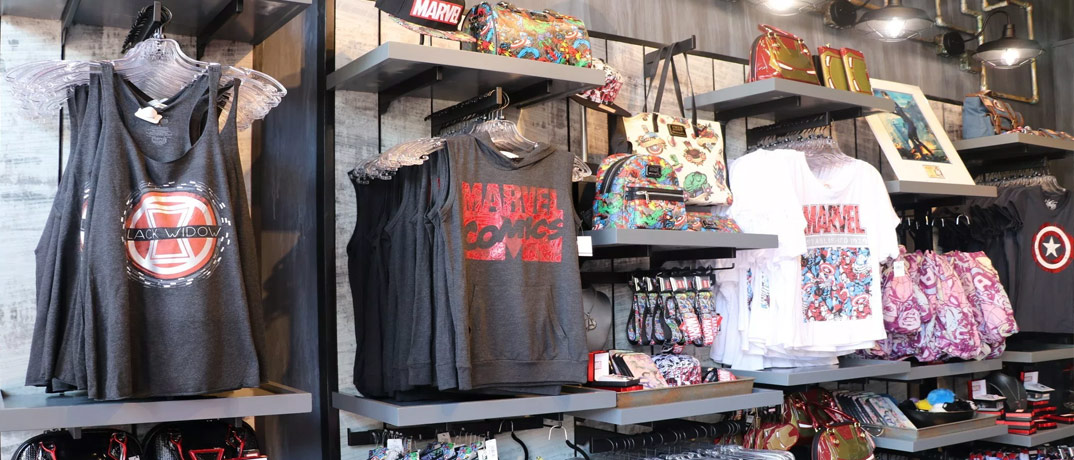 Marvel Alterniverse Store
If shopping is your call of duty, feed your inner superhero at this store stocked with Marvel apparel, supplies, character T-shirts and sweatshirts, toys, collectibles, mugs and more. You may even get to snag a photo with Spider-Man, who's known to stop by for a retail visit.
Comic Book Shop
What would Marvel Super Hero Island be without a comic book shop? Good thing there happens to be one open for you to peruse shelves lined 75 years' worth of comics and graphic novels, collectible figurines and character busts. You'll also find official Marvel comics, souvenirs, posters and apparel.
Entertainment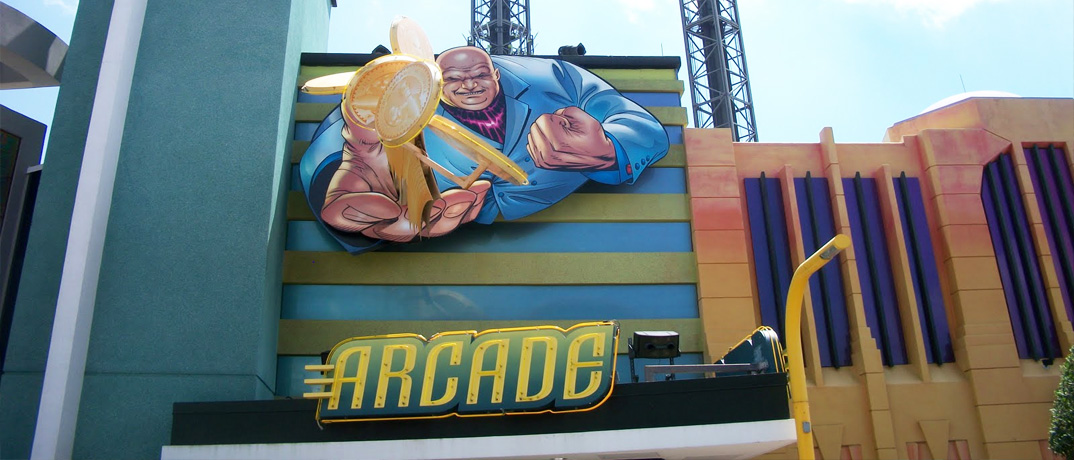 Kingpin's Arcade
The Kingpin may be an evil, 400-pound villain that rules over an underworld of thugs, but he wants you to have some fun at his colorful, exciting arcade packed with video games, high-speed driving simulations and more.
When you've turned Super Hero Island upside down, there's more to explore within Universal's Islands of Adventure at neighboring Toon Lagoon, Skull Island, Jurassic Park, The Wizarding World of Harry Potter—Hogsmeade, The Lost Continent and Seuss Landing.
Rentals Near Island of Adventure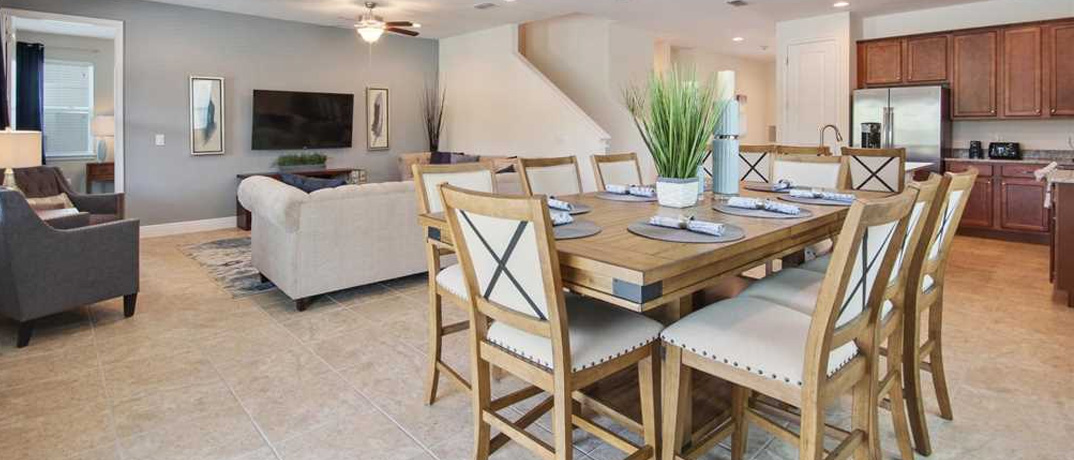 If you're looking to book your stay in Orlando, Florida, Condo-World offers plenty of options in luxury vacation home rentals for your family, no matter the size of your group. After you're done exploring Orlando's magical theme parks or the activities the city has to offer, you'll love returning to one of our properties to relax and unwind, with private pools, hot tubs and more.