All aboard our guided tour of LEGOLAND's LEGO City!
It's time to take a break from all of the Orlando parks and venture west for a day trip to LEGOLAND Florida, where everything is awesome in this LEGO-themed happy place!
LEGOLAND Orlando, Florida, is so massive that we've had to break down all the details of the park, section by section, so you can properly plan out your day here. This time, we'll guide you through LEGOLAND's LEGO City area, where you'll be schooled on the fast-paced hustle and bustle of the city, from driving away from the Ford Driving School to steering a boat at the Boating School to putting out fires at the Rescue Academy.
There are rides, attractions and dining stops galore! So are you ready? Set! LEGO!
Rides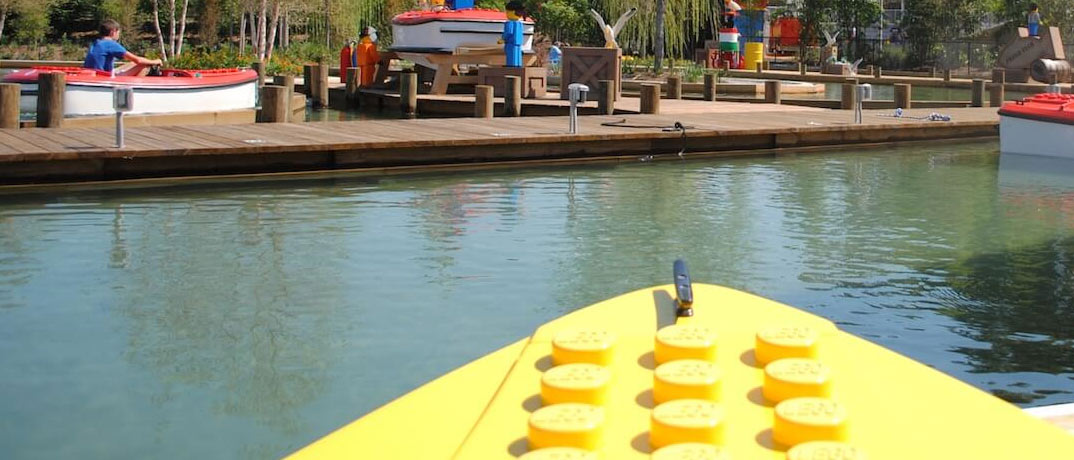 Boating School
The kids get to be the captains of their own LEGO boats – after they've passed the proper LEGO City training school, of course. Riders must be at least 34 inches tall; those boaters under 48 inches tall must be accompanied by someone 14 years or older.
Flying School
It's time to aim high and take to the skies on this exciting suspended rollercoaster that will twist and turn above the LEGO City Florida skyline. The Flying School is ready for takeoff each day at 11 a.m. Pilots must be at least 44 inches tall; if riders are under 52 inches tall, they must be accompanied by a rider at this height or taller.
Ford Driving School
In LEGOLAND, it's never too early to learn the rules of the road! At the Ford Driving School, kids will earn an official LEGOLAND driver's license after they complete the road course from behind the wheel. The school opens at 11 a.m. after the pit crew check; riders must be between ages 6 and 13.
Ford Jr. Driving School
It's the same driving school, just for your younger drivers, ages 3-5. Because everyone should have a chance to take a drive!
NFPA Rescue School
LEGO City needs your help! As a new recruit of the Rescue School, you'll have to hop into a fire truck or police car to put out a fire. Rescue School doors open at 11 a.m. each day. Riders must be at least 34 inches tall; if riders are under 48 inches tall, they must be accompanied by someone 14 years or older.
Attractions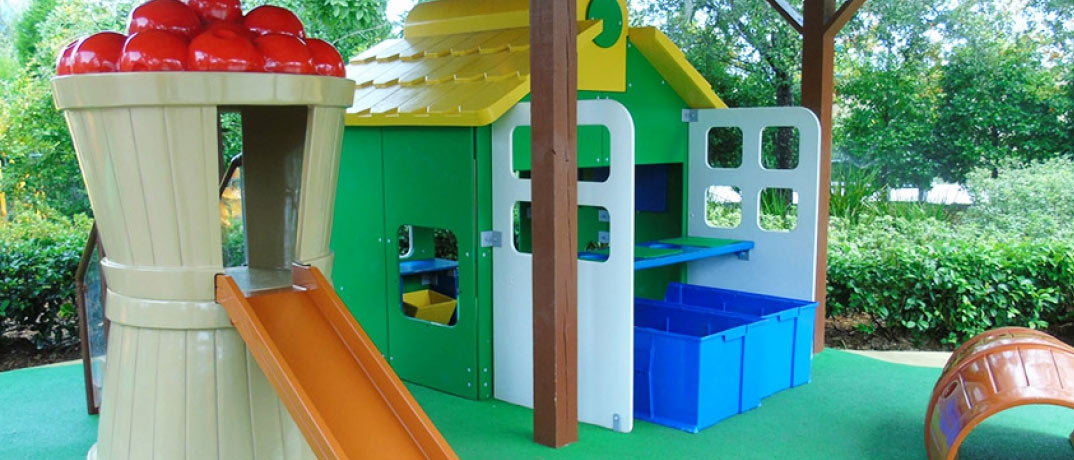 Tot Spot
Located right outside the entrance to the Flying School, this air-conditioned play area is the perfect place for your little ones (and you) to cool off, crawl and climb around all of the soft toys.
Dining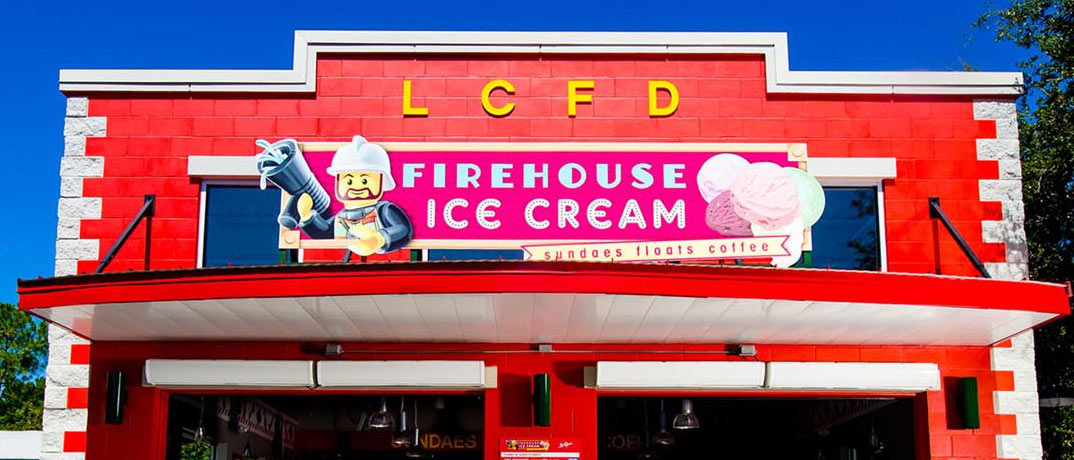 Burger Kitchen
If you thought LEGO City's master builders only construct high rises, wait until you put your hands on their burgers! You just have to choose which one to devour out of the long list on the menu, including veggie burgers, chicken and fish sandwiches – plus a side of fries.
Firehouse Ice Cream
LEGO City's fire squad will cool things off with a menu of sweet ice cream treats, hand-dipped ice cream, floats, sundaes, shakes and more.
Kick'n Chicken Co.
This dining option serves up all things chicken, including chicken salads, wraps, tenders, sandwiches and more.
Shopping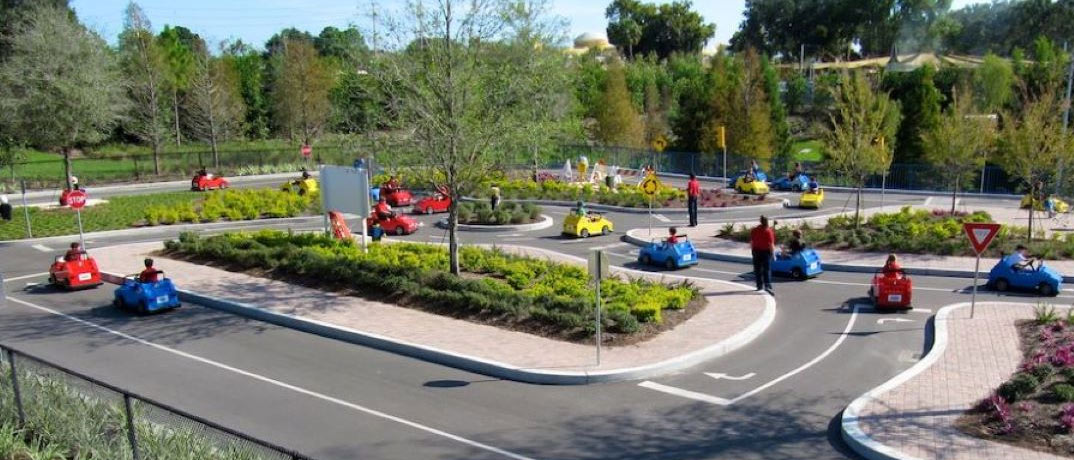 Driving School Store
This is a must-shop pit stop, stocked with all the racing gear you need and the chance to personalize your LEGOLAND driver's license. Doors open at 11 a.m.
Nearby Park Sections
The fun's not over – not by far (or near)! Walk on over to these sections of the park that surround LEGO City:
LEGO Technic, the fast-paced part of the park that features extreme rides like The Great LEGO Race, Aquazone Wave Racers and Technicycle.
LEGO Imagination Zone, an area centered on the power of your children's building imagination, indoors and out, complete with thousands of LEGO waiting to be assembled.
The centrally located Miniland USA, a gigantic display of some our country's most well-known destinations – just on a very small scale. With the first exhibit built in 2011, there are so many incredible miniature features in every angle within this attraction that you may have to browse through it several times.
And LEGO Ninjago World, where you'll come face to face with Ninjago's villains, team up and meet the heroes in their brave world.
Where to Stay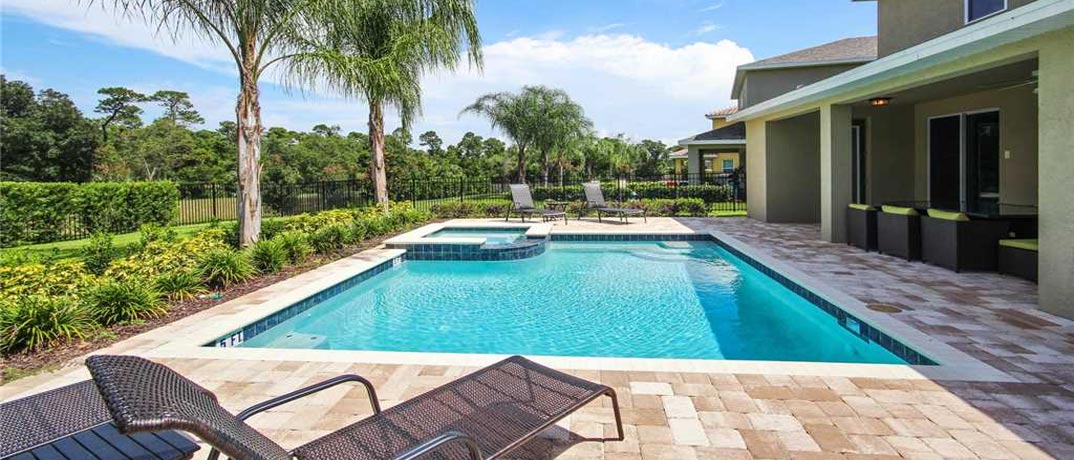 And, after you've built all of the LEGOLAND memories you possibly can, relax in one of our Condo-World resorts in Orlando, Florida. Condo-World offers plenty of options in luxury rentals and home rentals for your family, no matter the size of your group. After you're done exploring Orlando's magical theme parks or the activities the city has to offer, you'll love returning to one of our properties to relax and unwind, with private pools, hot tubs and more.