Valentine's Day Specials in Myrtle Beach
Treat your sweetheart to a romantic night out in Myrtle Beach! You'll find a bevy of dinner specials, exclusive events, hotel packages, and unique date night ideas throughout the Grand Strand to help you celebrate Valentine's Day. Be sure to book early as reservations fill quickly at these Grand Strand events.
Theater Shows
Myrtle Beach is home to a number of great live music and theater venues. Join The Carolina Opry for a dazzling show beginning at 7:00 p.m. this Valentine's Day. Legends in Concert will host three amazing Elvis tribute artists for their shows held February 14-19, 2023. A tribute artist for Ann-Margret will also perform. GTS Theatre kicks off its tribute to Garth Brooks at 7:00 p.m. February 14. The Asher Theatre will host A Night of Love and Laughter featuring Gary Lowder and the Smokin' Hot Band and the Man of a Thousand Voices. They're offering two showtimes on Valentine's Day – 2:00 p.m. and 6:00 p.m.
Romance in the Gardens
Brookgreen Gardens invites all married couples to renew your vows in the beautiful gardens. The romantic event will include a nondenominational ceremony at the Boat Landing at Brookgreen Creek. You'll receive a bouquet for the bride, boutonniere for the groom, certificate, and professional photograph. They'll host a Southern Cake Reception after the ceremony in the Leonard Pavilion complete with a champagne toast and a box of goodies to take home. There are two ceremonies planned at 1:00 p.m. and 3:30 p.m. Tuesday, February 14.  The cost is $45/member couple or $50/non member couple.
Tropical Reunion Wedding Vow Renewal Ceremony
Lulu's at Barefoot Landing will also host a vow renewal ceremony from 3:00-5:00 p.m. Tuesday, February 14. Reaffirm your love and enjoy cake, photos, flowers for the bride, and a chance to win several prizes. Prizes will be awarded for the most festive couples, the couple who's been married the longest, and more. Register on the Lulu's website.
Splash of Love
Join Ripley's Aquarium with your Valentine for their annual Splash of Love dinner. Dine under the sea with a special four-course dinner menu in the setting of your choice then head off to explore the aquarium after hours. The event will be held from 7:00-10:00 p.m. Tuesday, February 14. Call for reservations as this event shells out quickly.
Wine & Design
Do something creative with your Valentine this year at Wine and Design in Myrtle Beach. They're hosting a variety of specials this year for both couples and parents and children. Bring your favorite bottle of wine and settle in for some crafty fun.
February 11 at 11:00 a.m.: For kids 6 and up paired with a parent, you will each paint a canvas that will come together to make one picture – Valentine Owls. The cost is $55 for two people.
February 11 at 6:00 p.m.: You and a partner paint two canvases that will come together to make one picture – Heartfelt Hands.
February 14 at 6:00 p.m.: You and a partner paint two canvases that will come together to make one picture – kissing fish. This class is $75/couple.
February 14 at 8:30 p.m.: Take your choice between an artsy nude or "Through it all" themed paintings for $75/couple.
The Melting Pot
Make your reservations at one the most popular Valentine's Day dinner spots in Myrtle Beach – The Melting Pot. The unique restaurant offers cheese and chocolate fondues as well as grilled entrees and top-rated wines and cocktails. Add on a photo package or chocolate dipped strawberries for a special surprise for your Valentine.
Medieval Times Dinner & Tournament
For a one-of-a-kind date night experience, why not head out to Medieval Times Dinner and Tournament in Myrtle Beach? The show is the quintessential romantic story with knights vying for the heart of the fair princess. Did we mention there's a great meal included too? They will offer a 5:00 p.m. show on February 14.
Cookie Decorating
Join the team at The Marina Bar at Barefoot Landing for a fun cookie decorating luncheon from 12-2:00 p.m. Saturday, February 11. For $20/person you'll get 12 cookies, everything you need to decorate them, and a box to take them home. They're offering lunch and drink specials, and all ages are welcome. You must make reservations in advance.
Bowling at 810 Billiards & Bowling North Myrtle Beach
810 Billiards and Bowling in North Myrtle Beach has a Valentine's Date Night Special that will be offered February 13-16, 2023. For $85/couple you'll get a private lane, shoe rentals, two appetizers, four premium drinks, and a chocolate treat. Call for reservations.
Romantic Restaurants in Myrtle Beach
If you're searching for the perfect restaurants for Valentine's Day, we've got a few recommendations for you to try. These romantic cafes and restaurants serve some of the best food on the Grand Strand in an intimate setting – perfect for treating your special Valentine.
Thoroughbred's Restaurant – 9706 N. Kings Hwy., Myrtle Beach
Rivertown Bistro – 1111 3rd Ave., Conway
21 Main Prime Steakhouse – 719 North Beach Blvd., North Myrtle Beach
New York Prime – 405 28th Ave. N., Myrtle Beach
Greg Norman's Australian Grille – 4930 US-17, North Myrtle Beach
Aspen Grille – 5101 N. Kings Hwy., Myrtle Beach
The Library Restaurant – 6613 N. Kings Hwy., Myrtle Beach
Hook & Barrel – 8014 N. Kings Hwy., Myrtle Beach
Ciao Restaurant – 5223 N. Kings Hwy., Myrtle Beach
Sea Blue Restaurant & Wine Bar – 501 Hwy. 17 N., North Myrtle Beach
Bistro 90 – 7209 SC-90, Longs
The Brentwood Restaurant & Wine Bistro – 4269 Luck Avenue, Little River
Places to Stay this Valentine's Day
North Beach Resort & Villas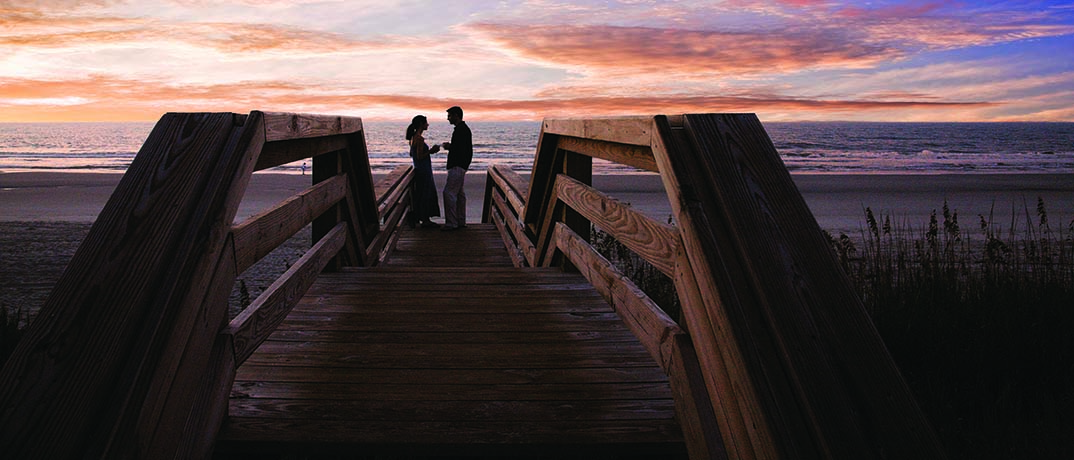 Book your Valentine's Day stay at North Beach Resort & Villas for a luxury experience like no other. The sprawling oceanfront towers offer high-end condo rentals with up to five bedrooms as well as a seven-bedroom penthouse suite pulling out all the stops. The cooler months are the perfect time to take advantage of the indoor pools and swirling hot tubs or for visiting the on-site Cinzia Spa for a relaxing massage.
Sea Watch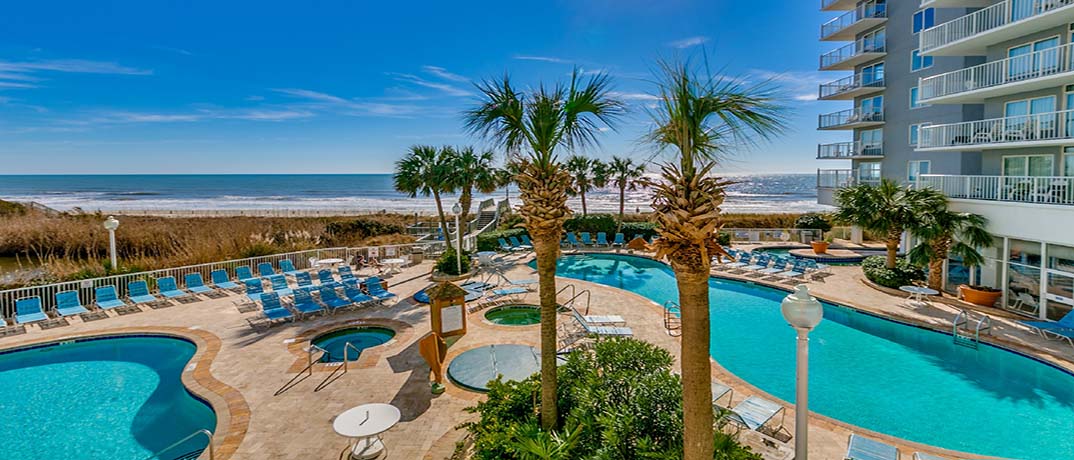 Find your favorite private stretch of beach while visiting Sea Watch Resort in Myrtle Beach this Valentine's Day. Select a cozy oceanfront studio or one-, two- or three-bedroom condo, each with their own private balconies, and wake up to the sound of the waves crashing on the shore. Make your way downstairs and spend some time in the water in their covered indoor pools and whirlpools. The nightly fire pit is a huge hit with guests staying at Sea Watch and the perfect place to unwind after a romantic night out.