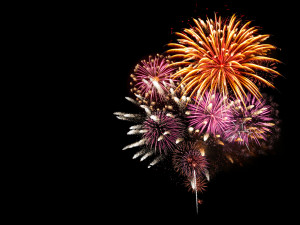 The Grand Strand celebrates Independence Day unlike anyone else. During the 4th of July, visitors can expect many exciting Myrtle Beach events. Locals and visitors have the opportunity to see boat parades, fireworks, eating contests and more. Here are some of the top attractions and entertainment we recommend checking out this 4th of July!
Salute from the Shore
If you are planning on spending the day hanging out on the beach on July 4th, then you are in for an amazing treat. Each year a military flyover covers the South Carolina Coast beginning in Cherry Grove at 1:00pm. If you are at the beach during this time, it is encouraged to wear red, white and blue and salute the flyover.
4th Annual Cupcake Eating Contest
Croissants Bistro & Bakery will be hosting their 4th Annual Cupcake Eating Contest from 2-5pm at the restaurant. Last year the grand total ate was 19 cupcakes in 5 minutes. Think you have what it takes to eat the most cupcakes?
32nd Annual Murrells Inlet July 4th Patriotic Boat Parade
Come hang out in Murrells Inlet beginning at noon for the 32nd Annual Boat Parade! Boaters will compete to win the most patriotic and best-decorated boat. The crowds will be able to participate and vote on the patriotic décor by round of applause and cheers. Whoever has the loudest cheers will be awarded the winner.
Firework Displays
There will be many firework displays around the Grand Strand on the 4th of July. From Cherry Grove all the way down to Murrells Inlet.
Barefoot Landing: 10:00p.m. – 4898 Hwy 17 S, North Myrtle Beach, SC 29582
Cherry Grove Pier: 9:00p.m. – 3500 N Ocean Blvd, North Myrtle Beach, SC 29582
Broadway at the Beach: 10:00p.m. – 1325 Celebrity Cir, Myrtle Beach, SC 29577
2nd Avenue Pier: 10:00p.m. – 110 North Ocean Boulevard Myrtle Beach, SC 29577
Murrells Inlet Marshwalk: 10:00p.m. – 4123 US-17 BUS, Murrells Inlet, SC 29576