The Blue Ridge Parkway-A Breathtakingly Beautiful & Scenic Drive
Once you've gotten the lay of the land in Gatlinburg, you'll most likely explore some of the Great Smoky Mountains' most beautiful vistas, waterfalls, lakes and trails nearby. We've told you about some of those in previous posts including The Best Hikes for Water-Lovers Near Gatlinburg, The Appalachian Trail and Gatlinburg Waterfalls.
Though there are Smoky Mountain scenic drives that have incredibly breathtaking views, one of the most iconic drives in the U.S. is The Blue Ridge Parkway. Noted by travel guides and gurus as one of the top ten in the country, (and most claim it as "America's Favorite Drive) the Blue Ridge Parkway is 469 miles of stunning foliage, panoramic views and famous landmarks. Whether you decide to do the entire drive through North Carolina and Virginia or just half, you'll be glad you invested the time to do so.
The Blue Ridge Parkway is connected by two national parks; the Great Smoky Mountains National Park (GSMNP) in North Carolina and the Shenandoah Park in Virginia. There are concrete mileposts that mark each mile. Milepost 0 is near the Shenandoah National Park in Virginia and Milepost 469, is located in North Carolina in the GSMNP. Milepost 216 crosses into the Virginia state line. The Blue Ridge Parkway is part of the Appalachians and the tree lines put the "blue" in the mountain ridges because of the hydrocarbons they release.
Though you can use your GPS, it may be hit or miss as it doesn't always work in the mountains and valleys you'll be traveling through. Rely on GPS for towns along the way and milepost markers for the sights you'll want to see. The speed limit is 45 MPH, so pack your patience especially if traveling during their busiest months-June, July, August and October. If you can take a day trip during the week, it's best to do so as weekend traffic is heavier.
We've put together a list of some of our favorite stops along the Parkway from The Great Smoky Mountains into North Carolina. The photo ops are limitless!
How To Get There From Gatlinburg
From Gatlinburg's main drag, East Parkway, take a right onto US 321/US 441 N. Parkway. Highway 441 runs through the Great Smoky Mountains National Park and you'll be on the road for about 2-3 hours to get to Mile 469 of the Blue Ridge Parkway. A great place to check real time information about the Parkway is the Real Time Road Closures Map, especially if you've visiting during the winter months. Download a map here.
Milepost 462.9, Oconaluftee Visitor Center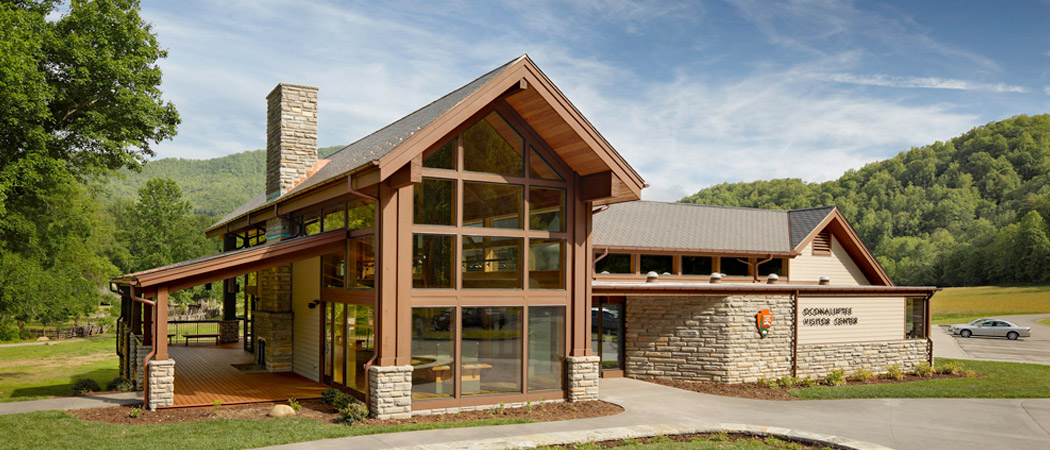 The visitor's center is near the Oconaluftee River and is the first new visitor to be built in GSMNP. A certified LEED green building, it's a full-service 6,300 square feet center. The area was an ancestral home to Cherokees and you can visit a homestead exhibit. There's also two great walking trails nearby as well.
Milepost 458, Lickstone Ridge
Named for a spot in which settlers would stop by a smooth stone to spread salt for their livestock, this overlook is like a watercolor painting-showcasing layers of mountains in hues of blues. Elevation: 5150.
Milepost 451, Waterrock Knob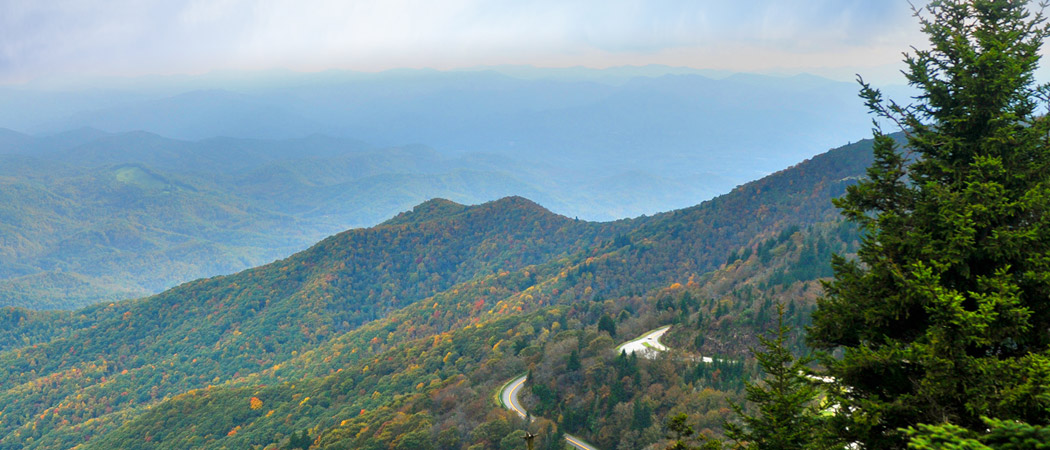 This is the spot to catch a sunrise or sunset. There's a visitor's center here that is plunked down at 6000 feet elevation and you can walk to a babbling spring nearby. Waterrock Knob is the 16th highest mountain in the Eastern U.S. You'll see the Appalachians and the Smokies from this viewpoint. Take a hike to the Knob (about a mile roundtrip), but lace up your hiking boots as it's a pretty steep climb to the summit. On a clear day, you can see mountains for 50 miles. Elevation: 6292.
Milepost 436, Grassy Ridge Mine Overlook
Named for a mica mine that was below this overlook that was open until 1950. Awesome photo opportunities for sunset photos. Should you care to hike the trail nearby, it's a fairly easy one and if you're there in the spring, the wildflowers in bloom are very Monet-like! Elevation: 5250.
Milepost 422, View Devil's Courthouse

According to Cherokee legend and mountain settlers, the devil resides in one of the caves around these parts. We don't know about that, but the rocky summit is indeed devilish to hike, but worth it when you reach the summit as there are panoramic views. But, be careful as there are some very steep drop offs! Elevation: 5462
Milepost 413, Pounding Mill Overlook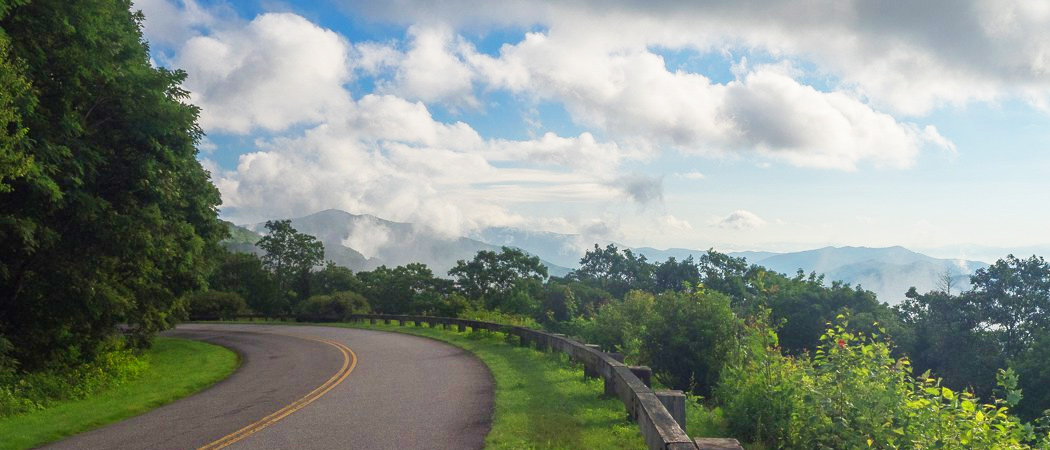 Over a 100 years ago, settlers built mills along the springs in this general location to grind corn. A favorite stopping point along the parkway, there's plenty of room to pull off, stop and gaze out over the mountaintops. In the fall, the view will take your breath away. Elevation: 4700.
Milepost 410, Graveyard Fields Waterfalls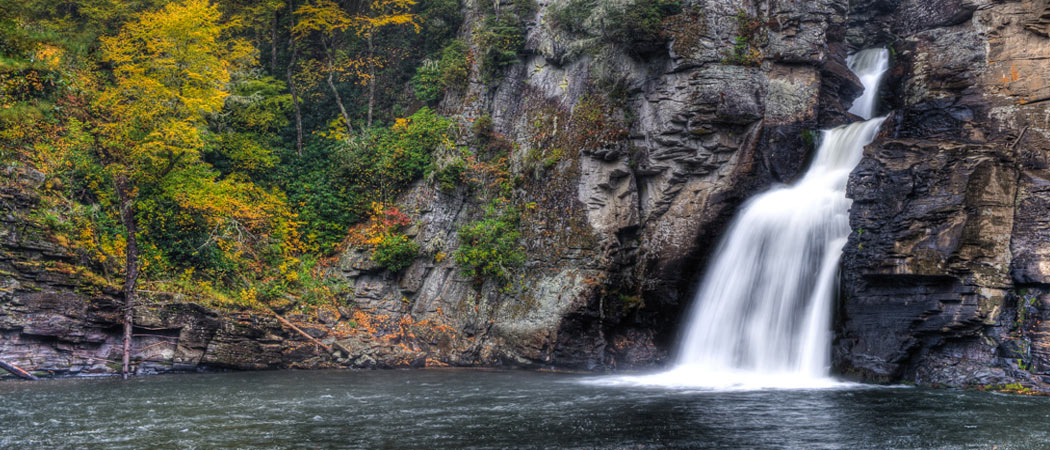 A favorite Asheville hike among seasoned steppers, the trail is ruggedly beautiful with multi-tiered waterfalls and views of surrounding mountains. The hike goes down a paved trail and then winds into dense foliage. Only 3 miles roundtrip, this is a pretty easy hike and well worth your time to stop and get glimpses of all that nature.
Milepost 408, Mount Pisgah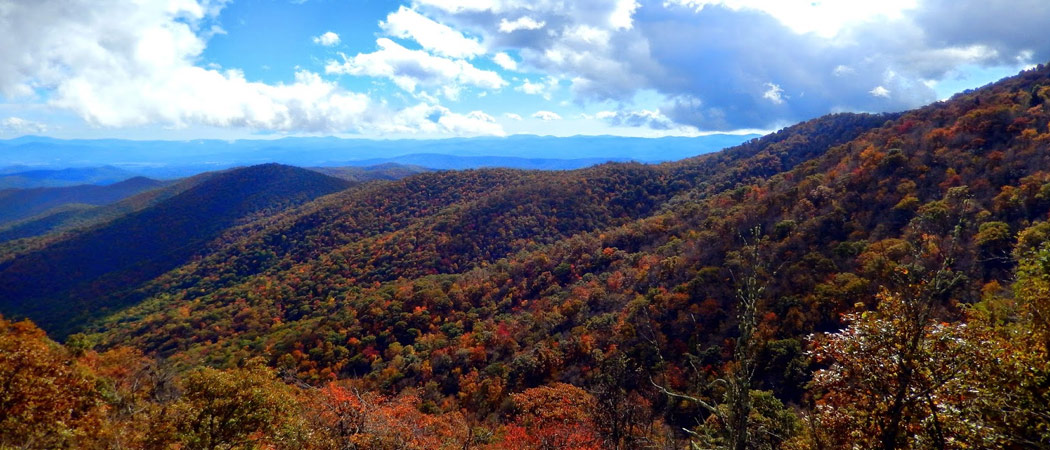 A nice stopping place for lunch as it has a picnic area, campground, restaurant and gas station. This was once part of the Vanderbilt estate and was the beginning of the Pisgah National Forest.
Milepost 355, Ridge Junction Overlook
Panoramic views of the Black Mountains and the South Toe Valley. Elevation: 5160.
Milepost 349, Licklog Ridge Overlook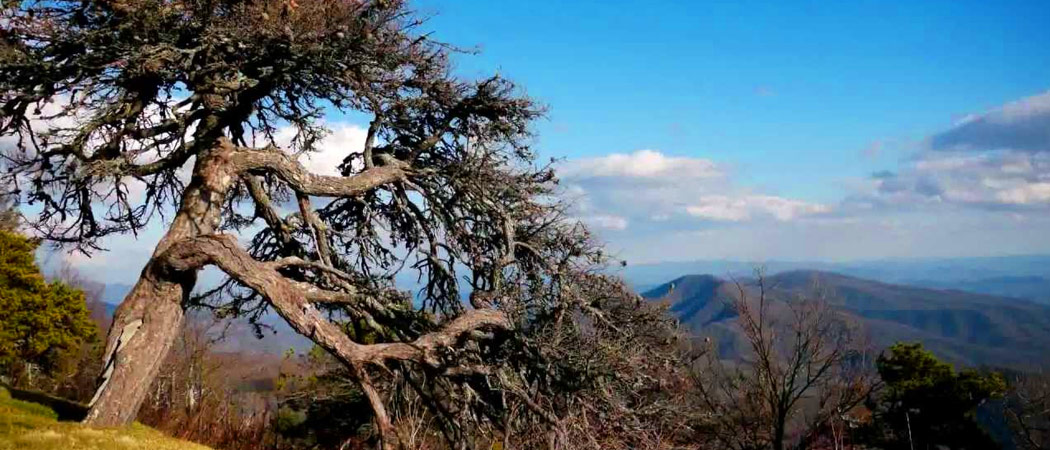 A great place to view the Grandfather, Linville, Mackey and Chestnut Mountains. Some travelers think this is the best spot on the Parkway. Elevation: 4602.
Milepost 304, Linn Cove Viaduct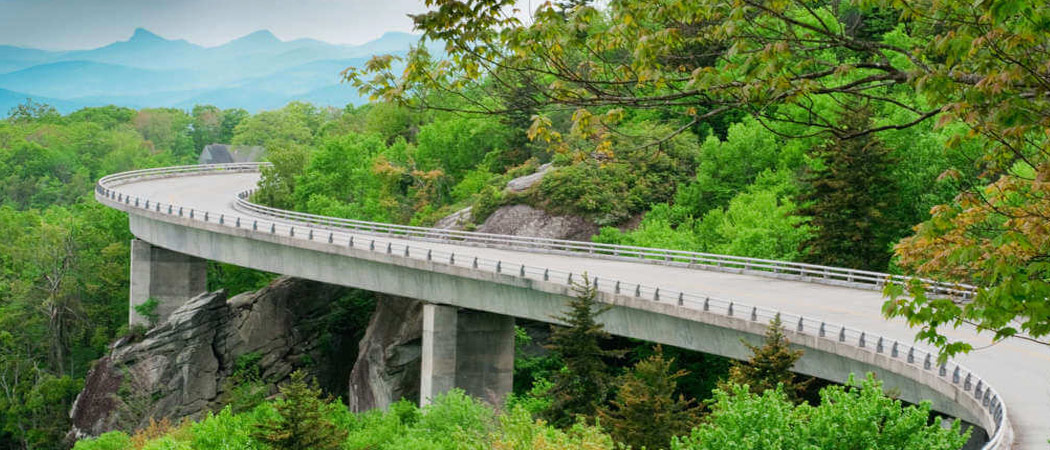 Recognized as an "engineering marvel," the quarter-mile viaduct goes along Grandfather Mountain. It twists, turns and curves around the natural elements and you can stop at the Linn Cove visitor center to read about its construction and take a nice hike along trailheads in the area. Nature and manmade element elements merge here to create a stunning landscape.
Milepost 297, Julian Price Memorial Park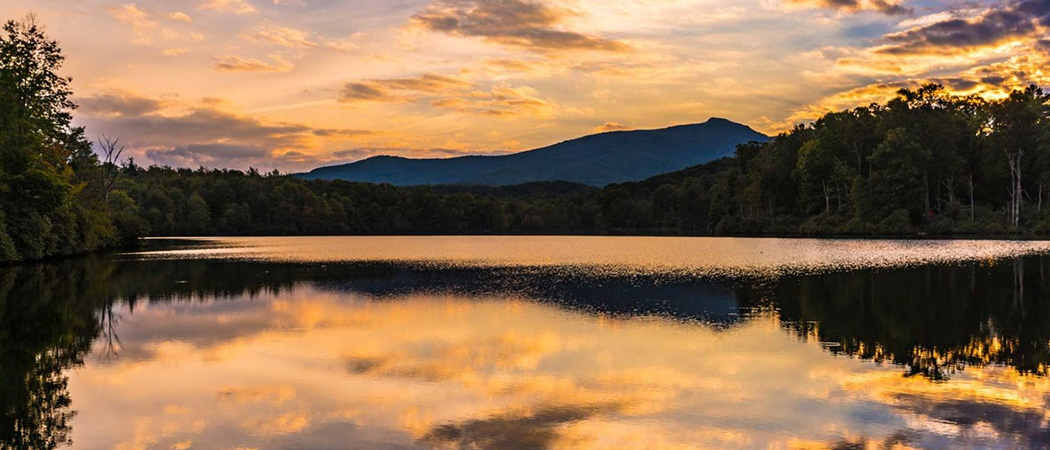 There's over 4,000 acres of hills, valleys, beautiful lakes and mountains to gaze upon here. Elevations reach as high as 4000 feet and there's also a lovely stream that runs through the picnic area. Should you decide to camp here overnight, there's plenty of activities to get you in touch with nature-fishing, canoe and kayak rentals and tons of trails. Download a map here.
Milepost 294, Moses H. Cone Memorial Park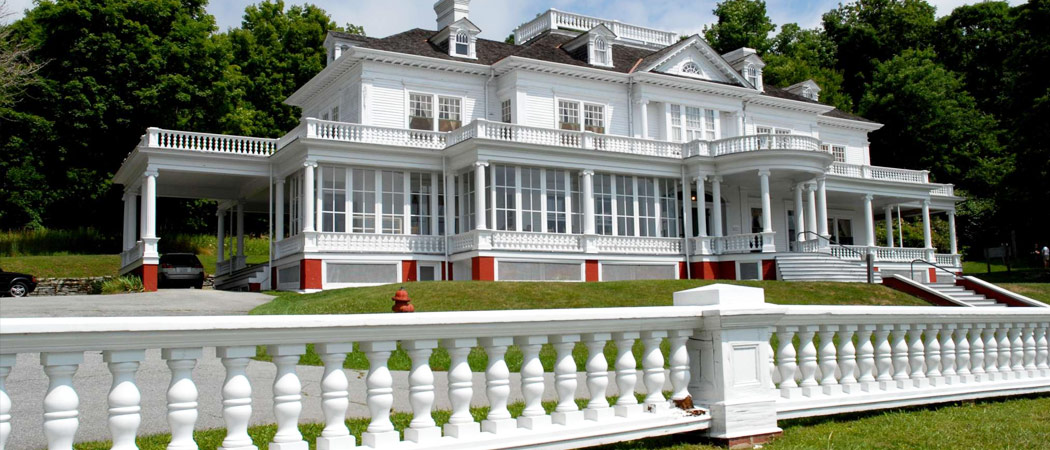 A must-see "historic splendor," the park is over 3,500 acres and has the mansion, Flat Top Manor, the country estate of the park's namesake. Reported to be naturalists before that was popular, Cone ensured that this area remain pristine for all to enjoy. It is now the Parkway Craft Center that houses works from Appalachian artists. There's also 25 miles of carriage roads to explore as well as apple orchards and foliage, flowers and creatures indigenous to the area.
Milepost 218, Fox Hunter's Paradisewhere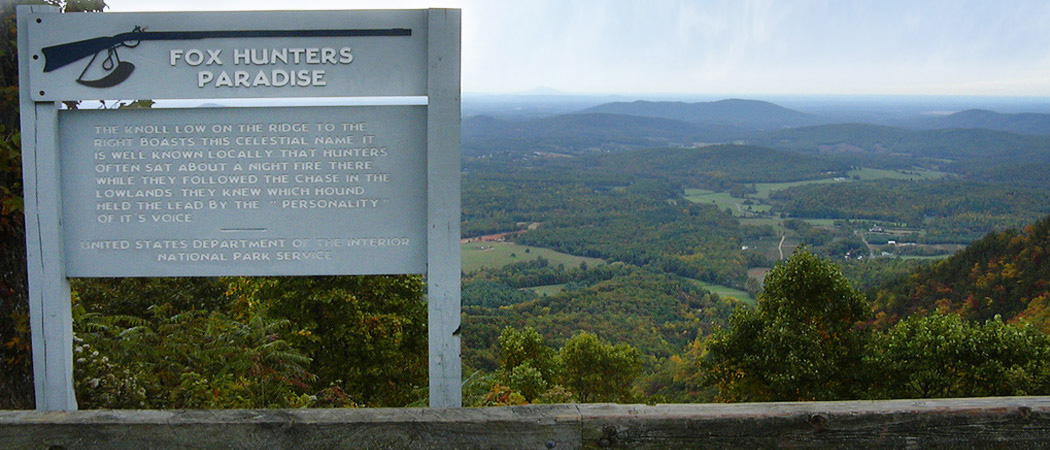 A paradise indeed that once served as its name implies-wealthy landowners hunting foxes. There's a grassy, lush picnic area and an easy trail to hike nearby. A nice resting place after all that hiking along the way!
Milepost 213, Blue Ridge Music Center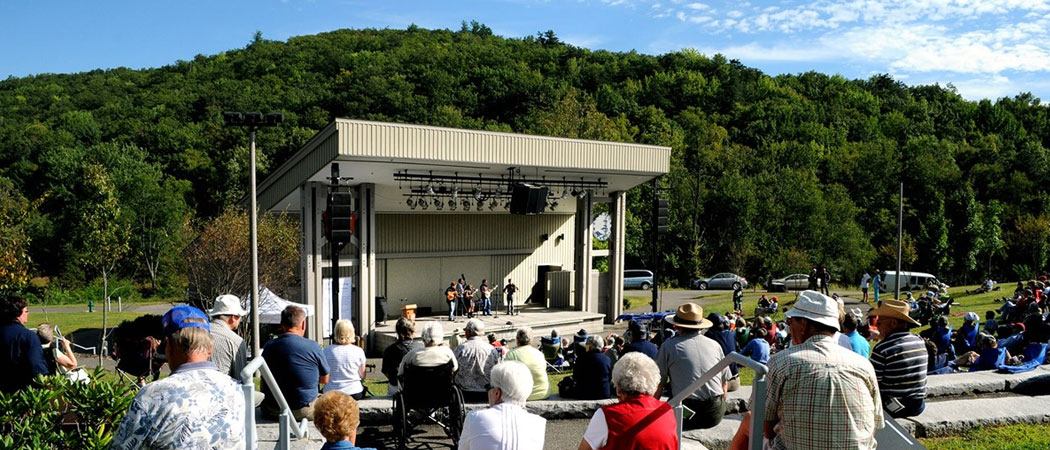 There are live performances here in the summer and fall seasons. A 3,000 seat amphitheater, indoor theater and museum are located here, with exhibits showcasing the history of area. About right in between the two states, Virginia and North Carolina. This may be the perfect halfway point for most. Visit the Blue Ridge Music Center's website if you'd like your trip to coincide with one of their performances. Best to get your tickets early as they usually sell out quickly!
Our list is only a mere sampling of the ways in which you can explore two of our country's most beautiful parks. For more info on planning a trip along the Blue Ridge Parkway, visit the website here.
For a detailed milepost by milepost list click here. To view virtual photos of these mileposts and others, visit Virtual Blue Ridge.
Driving the Blue Ridge Parkway for any length of time is worth it. Whether you go halfway or all the way, make sure you have a luxury cabin in Gatlinburg to come back to. Book online at Condo-World today!