Gatlinburg is filled with fun and attractions. Its downtown is most definitely a walking town. Though you can walk it, one of the best ways in which to get around without worrying about driving or parking is Gatlinburg's mass transit system — the trolley.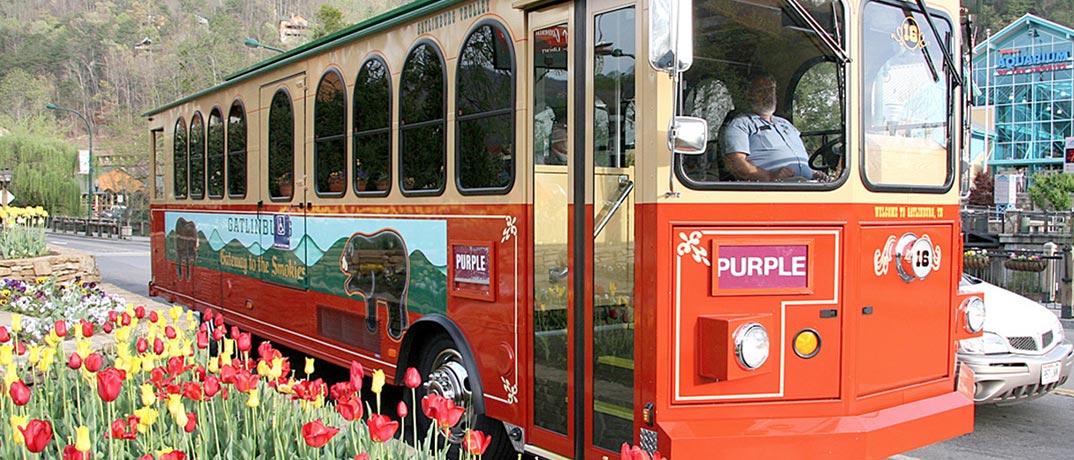 It is the fifth largest mass transit in Tennessee and has 20 trolleys that service about 50 miles in and around Gatlinburg and surrounding areas. You can get all all day pass for $2/day or pay as you go at $0.50 — you have to have exact change.
Gatlinburg has seven different "lines." We're breaking them down for you so you'll know where to go to get to where you want to go! All aboard!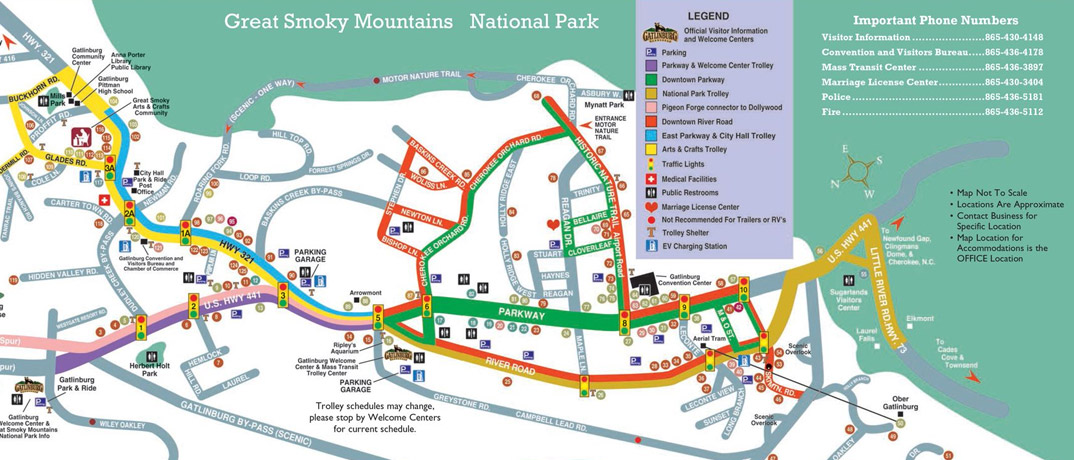 The Blue Line
The blue line is next to City Hall on East Parkway, beginning at traffic light #5. It runs the entire length of the Parkway and up to Rocky Top Sports World and then to the Community Center. It stops at its post every 30-45 minutes. You'll go past Riverbend Mall, Crossroads Mall, Gatlinburg Village, Winery Square and a host of shops, lodging and attractions.
The Green Line 
The line begins at the Gatlinburg Mass Transit Center and runs May through October where you'll wind up to Cherokee Orchard Road and down the Historic Nature Trail and then travel to light #10 and up Ski Mountain Road. Departure is every 30 minutes. You'll go past Mountain Mall, Regan Terrace Mall and Ripley Museum and more than a few shops and eateries.
The Pink Line
This is the "Dollywood" line and it goes to Dollywood, departing from the transit center at light #5. It stops about every hour and there are stops in Pigeon Forge at the Dollywood Information Center. From November to March, it only runs on those days that Dollywood is open and the fare is $1 each way. It makes a stop at the Westgate Smoky Mountain Resort and Spa. Exact change is required.
The Purple Line
This trolley line picks up visitors at the Gatlinburg Park-n-Ride lot and the Gatlinburg Welcome Center that's on Highway 441 between Gatlinburg and Pigeon Forge and ends at the Gatlinburg Transit Center. From here, you can hop on another line, according to where you want to go and what you'd like to see. Pickups are every half hour and the fare is $0.50.
The Red Line
Get on the Red Line from the transit center south on River Road. It runs through the Parkway and then heads north on to Historic Nature Trail/Airport Road and to the Convention Center. It runs every half hour and during the winter, every 35 minutes. You'll go past the Ski Mountain Road Shelter and several restaurants, plus Ober Gatlinburg, Old Smoky Moonshine and if you get off at Calhoun's restaurant, you can walk to Smoky Mountain Brewery.
The Tan Line
The tan line is the National Park route and it runs June through October. Departing from the mass transit center at different times — 9, 10:30 a.m. and then noon, 2:30, 4, and 5:30 p.m., it runs up River Road and into the Great Smoky Mountain National Park. You'll stop at Sugarlands Visitors Center, Laurel Falls Parking area and Elkmont Campground. The entire trip is about one and a half hours and it's $2 roundtrip. Bring exact change.
The Yellow Line
This line is for artists or people who love artists. It runs through the Great Smoky Arts and Crafts Community and you'll hop on board to take the 8-mile trek at the mass transit center at light #5. The fare is $1 for all day and it's available April through October. In the holiday months (November and December), it runs Monday through Saturday. It takes an hour and it may be an hour before another trolley comes back to take you back to the transit point, but who cares as you also pass by Winery Square where you just may want to stay awhile!
Lights & Magic
Speaking of holidays, The Gatlinburg Winter Magic Trolley Ride of Lights departs at light #5 from the mass transit center from November through December (except for the first Friday in December, Christmas Eve and Day and New's Year's Eve and Day) and every Saturday in January. It's a 45-minute ride through Gatlinburg's famous Winter Magic light displays. 
Gatlinburg's trolley stops makes it incredibly easy for you to get around and see nearly everything you'd like. The Tan Line even caters to hikers as it drops you at a parking area where you can go take a nice one. The other lines take you to shops, restaurants, attractions and more. Pack a light backpack and get on board!
Gatlinburg Trolley Map
We recommend using this fully interactive Gatlinburg Trolley map. You can not only select the specific routes that you need, but you can also see the current GPS location of each line's trolley and all of the individual stops along the way. We haven't found a map that works better!
Gatlinburg Cabins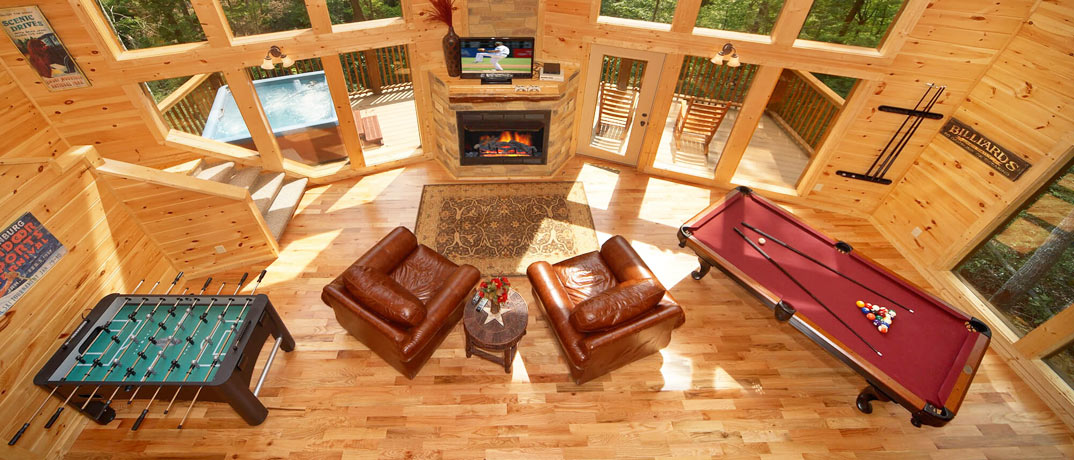 If you're planning on relying on Gatlinburg's wonderful trolley system, many of Condo-World's cabins are close to the Yellow or Blue line routes. The cabins on these routes have amazing views of the Great Smoky Mountains that you won't want to miss. Book your cabin today with Condo-World.