Just like birds flying South for the winter, thousands of beach goers migrate to Fall SOS in North Myrtle Beach! The Society of Stranders flock to Main Street in North Myrtle Beach September 16th-25th to embrace and celebrate the State's historical dance, The Shag! Local bars and restaurants will be pumping out the classic beach music as Shaggers groove the night away. Plenty of live music from local stars to nationally renowned acts, special events, and dance contests will satisfy the casual dancer to the most accomplished of professionals. Not a dancer but still want to be a part of all the action? No problem! Bring a chair and join the crowd during one of the 2 huge block parties held during SOS Migration, right in the middle of Main Street! Here is what you need to know for Fall SOS: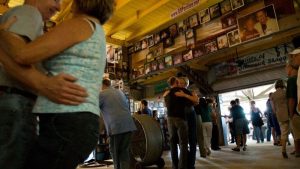 Dates: September 16th-25th, 2016
Location: Main Street in North Myrtle Beach
Official schedule of events: SOS Fall Migration
Accommodations: Here are some luxury, oceanfront condos that are close to Main Street, a perfect choice for Fall SOS participants!
Condo-World hopes to see you this Fall for SOS!
Like this post? Share it!